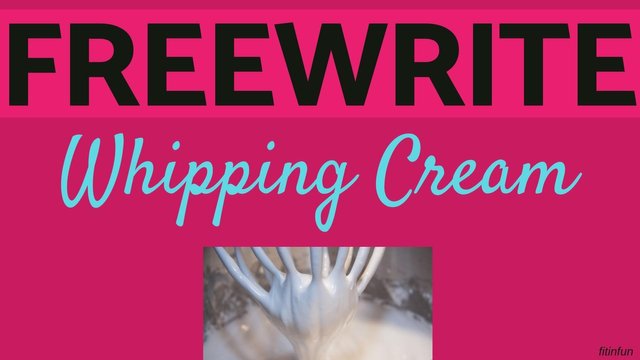 Whipping cream is something I have never done in the kitchen, but I do eat it on occasion. I like it in coffee drinks if I get them. But I do not get them often.
Since I lost weight, I can pretty much eat what I want, with the exception of things that bother my Rheumatoid Arthritis. Unfortunately I have a lot of things on that "bad" list, so my diet is a bit limited now.
I don't eat fake food as best as I can stay away from it and often whipped cream comes in a can that sprays it out. This I will avoid due to who knows what is in it. But if the place is giving out "real" whipped cream I will have it.
I do not eat much dairy at all now in SE Asia. When I was in the states, my dairy was all organic. Now that I'm away from it, I do not miss it much, and it used to be something I ate a lot of. But most of what I ate was cheese or sour cream and whipped cream would only be a few times a year. This was true before and after I lost weight.
But now I don't eat much cheese because it is not often served and when it is it is sub-par to what I am used to. The only good stuff is imported as far as I have experienced here. Why eat something that does not taste good or is expensive anyway?
My post is for the #freewrite daily challenge by @mariannewest. Freewrite is a great way to post on steemit when you do not think you have the time, or talent, or anything to say. I know you can do this too! Here is Marianne's freewrite prompt post for today. Give it a try and surprise yourself.