The Free Market Educational System - ONLINE LEARNING.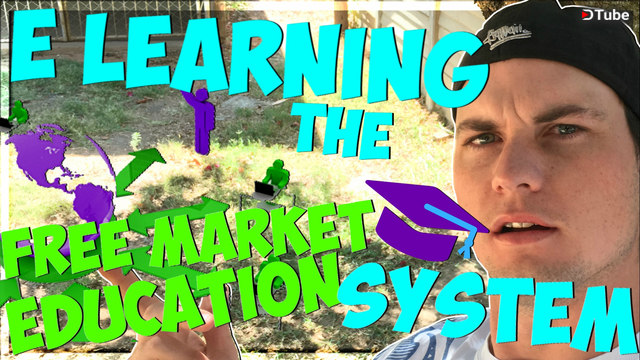 ---
So the free market education system - e learning, just may be the answer to the current education bubble that we've been living in these dozen decades or so. There are more and more online education platforms popping up, the world is seeing the value in e learning and that it may be more beneficial than traditional learning in some aspects. Obviously certain jobs still require certain paperwork and I'm not against getting a degree at all. I wish I had the change to get attend university and get a degree.
This is a cryptocurrency related channel for the most part but I've spoken about education so, so many times because it's so important. Check out my cryptocurrency playlist, go through the videos in there, you just might learn a thing or two.
What I'm getting at here is it shouldn't end there. So many great people have said the education process shouldn't end after school, or education never ends, something like that. There are so many great online platforms and courses that one could take. I've put a few cryptocurrency courses I found helpful further down in the description.
For more #cryptocurrency and #cryptoworldevolution related talks, news, and updates, consider subscribing here:
🤜 https://goo.gl/zLiyB4
---
Get that crypto education. Check out these free Udemy crypto courses:
🧠 https://www.udemy.com/bitcoin-or-how-i-learned-to-stop-worrying-and-love-crypto/
🧠 https://www.udemy.com/altcoin-crypto-master-class-bull-run-or-bear-market/
---
Feel free to send a tip. Any donations will be used for equipment to make this channel better. I'd appreciate that.
💠 ETH or ERC20 Tokens: 0xd8edb45A0De0201e04c7D66Ae2f72815cf597238
🏅 BTC: 12fFJpogZ9XBWrXGPiKfxNb5bb8GqwgDkH
↩️ DASH: XsyaRjnac3Mvmn4i4UKF7JghuWpCfsLGWt
🥈 LTC: LPgHyuAhqQa3Qyti52j9VxHrmYVWREcAc4
---
Check out the #cryptospacezim merch here:
👕https://dexterscryptospace.threadless.com/
---
Wanna mail something? 📨
3 Eskdale Court, John Matetich Close
Avondale, Harare
Zimababwe
---
Feel free to get in touch with me here:
🕊Twitter: @Dexstaples
📸 Instagram: @dexstaples
🌀 Steemit: @dexstaples
🚰 Facebook: Crypto Space Zim
💬 WhatsApp: https://goo.gl/HPrvDi
✈️ Telegram: https://goo.gl/TnnxGb
🎮 Discord: https://discord.gg/8sFxf3
👻 Snapchat: @dexstaples
---
With this channel I hope to spread awareness of the possibilities #cryptocurrency can give people in general but especially people in #thirdworldcountries. So subscribe and let's share the awareness:
🤜 https://goo.gl/zLiyB4
---
Disclaimer: all thoughts expressed are my personal opinion. I am not a financial adviser.
---
▶️ DTube
▶️ IPFS