Bama Football: #1 Alabama vs #4 Oklahoma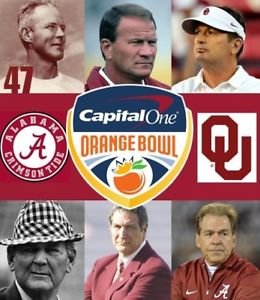 The College Football Playoffs for 2018 are now upon us. In the semi-finals we will see the defending champions, #1 Alabama Crimson Tide, square off against Heisman Trophy winner, Kyler Murphy, and the #4 Oklahoma Sooners. I'm sure this game will be full of offensive fireworks, and I'm looking forward to this meetup on December 29, 2018 in the Orange Bowl. The game will be televised on ESPN with a start time of 7 PM Central.
The two opposing quarterbacks met last week in New York City for the Heisman Trophy Award show. Alabama Quarterback, Tua Tagovailoa, finished 2nd place to Kyler Murray in Heisman Trophy voting. I'm sure this is going to inspire the Alabama defense, which is ranked in the top 3 nationally, to show the nation that maybe their quarterback was more deserving. We shall see.
Early betting odds has the Crimson Tide as a 14 point favorite over the Sooners. Odds makers expect this to be a high scoring affair as it is showcasing the top two scoring offenses in all of College Football. The over/under for this matchup is 81.