I realize that I could probably write at book about what freedom means to me, as it is one of the driving forces of my live and I have sought to understand what it truly means to be free for a long time. I have been collecting my ideas over some time and am grateful to @sagescrub for the prompt and momentum needed for me to get it all down in one place. There is already an excellent book by Murray Bookchin entitled Ecological Freedom that explains a similar point of view, but none the less I am unable to keep it brief and cut out the metaphysical understanding nor the physical expression of freedom as they are both essential parts of my life. So I warn you now that this has turned out quite long and I hope you enjoy reading it.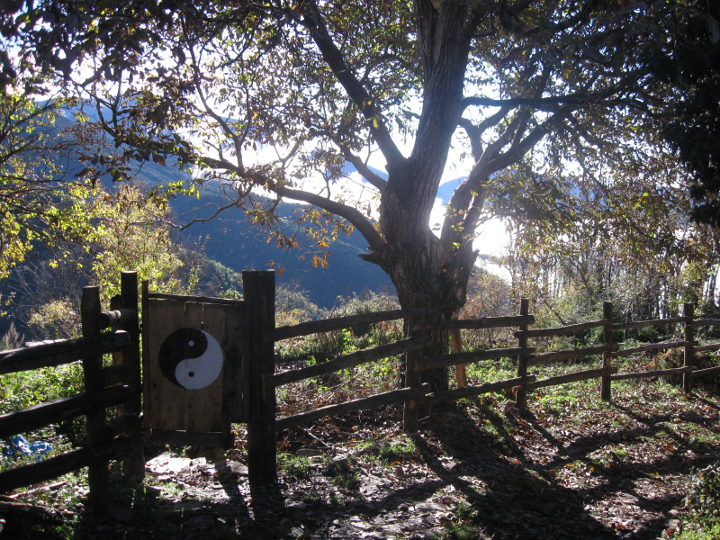 I understand true freedom as the ability to choose without any limitations. Ranging from godlike omnipotence and the ability to choose and create every aspect of your being, however one could conceive of it, to no ability at all, like a rock. Freedom, like all concepts of experience, comes on a spectrum so we have to speak of it relative terms. From the moment we are conceived as Human we are limited by the incredible creation of the golden ratio, physical laws, stubborn solidity, DNA and the fundamental drive to live without suffering. We may be born into slavery, a gender role, fascism or we may be born into a loving nurturing world. Either way, as human being we are not free from this ecosystem we inhabit, as the only choice we have to be separate from it is no choice, death. The choices we have are therefore already within a limited range and lacking freedom. I am unwilling to sacrifice any freedoms in exchange for 'security' of having some.
One of my principle purposes in life has been to increase my ability to make more positive choices, ie to have more freedom. I am unwilling to sacrifice any freedoms in exchange for 'security' of having some. From a metaphysical, spiritual stance I sense that we, as beings part of all that is, are already limitless, but our subconscious has bottlenecked its perception into a certain choice range, a narrow frequency range of energy potential. We have a limited range of perception. Many of our human brothers and sisters have already transcended some 'normally' perceived physical limitations, with ESP, OBE, quantum entanglement etc, and a few have transcended them all, evening mastering intentional quantum creation. Some choose to remain physical and tell us of the freedoms available if we open our eyes and see them here and now. Many have become free from limited mental processes and been able to communicate with extra-conscious beings of all kinds. Many more have realized the underlying connection between the freedoms of individual humans and the freedoms of the planet as a whole.
As an input/output being I recognize the need to harmonize with the laws of this physical realm and the ecology of this spinning rock, in order to obtain maximum positive choice in my own life and for life in general. This perspective of myself as part of a free ecosystem, grounds me in a moral logic and allows me to live in harmony with the natural cycles I inevitably experience, without becoming subservient to them. It allows me to accept my place in this world yet strive for the best outcome in all situations.
The level of freedom that is the norm within human society is abysmal, it is the freedom to do as you are told. Most of us have been forced to get registered for taxes and get vaccinations at birth, forced to go to school to get taught to think we are free even though we are forced to pay tax on the job we are forced into to survive because we do not have the freedom to create abundance wherever possible. We are forced to pick between authorities with different rules and illusions of freedom. We are, from a very young age, taught to be afraid of the truly free human, taught that they are sinful and dangerous, taught that without forced compliance civilization we would descend it barbaric, bestial anarcho-chaos. This fear has totally distorted our understanding of freedom to the point where the rich, democratic bureaucrat and the 45 hour a week factory worker believe themselves to be in a free society. Even those who chose to distance themselves from the obscene authoritarian claims and their enforcers will inevitable have to subjugate themselves to their rule in order to survive. It is clear that we do not experience total possible human freedom and probably will not for many generations to come.
Freedom and Anarchy are almost synonymous, both meaning that nobody is telling you what to do, and nobody forcing you to do it. Anarchy is free human interaction without coercion. Without anarchy, there is no freedom, and without freedom, there is no anarchy. Anarchy is freedom to have whatever actions, thoughts, feelings and experiences you desire so long as you are not limiting the freedoms of another in the process. It is the understanding that nobody else can tell me what I should experience, nor can I tell others what they have experienced or must experience. The first step to freedom is understanding that it can't be given to you, that it has to be lived in every breath and that you, and only you, can expand your freedoms within this life. As long as rule is not being imposed by direct or indirect physical means or by mental illusions, life is inherently free and anarchist.
The prefixes and suffixes to anarchy are self imposed principled limitations to individual freedom, creating necessary paradoxes like anarcho-capitalism where capital rules and anarcho-communism where the community rules. These principles are ways to guide us towards creating abundant life, be it through an individual enabling production with their freely circulated capital or a communities consensus and team work. I have called myself a Panarchist because I believe all paths to individual freedom are healthy. I call myself an eco-anarchist because I recognize that I am the ecosystem and that my freedom is connected to its, that my own actions must not rule the ecosystem nor be ruled by it. It has a say in my life and death and I in its so I have a profound level of respect for our co-existence.
I do not believe anything can be owned as nothing is separated from the ecosystem, and to claim ownership is to enforce separate rule. The suns light or heat can not be owned, nor the living earth we spin upon, nor its mineral building blocks, nor the wind we breath, nor the water cycles that pass through us, nor the fungi, plants and animals that share this life with us. Neither can a concept, an idea or a process be owned. Once it has been spread into the ecosystem it is part of the ecosystem. The fruits of our mental and physical labour, are also the fruits of the ecosystem and only through deep connection can we decide how to best utilize them to its advantage. With respect for the whole as parts with individual paths. We must of course have respect for privacy from fellow ecosystem inhabitants, respect for the individuals continued use of what their free effort has produced, and respect for constructive use of resources and personal space, but nobody has the moral right to limit the freedoms of another and misuse or destroy what another could use productively.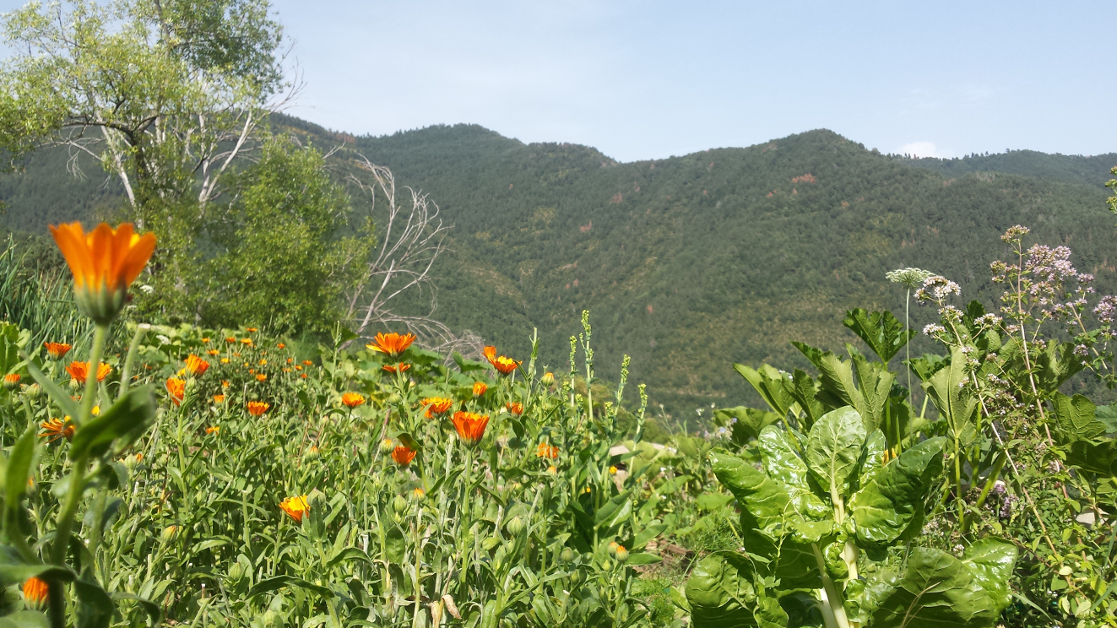 "Water, Food, Shelter, Comfort and pain,
Tribes based on trust and abundant gain"
As an eco-anarchist these are the freedoms I prioritize in my day to day interactions with others and the resources I require. Unfortunately we are facing an uphill battle to obtain these freedoms. Water is one of the most necessary and precious resources we need, yet many of us are forced to rely on systems owned by government or run for corporate profit. Both typical fail at providing the clean, safe abundant water they claim to. It is simply ludicrous that in some places it is illegal to collect rain water from the roof. When will they start imprisoning people for putting buckets under leaking roofs or opening their mouths to the sky?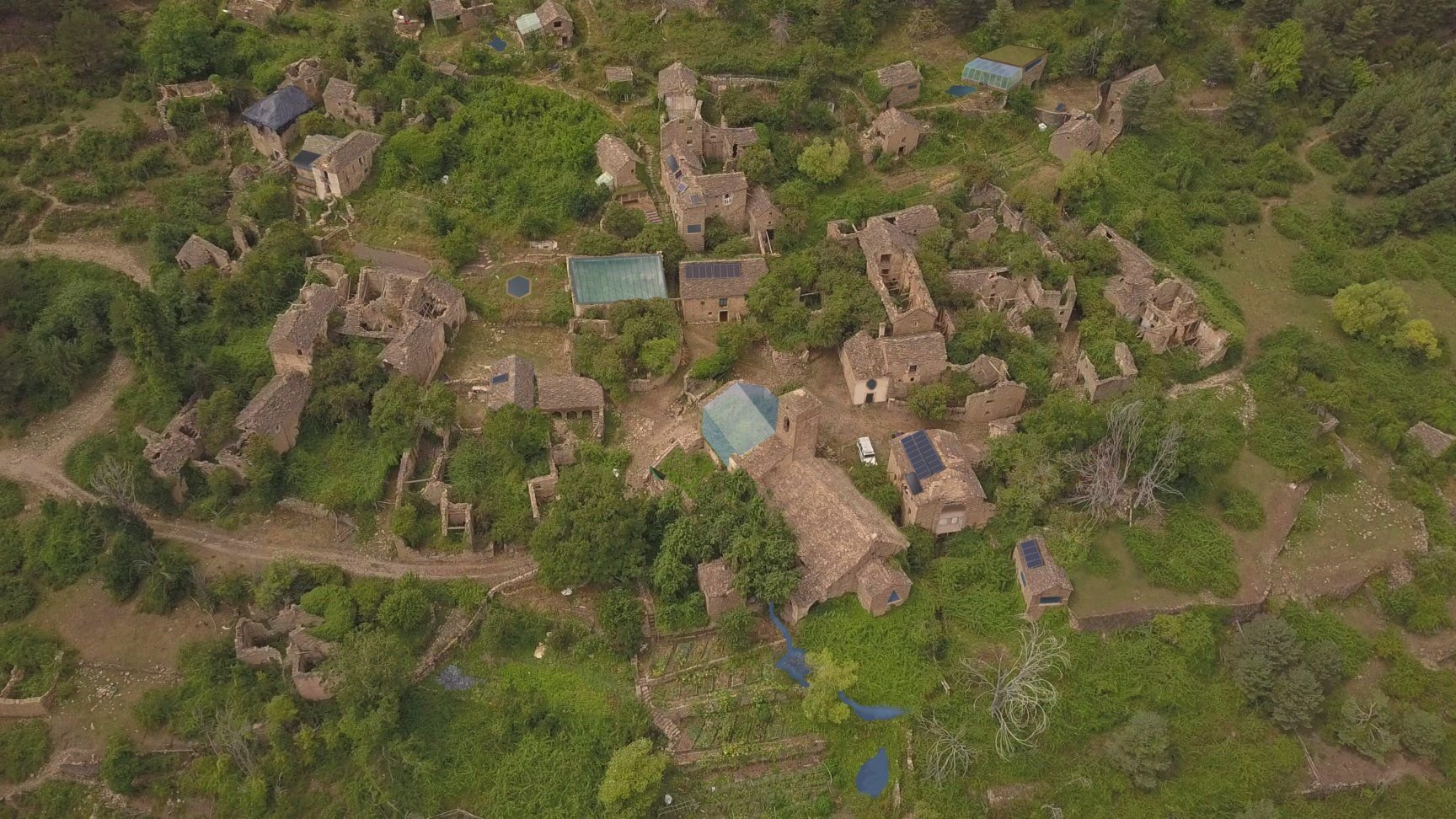 In my attempt to live with eco-anarchy, I live, 'illegally', upon land that is claimed to be owned by the worst oppressor of them all, the state. More specifically on a mountain range range that supported life for millennium but was vacated by the hydro-electro wing of the fascist franco spanish state for a failed dam project. After they put roads to plant trees in rows, it has been sitting relatively empty for 50 years with only a few, mostly anarchist, squatters occupying the ruined villages. I have been here 5 years with like minded individuals trying to restore the amazing potential this terraced mountainside has for food and life abundance. We live together with a fluid layered consensus of how we, as the ecosystem, can adapt and grow. The more precious, important, influential or long lasting a resource or action is the more we aim to achieve communication and consensus between all those affected.
None the less we have the authorities telling us, in a more or less friendly manner, that we are not free and we have been symbolically fined by the police branch many times for living freely here. Once for allegedly stealing water, even though we drink from the source and piss it all down the mountain eventually, slowing it down and giving water in drought periods. Some papers have been given to us for cutting trees even though the uneconomic monoculture pine plantation is devastated by processionary moths, we are replanting and we are doing the job the authorities claim they do, cleaning away the fire hazards. We get seasonal visits and reaffirmation that we are free to break their laws by inhabiting some refurbished stones in a box shape with a fire, and that we can't sue them if something happens to us while we are here on 'their' land. Although they have seen the national passports we are obliged to use, because we are not truly free to move, I have never signed or agreed to any of the paperwork and contractual fines they try to give us. I have been meaning to frame one as a qualification to the inadequacy and irrelevancy of government bureaucracy. Unless the unlikely situtation (at this time atleast) of a Guardia Civils storm troop invasion, or a similar catastrophe occurs we should be able to continue this level of freedom for many years to come.
**This land and all nature is free to be used to its advantage and we are free to stop it being used to disadvantage.
Everyone should be free to live within the ecosystem to their full potential.**
So yeah, if you got this far, it should be clear that freedom means a lot to me. It is the freedom to truly love this incredible ecosystem, this divine limitless creation that drives my existence. The freedom to choose abundance, trust and shared creation. I am unwilling to sacrifice many freedoms in exchange for the security of having some. I am free, willing and able to strive for the experience of limitless freedom.
Thanks again to Sagescrub for the prompt, the excuse to put this out there, and the chance to read some beautiful ideas of freedom. And thanks to STEEM, the Steemit platform and everyone who takes part in it for creating this opportunity to freely express myself and maybe have it read and appreciated. I hope to, slowly but surely, continue sharing how we live here. We'll see in the comments who managed to read this far!
LT