You have to decide what your highest priorities are and have the courage to say no, pleasantly, smilingly, unapologetically to other things. - Steven Covey
Well I said 'no' to business uniforms not too long ago.
It may sound ridiculous that wearing flip flops at work has become one of my top priorities in life, but if you just think about it for a second, then you'll quickly realize that it's actually a symbol of living up my personal freedom.
I remember the day one of my ex bosses sent me home in my lunch break, telling me that he wouldn't go ahead working with me in the afternoon if I didn't changed my clothes immediately.
Guess what, I wasn't even wearing flip flops that day :-)
I perfectly remember that I wore a dark blue polo shirt with the logo of the company, some olive green Bermuda shorts and loafers. I think his main problem were the loafers.
In front of a couple of other colleagues he started to disapprovingly looking me over, saying:
Seriously? You come to this office believing you're one of these cool surfers now?
I felt embarrassed.
One hour later I had changed myself, now wearing a long-sleeved white blouse with the logo of the company, some long-legged, light blue colored dress pants and dark brown leather shoes.
Beads of sweat rolled around my neck. The thermometer showed 90 degrees Fahrenheit (32 Celsius) that day and I terribly missed my summery morning outfit.
I knocked on the door of the executive's office, wanting to inform my boss that I was back at work. Trying to avoid any further discussions on my outfit, I just quickly held my head into the office saying 'hello', planning to not even step into the room.
But of course now he wanted to fully glory in his victory.
Oh wait, let me see how you do look like!
I stepped into the office and stopped in front of his desk, standing there like a complete idiot, waiting for his rating as if we were part of a casting show.
Look! Now you're the beautiful girl I want you to be.
I won't ever forget this situation, because it was so terribly embarrassing. It immediately stirred up a strong desire to be my own boss and shit on dress codes for the rest of my life.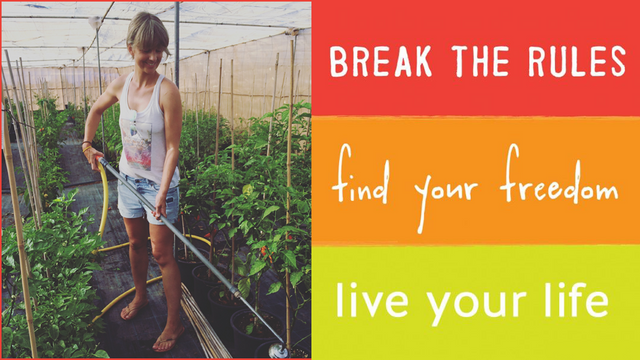 @surfermarly at her daily routine (you didn't know I'm a farmer? well now you do :-))
Freedom has many faces
My definition of freedom is living the life I want.
Only few weeks after the above described situation I quit my job and started working with my dad.
Funny enough his first words when offering me the position were:
We have no dress code at work.
We both break into laughter! What a great moment :-)
It's quite luxurious and comfortable to arrive at a certain point where you can say that you're exactly there were you want to be.
Yet, everything in life comes with a price tag - even flip flops :-)
Wearing flip flops at work means that you're supposedly not working in a management position of a big company quoted on the stock exchange, that you're furthermore not starting out with a seven-digit annual salary and also propably not calling a Porsche your company car.
But well... who know's, maybe you're going to be exactly there in a couple of years with your own business - and no dress code.
I never regretted my decision, because it was consistent with my priorities.
Wearing flip flops at work definitely means to me that I'm doing what the hell I want to do with my life.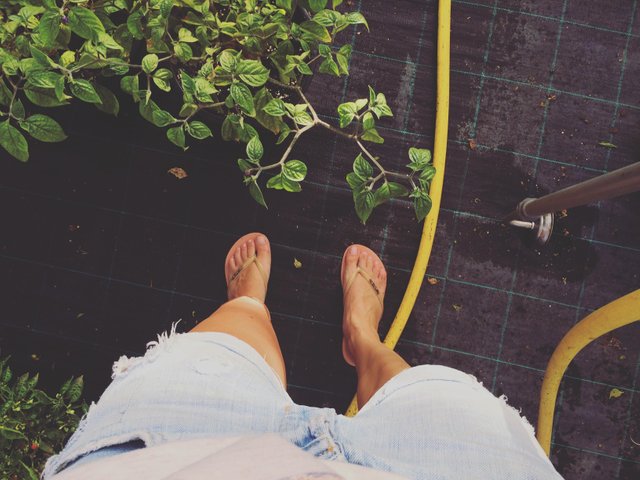 @surfermarly's 'dress code' at work :-)
Manage priorities, not time
If you know where your priorities are, then you're always going to be on the right path.
To clearly prioritize means to know and respect your values.
Overcoming certain temptations no matter how attractive they might be, sometimes simply means being consistent with your own self-concept and philosophy.
Prioritize yourself, and you'll never be running out of time in your life again.
Happiness means that you can't always do what you want, but that you always want what you do. - Leo Tolstoi
Now go out and get yourself some flip flops :-)
Much love,
Marly -
Steem Ambassador
.
.
.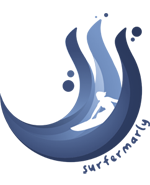 This blog was created in July 2016, aiming to provide thought-provoking content for open-minded people who go on adventure, step out of comfort zones and embrace the new.
Thanks for being part of the journey!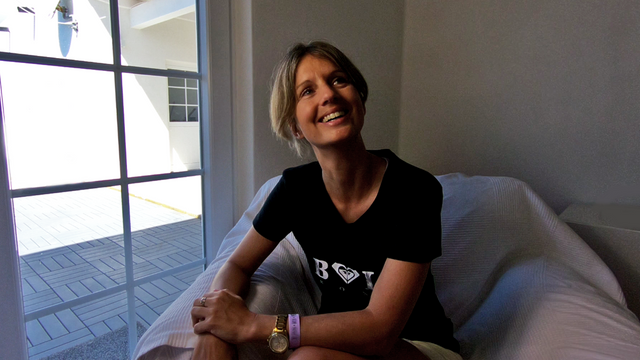 PS: All my blog posts are created and submitted via eSteem Surfer 1.1.12 - my favorite Steem desktop client that was developed by @good-karma's @esteemapp team. Check out their account for more information.
Original content. Colored statement (cover) found on askideas.com