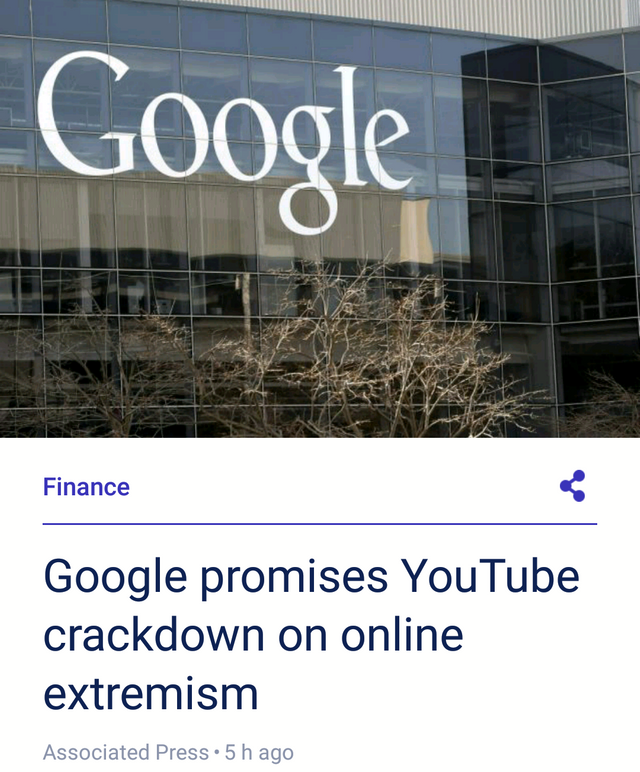 Article and picture shared via #YahooFinance & #AP.
1984 the "Orwellian" theory coming to fruition...Google has finally broken its social contract to uphold the freedom to express/present/publish materials and thoughts that is the crux and foundation to individual rights
Agreed that it is Encouraged to be promoting any form of threats or formats that would lead to detrimental harm and damage to society.
but with the various other currently existing social threats that's circulating online this would lead to further censorships of various kinds of contents that the Search and censor Algorithm Google would apply (based on word/sentence structure) as seen from the recently seen situation via #Youtube aka Addpocolypse occur.
https://finance.yahoo.com/news/google-intensifies-campaign-against-online-113020819.html
Google is promising to be more vigilant about preventing terrorist propaganda and other extremist videos from appearing on its YouTube site amid intensifying criticism about the internet's role in mass ...
This only serves to strengthen the Fundemental development of all Eth based online social media platform to develop and grow, just like here on #Steemit.
This would be an interesting development to watch out for.
Beware the arms of Social Engineering and the Stifling of Your individual rights
preacherofstorms