The Architecture of Freedom. Part 1: Information Abundance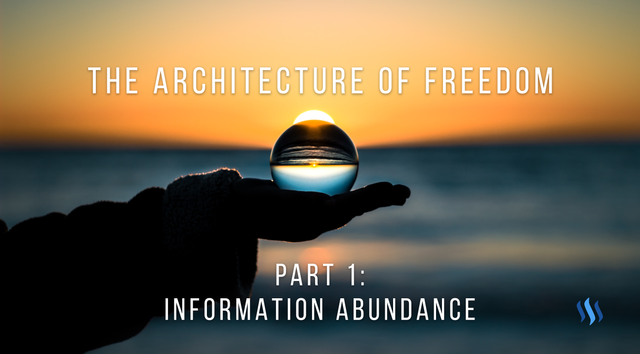 Oh, freedom….
Freedom is not something that is given, nor is it something that can be bought. Freedom can only be built. And this is an ongoing project of human cooperation and innovation that shapes every second and paves the way to the future.
I am starting this series of blog posts for two main reasons. Firstly, I need to make some sense of all the thoughts and ideas in my head. Secondly, I want to lay out a framework of already existing elements that can help us build a better future, mainly a free one.
The unique nature of the times we are living comes with unimaginable opportunities. Humankind has built upon the knowledge of the past and we have reached a point in which we can create a new system of governance that is tailored not only to real human needs but to the needs of all life on earth. For the first time in the history of this civilization, we are developing the global tools necessary for this change and the journey is fantastic.
In this first step of the journey I found it appropriate to start with the different informational paradigms that governed human interaction and cooperation through what we think as of history. Because information is a result of communication, let's take a look at the different technologies of communication and their influence on humankind.
The technology of communication: From information scarcity to information abundance.
There are several technologies that innovated communication, starting with language itself, the written word, the printing press and the internet. All of these communication technologies added a new and unique layer, giving us the possibilities of building better and better informational paradigms.
The spoken word.
Because humans are a social species, communication is a trait programmed in our nature. Even before language, we communicated through non-verbal ways, but let's consider the spoken word as being the first revolutionary innovation in the technology of communication.
Language gave us the possibility of having complex human interactions, we could now share ideas with each other and pass on knowledge. People that wanted to work together now had a much more efficient way of cooperating and this gave us better results.
The informational paradigm was impacted in a positive way. Instead of only learning from what others do, we now had the possibilities of asking questions and offering detailed answers. This meant that valuable information was much easier to pass on to future generations. Although this is a fantastic leap forward, the oral passing on of information is dependent on memory, which is not the more reliable storage medium.
One other aspect to consider is that because of the social structure associated with human interaction, there were some that had more authority. Thus some stories were more powerful than others.
The written word.
With time, human ingenuity came up with an upgrade to language and gave it a visual analog. Thus the written word was created and people could now share information with future generations in a more reliable and accurate way.
This new communication technology gave us the possibility of keeping a detailed log of events and discoveries. Information was now mobile and could travel to all corners of the world. And because it was written down, it does not depend on memory anymore. This new informational paradigm came with a layer of durability and accuracy.
Although this is a giant step forward in communication, it came with the price of centralization. All the books were created manually and most of the books were created by institutions that had an agenda. Thus only a certain type of information was favored, plus the cost of a book made it inaccessible to the masses.
The printed word.
With the invention of the printing press, humanity now had a written communication technology that could spread to the masses. Books were now manufactured in large numbers and with much fewer costs.
In the form of printed books, information was now more diverse and easier to obtain than ever. Thus the informational paradigm now shifted from scarcity to accessibility. This had massive impacts on civilization, it laid the groundwork for mass literacy and access to mass information, eventually even mass media.
Although this broke the previous monopoly on handwritten books. A new monopoly formed in the age of the printing press, which had much more power and reach.
The digital wor(l)d.
The first digital communication technologies were radio and television. Both were able to obtain a global status, but they had centralized and controlled structure. However, the most interesting digital communication technology is the internet.
And with mass adoption of the mobile internet, we now had another paradigm shift. Information now went from being accessible to being abundant. This is both a very subtle and powerful change at the same time.
For the first time in our civilization, information is now literally at our fingertips. And because the internet has an open and free structure, almost anyone can have access to the largest library of human knowledge ever created. Thus innovation skyrocketed in all parts of the world.
People are now able to find answers to their own problems by doing their own research. This empowers local solution generation and innovation. Because of the global and almost instant nature of communication on the internet, collaboration on a worldwide level has never been easier. Information is being shared in a medium that permits perfect copies that can be distributed through the network and accessed by all participants.
Over history, we were able to see the advances humans had in the different informational paradigms and how we were able to build a better world with each one. Even when information was scarce, we found a way to move forward and strive for more. But with an abundance of information, the ways we can innovate start to increase exponentially. We are living times in which human ingenuity is in the context of free and easily accessible information on everything. (To be fair, in most parts of the world, not in all. But global wi-fi is coming, Elon Musk has it scheduled for 2024.)
Conclusion.
Simple, let's use this information abundance to become whatever we want to become. Not only with our own interest in mind but with the thought of collective human evolution. The first brick in the construction of a real free world is this abundance of information, and we are here. Let's all enjoy and make use of it.