How Britney Spears and the #FreeBritney movement brought Awareness Into Abusive Conservatorships
Hello, everybody!
Today I'm sharing some insight into the #FreeBritney movement, a human rights movement that started in late 2018/ early 2019 .
This is a story about corruption,human rights , money, misogyny, patriarchy, (lack of) freedom, music and entertainment, this is the story behind the conservatorship of The Legendary Miss Britney Spears.
---
Trigger Warning
Mental health topics, conservatorship abuse, misogyny, family abuse, media abuse and patriarchal abuse will be discussed. Readers discretion is advised.
All statements written in this post is alleged information, recollected from very public sources, and meant for entretainment and educational purpouses only, and my opinion. The statements in this post do not intend to harm, any of the parties involved.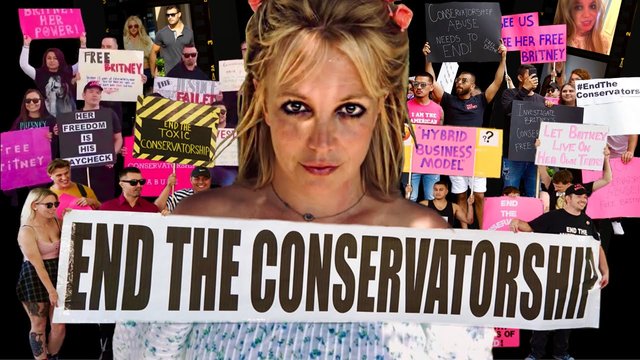 Image Credits belong to Deep Dive, YouTube Channel
Britney Spears is a 40 year old american singer, dancer, actress, performer and business woman who started her career as a child star, whom participated in national TV (in the show Star Search), performed on Broadway (along Natalie Portman in the play Ruthless), Starred in the Mickey Mouse Club (alongside Christina Aguilera, Ryan Gosling and Justin Timberlake, to name a few) Britney's artistic gigs would help support her family as her dad Jamie, had always struggled with alcoholism and her mom Lynne tried her best being a mother of 3 and a teacher.
When Britney's debut song and later album Baby One More Time were released her success was global, instant and changed the way in which pop music was produced, Britney was an unstoppable force. She was only seventeen then.
The public was fascinated with Britney, so much so that every record label wanted their own version of Britney. From that point on, Britney worked non stop for years, in which she wasn't only overworked but also scrutinized by the media about every single aspect of her personal life, even down to her body and clothing, and really the treatment that Britney received from the media was disgusting, there was constant speculation over her love life, her body, even her sexuality, all that bullying to a young teenager, being masked as entertainment.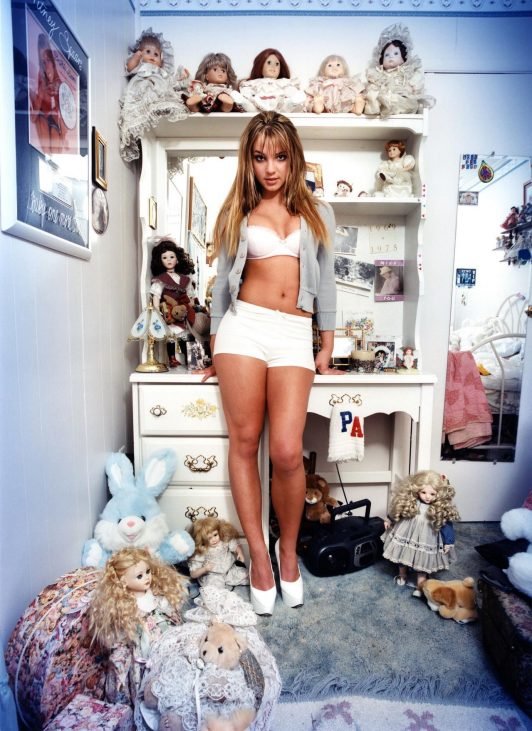 Britney photographed by David LaChapelle for Rolling Stone, 1999
In the early 2000s Britney and Justin Timberlake, whom at the time was the lead singer of the boy band N´SYNC, made their romance publicly known and the world went crazy, they were "America´s sweethearts". Britney was the most popular artist worldwide and that surely gave Justin a lot of free publicity, as N´SYNC slowly started to fade off the charts. In 2003 their breakup was imminent, rumors of her cheating were in all the tabloids and Justin released the most creepy song and music video, Britney responded with a sweet ballad that she wrote, and composed, the iconic Everytime, the music video being iconic as well was directed by David LaChapelle.
As Britneys popularity was still huge, the media made sure they monetize on that heartbreake, making Justin seem like the good guy and Britney like the cheating sl*t. At this time Britney could have used a much needed a break, after all she just experienced a very public breakup, and she had been working non stop, to make things worst she was having very little to non freedom to just enjoy life,as a normal teenager/young woman. She was giving some hints of that lack of freedom in songs like Overprotected, and I´m not a girl, not yet a woman.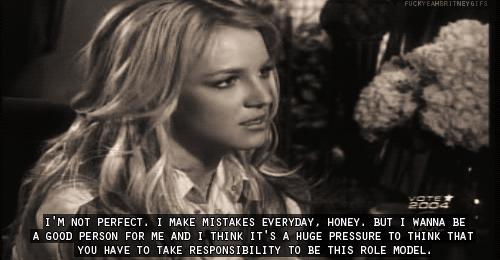 Britney being interviewed by Diane Sawyer
In 2004 shed meet Kevin Federline and fell in love, she invited him to go on tour with her and that same year they got married in a private ceremony. Britney wanted to start a family and it was publicly known that that was her biggest dream. Britney and Kevin had their first son, Seann Preston on September 2005, you'd think the paparazzi would leave a young mother and her child alone, well that's not the case, Britney, who has been harassed since the beginning of her career by paparazzi was HEAVILY harassed with her baby boy, the media wouldn't leave her alone and it seemed like they now wanted to make her seem like a bad mom, and before she could catch up, she was pregnant again, her second bundle of joy, Jayden James was born in September 2006. It was rumored that Britney suffered from postpartum depression, and only a couple of months after JJ was born, Britney filed for divorce from Kevin.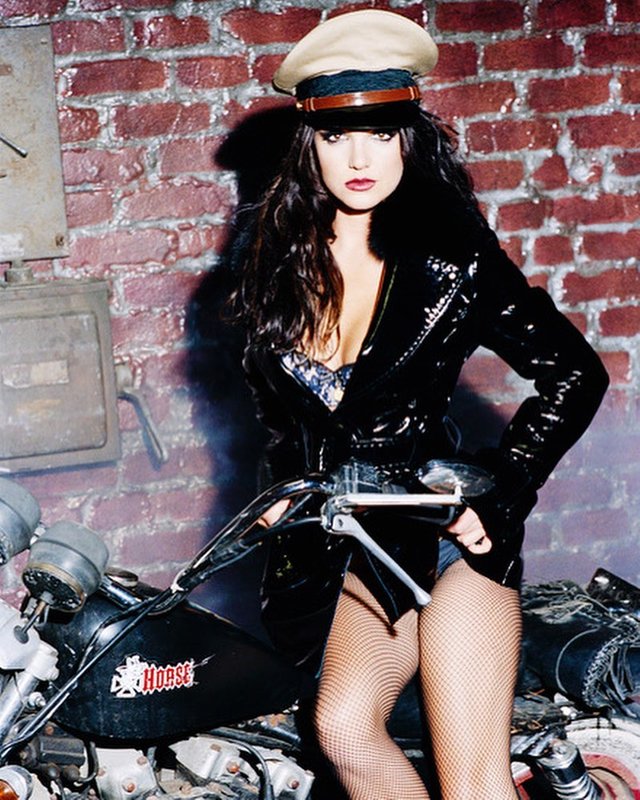 Britney Blackout Era
Image credits to Britneyonline.net and the original photographer
In the midst of the chaos Britney released one of the most iconic albums in pop history, named Blackout which marked a before an after on how pop music was made, once again. She had more creative freedom and she produced the album alongside Danja. At this point Britney had fired her manager from a long time, Larry Rudolph and had a friend manager, Sam Lufti.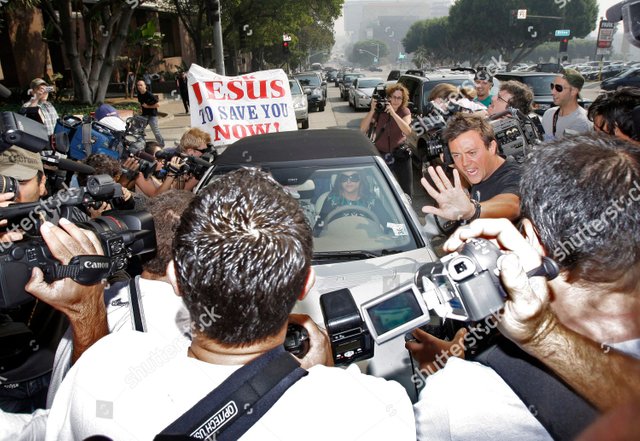 Britney surrounded by papparazzi 2007
Image credits Shutterstock
Britney was sent to rehab which she complied, and after being involved in a very publicized mental health struggle, she was stipped from her human rights, and became a conrvatee, to her dad, her nowlegal tutor or conservator in January 2008, at the time Britney was 27 years old.
And just like that, once again she was on the grind, recording Circus, her sixth studio album, she also recorded a documentary for MTV called Britney, for the record, that is VERY much telling of what she was going through at the moment, the beginning of the nightmare and how she did NOT feel free, because she wasn't.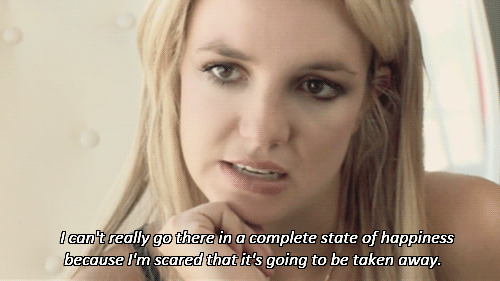 Britney, for the record
What exactly is a conservatorship?
A conservatorship also referred as a guardianship is a legal arrangement that is often used for the elderly, after a person is deemed by a doctor, to be incapable of taking care of themselves or their finances, a conservatorship may be put in place to help them, if the conservatorship is of the person, the conservators place is to help feed, clothe, and take care of the basic needs of that person, on the other hand if the conservatorship is of the state, then the conservators role is to make all financial decisions for the conservatee. For a 27 year old Britney, who right away started working hard, album, documentary, music videos, and a full tour, it seems hard to believe she needed one. Keep in mind that Britney wasn't allowed to CHOOSE HER OWN LAWYER, and she was left with a court-appointed attorney, Sam Ingham III.
At this time the media portrayed Britney's dad, Jamie as the savior of the situation, and as it was supposed to only be temporary and Britney was doing well right away, all the mass media attention on the conservatorship faded away.
After Circus, Britney released three studio albums Femme Fatale, Britney Jean, and Glory.
Time kept passing, Britney kept working and the conservatorship was still in place, now for for indefinite time.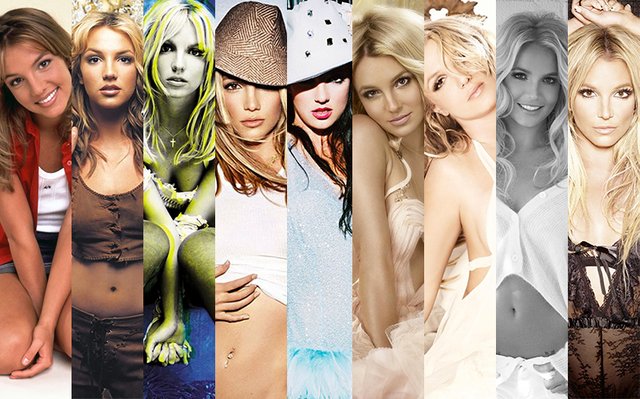 Britney Spears's discography
Photo credits to Gay Times
She kept being an exceptional earner and artist, she collaborated with Rihanna in the remix of the song S &M, became one of the judges at the talent show The X factor she collaborated with Will.I.Am in the song Scream and Shout, she participated in the Smurfs 2 with the song and music video Oh La La, later she performed at the 2016 AMA´S, started a four year residency in Las Vegas named Piece of Me, collaborated with Australian rapper Iggy Azalea in the song Pretty Girls, performed along G-Easy at the VMAs with her song Make Me.
Britney was able to pull off all these career accomplishments yet she couldn't even have a voice in the production of her artistry.
In late 2018 a new Las Vegas residency was announced it'd be called Domination, in the opening ceremony it was clear that Britney wasn't happy, or that there was something going on.
With many tickets already sold, when in January 2019, Britney's instagram posted this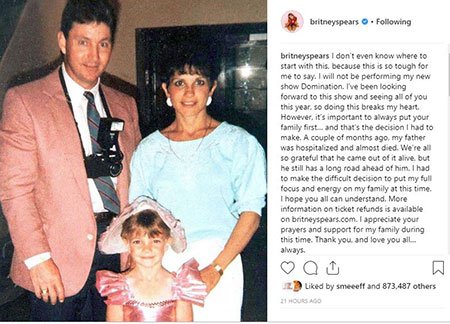 Alledging that her father was sick, the residency was cancelled before it even started
Where is BRITNEY?
In the months following that mysterious post Britney stopped posting on Instagram, and her fans started raising the voice on social media, and the hashtag #WhereIsBritney started gaining popularity among fans, it was in April of that year when a popular podcast that analyzed Britney's instagram received a voicemail from a paralegal saying that Britney was being held against her will in a mental facility. After that infamous voicemail broke the internet, Britney's team quickly posted a meme about self-care, which fans didn't believe was Britney, which was pretty fair with the situation given.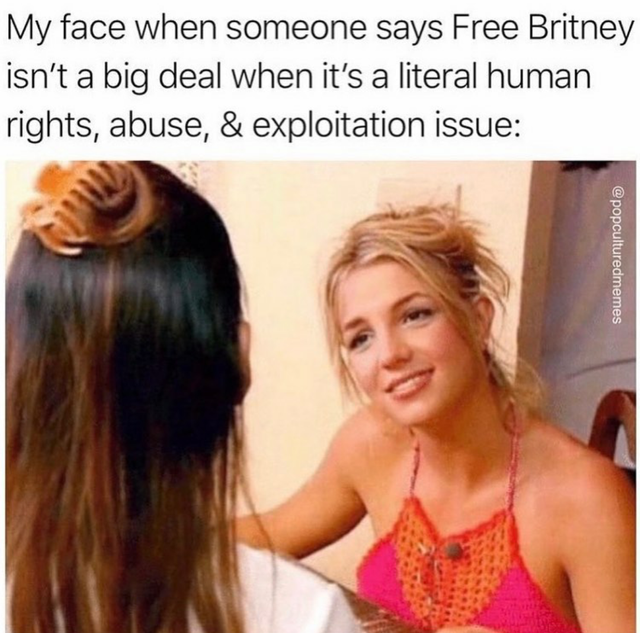 Free Britney Is a human rights issue
At this point social media exploded with the hashtag #FreeBritney, as Britneys social media continued as if nothing happened, her little sister Jamie Lynn, who is fairly known from the show Zoey 101, and has a big enough platform wouldn't talk about it and would later say that her sister was ok, and that she needed this, that Britney was happy.
Radio SILENCE
Britney's conservators had a lot of money to loose from Britney gaining her life back, that's why the court dates for Britney's conservatorship started becoming a focus for #FreeBritney activists to rally against not only Britney's conservatorship but against conservatorship abuse in general. Soon enough information about the court cases started flooding social media and the public started realizing that corruption and abuse in conservatorships seemed to be of common currency.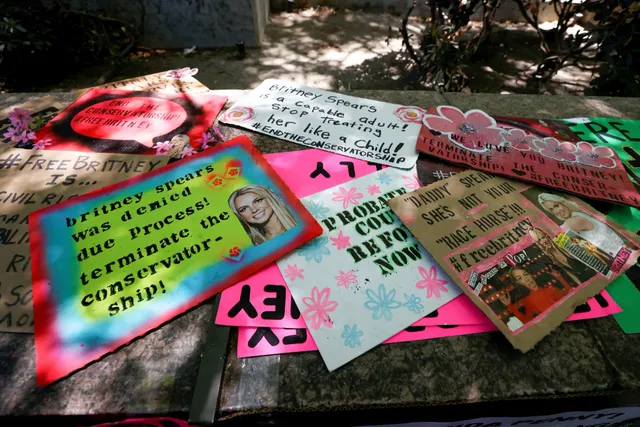 Image Credits Mario Anzuoni/Reuters for the NYT
While investigating Britney's situation some names would stand out, like Lou M. Taylor, Britney's business manager -hired under by the conservators- , Andrew Wallet, who served as Britney's co-conservator and would call it a Hybrib Business Model, Larry Rudolph, Britney's manager, the one she fired in 2007, Jamie Lynn Spears, who secretly became trustee of Britney's SJB trust, and of course Jamie Spears, Britney's dad who was making 16000 USD a month just from being Britney's conservator. It seemed like there was a whole system that supported the conservatorship, but again, how could a young, active and million dollar earner be in such horrible predicament?
It seemed for a while that Britney's fans were all alone fighting against a huge monster, that was until early 2021 when the New York Times released their first documentary on Britney's situation, Framing Britney Spears which exposed basically how the industry not only sl*t shamed a young Britney and tried to tear her down just for being human, and making mistakes, but also how much pressure, media abuse, papparazzi harassment, and mom shame, Britney would experience and how all that would later be an excuse to frame Britney as someone so incapable of taking care of herself and make decisions.
A prominent figure in this documentary is Britney's life long friend and former assistant Felicia Culotta, who gives insight on how Britney was on a personal level and how she didn't need to be in a conservatorship.
Framing Britney Spears Trailer
A couple of months and court dates would go by and eventually on June 23rd Britney was able to talk to the Judge of her case, Brenda Penny, she gave an emotional testimony,(which was leaked and available to the public) in which she expressed that she felt the conservatorship, her conservators and team would not only force her to work but also punish her when she didn't comply to their strict rules (which included taking psychiatric medication that she didn't want to take) they had over her, how her dad loved to control her, and how she was told she couldn't marry, hire her own attorney and how she had an IUD, a contraceptive device inside her body, that she wanted to remove, yet her conservators wouldn't let her do so, even that her wish was to have more babies with her now fiance, Sam Asghari. The whole testimony is beyond heartbreaking, and it really comes to show how strong and resilient this woman is.
She then would testify once again, in a private testimony that did not leak.
Britney Spears full testimony June 23rd 2021
Eventually Britney was able to hire a new attorney, Matthew Rosengart.
As more decisive court cases were coming along and there was more and more awareness and media pressure, a Netflix documentary called Britney vs Spears by Erin Lee Carr, a feminist film-maker would be released, that again puts emphasis on the horrors that Britney had to endure for 13 years.
Trailer Britney vs Spears
Then the NYT would release their second documentary on Britney's case, Controlling Britney Spears, which would put emphasis on how Britney's privacy was allegedly violated by the security team hired by her dad, that had allegedly placed hidden recording devices in Britney's house, room, and her i-cloud being monitored as well.
Trailer ¨Controlling Britney Spears¨
Eventually Jamie Spears was suspended as a conservator and Britney's freedom was one step closer to becoming a reality.
And the very last court date for Britney's case was on November 12th 2021, when the conservatorship was finally terminated and Britney would gain the freedom to basically do whatever she wants, to spend her own money and to be an adult woman.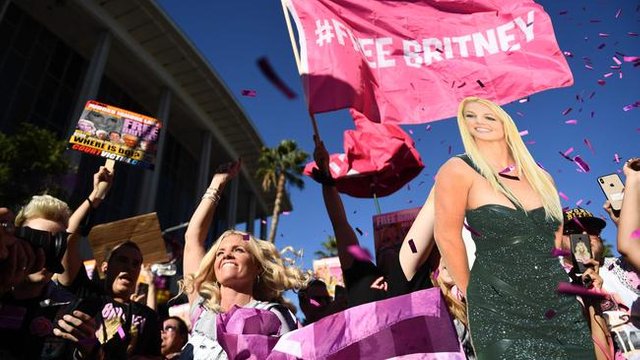 Fans celebrate Britney's freedom on November 12th 2021, outside courthouse in LA
Image credit The Australian
Britney was ripped off 13 years of her life, she was controlled, abused, trafficked, medicated against her will and even her body and privacy was being under the control of the people that should have cared for her and protected her. Her case is just one of many, and has brought attention to conservatorship abuse and conservatorships in general. Now Britney enjoys her freedom, is engaged to her love and posts nudes that break the internet. Her influence, power and art are undeniable and I am very proud of her!
The Britney Army and the #FreeBritney movement now advocates for the freedom of other artists whom are under alleged abusive conservatorships such as Star Treck Star Nichelle Nichols, child star Amanda Bynes, Visual Artist Peter Max, and others.
Thanks so much for reading! I hope yall found this post interesting
If you've enjoyed the content, please follow me, like this post, share & comment!
Love, Danila Marilu
---

---
Follow Me
Steemit: @danilamarilu
Instagram : Danila Marilu