DogeFaucet - A way to earn free Dogecoin
Hello fellow Steemians, since the price of many cryptocurrencies has raised I was looking for a way to make some little extra gains on the side.
So I already am mining when my rig is not in use, but what can I do while I am just playing some games or working at the computer?
I stumbled upon an app that allows you to get free Dogecoin, a fun coin that I haven't bought or mined any, that's why I immediately decided to give it a shot.
The app is available on the Google Play Store (please keep on reading I also got a solution for people without an Android phone) and lets you claim around 0.09 DOGE every 4 minutes, which isn't a lot but hey to some people it might be worth something and it's a little bonus for almost no effort at all.
If I remember correctly you also get some free DOGE for signing up as a starter bonus.
First of all, if you own an Android device you can just go ahead and give it a try, here is the link to it:
https://play.google.com/store/apps/details?id=org.nyandevid.dogefaucet&referral=DW6UJV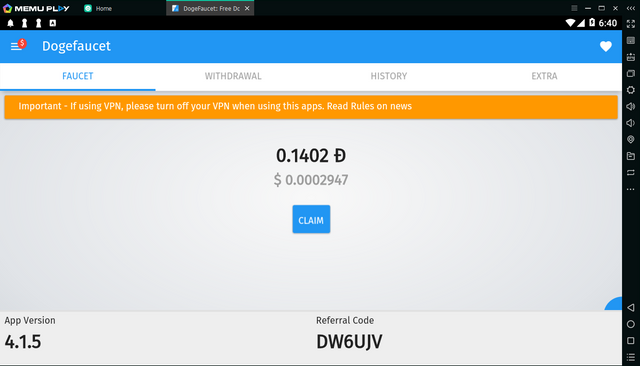 The app is really simple, all you need is a DOGE wallet address, I used the Coinomi wallet app to create one, which is available for pretty much every OS out there:
Once you have it set up, just go ahead and press the claim button every 4 minutes, you can withdraw the coins to your wallet once you reached 5 DOGE or more, but I like to wait until I reached 20 DOGE and withdraw then because that is the maximum amount you can withdraw with a single transaction.
---
If you are an iOS user like me or want to do it on your Windows computer you can keep on reading.
There is a program out there that allows you to run android apps, it basically emulates an Android device for you.
Again it's really simple to set up, I used the emulator for quite a while because initially, I was looking for a way to play to mobile games on the computer you can go ahead and download it here, it's called MEmu:
Just install it as you would do with any other computer program, then you should be greeted with a home screen and set it up with your Google account, go to the Google Play Store by clicking on the icon and search for the app there, once you have it installed go back to the home screen and launch the app from there.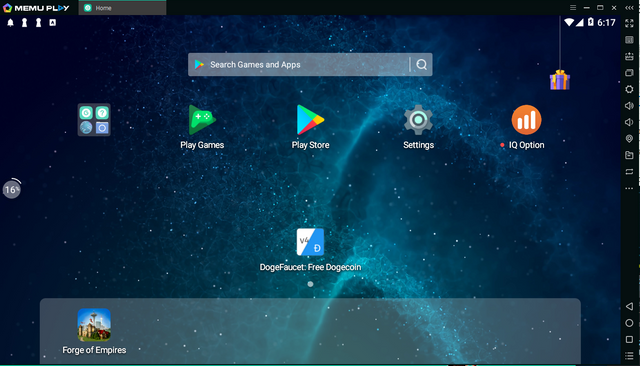 It's nothing different than if you would use it on an actual phone.
The app is tested by myself and I withdraw over 120 DOGE in total so far, so I can totally recommend it to you.
Let me know if you have any questions and I'll try to answer them in the comments.
And please if it would be great if you could enter my referral code: DW6UJV
That way I'll also get a little something back, thank you so much.