Hi Steemians!
Hope you all are fine and enjoying the wonders on steemit. Its been a while I was out of touch from steemit. The reasons behind my absence are:
Some meaningless posts getting high rewards.
Bidding bots not functioning responsibly.
Some flag wars going on on steemit.
Now! I am back on steemit with a bigger cause and I hope Steemit community will help me out in this cause.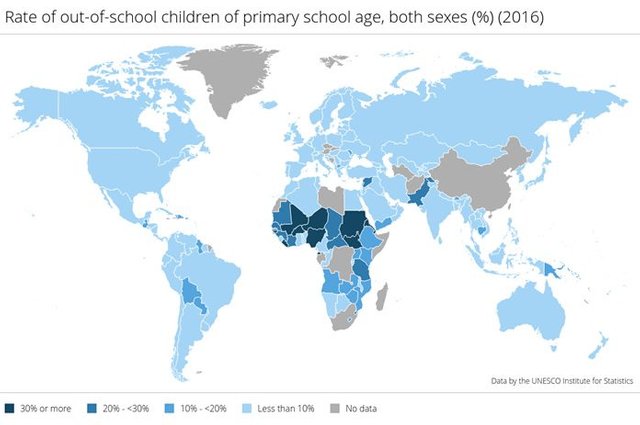 Source: UNESCO

---
Project Title:
Educators Mania Free Schools
Project Description:
I am proposing a project which will educate the children who are not getting the education or are out of school due to some reason. The main reason behind the students not attending the schools is the increasing poverty in Pakistan and other countries of the world. We will educate those children with your help. The amount collected from upvotes on the posts related to this project and your charities will be used for this purpose after doubling it with the funds from our IT company named ITwithSM. In other words the 50% funds for this project will come from steemit community and 50% funds will be managed by our company ITwithSM.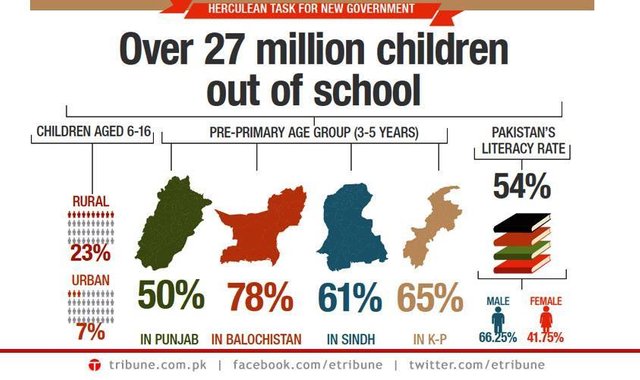 Source: tribune.com.pk

We will continue establishing free schools in different areas of the world for those children who are out of the schools starting from Pakistan. As a start we will establish the first school within two months with the funds 50% from steemit community and 50% from ITwithSM.
Project Scope:
According to a report about 27 million Pakistani children are not attending the schools due to poverty and this number is increasing drastically and about 1.5 million are street children. According to UNESCO 263 million children are out of schools and 150 million are street children all over the world. These children are our main target. We will establish schools and sweet homes for these children. We have a very strong hope that steemit community will help us in this project.
Project Transparency:
To keep the whole project transparent complete accounting reports of this project will be shared on steemit and the official website of this project. Any person offering charity for this project will be able to get complete calculation of every penny collected as charity.
Our Previous work:
We are already working for well being of students in education sector. Following are our previous initiatives for improvement in education:
Youtube channel with video lectures for students to get free tuition. (www.youtube.com/itwithsm)
An educational website with video lectures for students to get free notes and video lectures (www.educatorsmania.com)
We distribute video lectures in DVDs to cable networks and students for free to help the students every month.
We offer 50% discounts and free assistance for educational projects of students in IT and Accounting field.
Your contribution is needed:
Your contribution in this project is much needed and will be appreciated. You can help us for this nobble cause in following ways:
Upvote this post and the posts related to this project (The posts will be uploaded continuously).
Upload a post to appeal your followers for this project and then send the amount collected from that post to @itwithsm
Send your SBDs/Steem to @itwithsm with Memo "Educators Mania Free Schools Charity".
Use the IT, Software development and Web Development services provided by ITwithSM (If you use our services for charity purpose ITwithSM will automatically consider 30% of the project earning as charity from Steemit Community and will double the amount to keep the charity on 50/50 percentage. In other words if you order a project which costs $100, ITwithSM will add $30 from this amount to charity and then will add $30 from company accounts to double this amount as already promised. We will keep the charity on 50/50 percentage between steemit community and ITwithSM)
Tell your friends about this project same will apply if they use our services for charity purpose.
Contact us if you want to help us by bank transfer, wire transfer or any other way.
---