PRICE OF THE BİTCOİN GOLD !!! Cela représente un gros bénéficie pour les développeurs ! !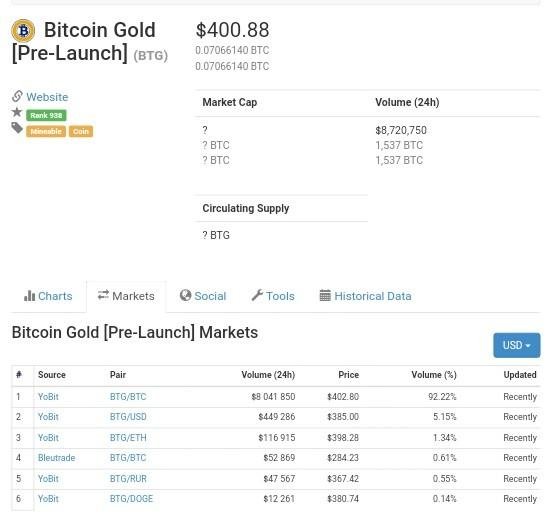 Bonjour tous le monde .
Comme le titre indique le prix du btg sera au alentour de 400$ environ. Source prise chez coinmarketcap.
Vous pouvez voir qu'il est sur quelles que marchés là où les développeurs vende les btg pré-miner environ 100 000 btg qui représente 40 000 000$ environ.
Vous trouverez ça normal ?
Mon avis est non car cela veux qu'il aura 100 000btg en plus après le fork cela pourrait peut être faire baisser le prix du BITCOIN.
Cela reste un avis .
Merci pour votre lecture.
Followez moi, laisser un commentaire,un upvote (un like ) et partager
Adresse Bitcoin dons :
138KB9S8wW5tYEFsNYBWJMFoyicEi6LCVL
Adresse Ethereum dons :
0x90e2e0580f26773031A318F59f98E9015Eab5524
Adresse Litecoin dons :
LZqq8xQB275LEGnvyxJqkaBkgMwjzKVsLm