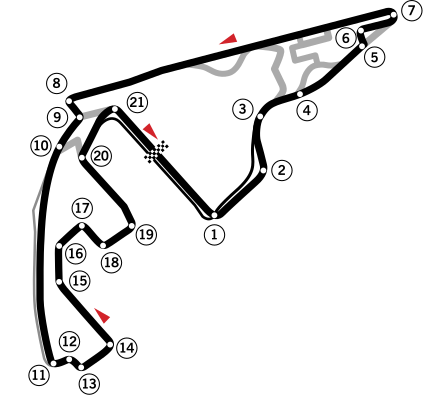 [Formula One Yas Marina Circuit](Автор: Arz - собственная работа, CC BY-SA 3.0, Ссылка)
The venue of the race Abu Dhabi, the track "Yas Marina"
The length of the circle is ****5,554 km****
Racing distance 55 laps / 305,355 km
Direction of movement Anti-clockwise
Turns 21 (12 left, 9 right)
Circle record (race) 1: 40.279 - Sebastian Vettel / Red Bull Racing / 2009
Circle Record (Qualification) 1: 36.231 - Valtteri Bottas / Mercedes / 2017
The first training will begin in a couple of hours, do not miss.
The route "Yas Marina" was built on the artificial island of Yas in just three years. The project cost was 1.3 billion dollars. In addition to the autodrome, the project itself included a five-star hotel, Ferrari World amusement park, an artificial yacht harbor, a shopping center and a number of other objects.
Have a nice weekend everyone!