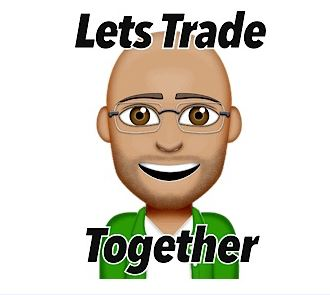 USD/CAD has gained over 1% this past week and at one point reached its highest level since June 2017. The Canadian dollar has taken a beating since November, plunging 3.0% in that period. The data published by Statistics Canada showed that the GDP expanded by 0.3% on a monthly basis in October following September's 0.1% contraction.
Another factor weighing on the Canadian currency is the sharp drop in oil prices. Oil has fallen to $45 a barrel, as recent OPEC cuts failed to curb the downward spiral. Oil prices have fallen by 35% since mid-October, putting pressure on the Canadian dollar.
On the other hand, the U.S. Bureau of Economic Analysis said the real GDP in the U.S. increased by 3.4% on an annual basis in the third quarter.
Although the US Federal Reserve hike interests rates this week, they tone down their interest-rate estimates for 2019. The US Feds now only expects two rate hikes next year, versus three previously.
So the question becomes is will oil prices stay depressed or will the dollar start declining because the Markets were expecting three US rate hikes not two? Lets go to the charts to get some clues.
Monthly Chart (Curve Time Frame) - monthly supply is 1.37000 and monthly demand is 1.21000.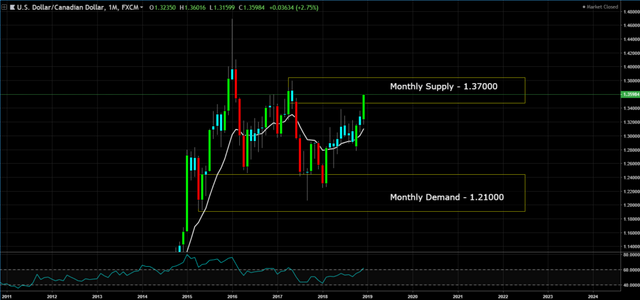 Weekly Chart (Trend Time Frame) – the trend is up, but the weekly supply is embedded within the monthly supply at the same level.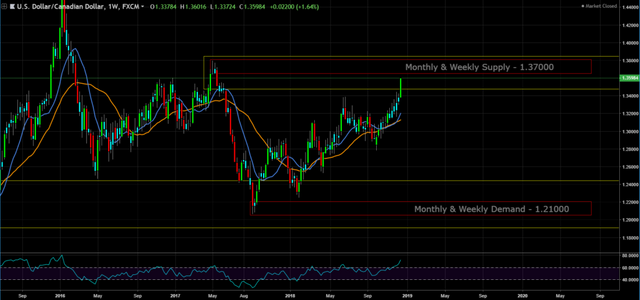 Daily Chart (Entry Time Frame) – price has just entered the daily supply at 1.36500.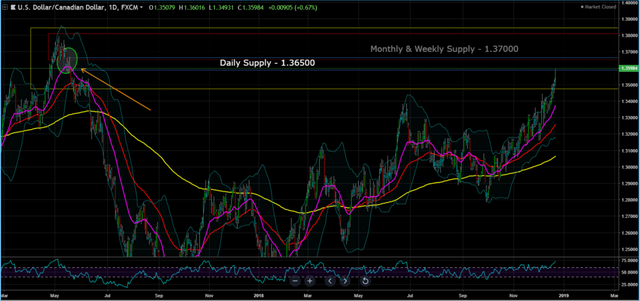 However, because momentum is so strong, I would suggest to wait until price shows you it wants to go lower. Meaning, wait for price to make a lower high and a lower low first and short on a pull back.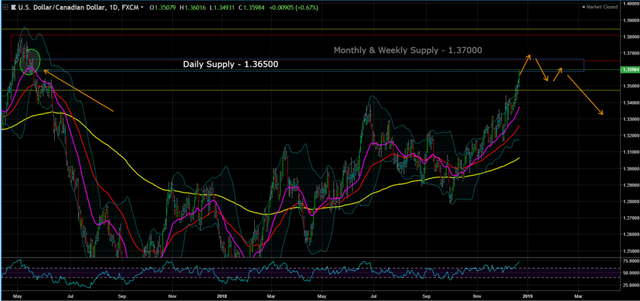 This post is my personal opinion. I'm not a financial advisor, this isn't financial advise. Do your own research before making investment decisions.

---
Published by Rolland Thomas
on

with SteemPress
https://mentormarket.io/rolland/forex-analysis-report-12-22-18-will-the-usd-cad-continue-to-rise/
---