NZD/USD Key Points
The RBNZ cuts interest rates 50 bps.
Higher than the expected 25 bps.
NZD/USD drops hard, but closes above daily support.
NZD/USD Technical Analysis
Morning team,
The Reserve Bank of New Zealand (RBNZ) sent shockwaves throughout forex markets yesterday, slashing interest rates by not just 25 basis points, but firing a double barrelled 50 bps cut.
This means that the official cash rate now sits at a record low 1% and brings it in line with their cousins across the ditch, Australia.
With all surveyed economists expecting just a 25 bps cut, or even no cut at all, the RBNZ ensured they got a response from their currency, sending NZD/USD tumbling to 2.5 year lows.
The RBNZ are trying to stay ahead of the curve with this cut, a fact highlighted by RBNZ Governor Adrian Orr's statement, where he said that the cut was necessary to support employment and inflation at a time when headwinds for the New Zealand and global economy are growing.
"GDP growth has slowed over the past year and growth headwinds are rising. In the absence of additional monetary stimulus, employment and inflation would likely ease relative to our targets."
Governor Orr was also on the front foot to waiting media, failing to rule out further rate cuts heading forward. Something that the market now must price in at a higher rate than previously expected.
While an unexpected, double barrel rate cut like this was always sure to devistate the NZD, it was yesterday's daily close that I found interesting, actually for its strength. Take a look at the NZD/USD daily chart below: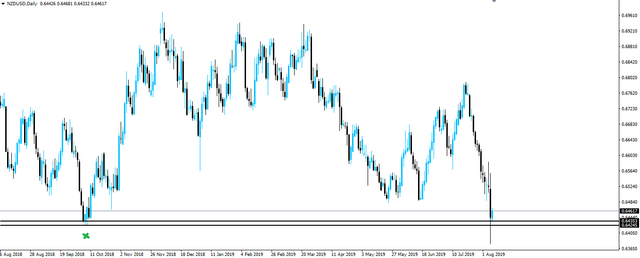 You can see that while price went through daily support, it actually bounced back and closed above it. Not only that, but its now continued higher throughout the following trading day.
For me, that's unexpected technical strength. Crazy after an interest rate cut of this magnitude. But hey, when was the last time forex markets did something in a rational manner? Yeah, I don't remember either...
With price above higher time frame support like this, I'm more inclined to look for longs than shorts. Something I can't believe I'm saying, but that's what the technicals are telling me.
We now wait for an intraday retest of short term resistance turned support as confirmation.
Best of probabilities to you.
Dane.
Upcoming Economic Releases
NZD Official Cash Rate
NZD RBNZ Monetary Policy Statement
NZD RBNZ Rate Statement
NZD RBNZ Press Conference
---
Market Analyst and Forex Broker.
Join my Inner Circle ⭕️ - www.forexbrokr.com