GBP/CAD Key Points
Higher time frame, GBP/CAD bearish trend.
4 hourly bearish flag has played out.
Now looking for short term retest of previous support turned resistance.
GBP/CAD Technical Analysis
Morning team,
I trust that you all had an excellent weekend? Stepping away from the markets for a couple of days is always good for your mental health and actually helps you trade better in the long term. Those of you that are trading full time, 7 days a week on those crypto exchanges that offer leverage, are crayyy!
My Monday morning analysis has seen the GBP pairs catch my eye. We've seen GBP/USD in a bearish trend for ages now, last week breaking and holding below higher time frame support and giving us further confirmation of possible further bearish momentum.
But flicking through the price action on the GBP cross pairs, it's actually GBP/CAD that I want to focus today's analysis on. Take a look at the GBP/CAD 4 hour chart below: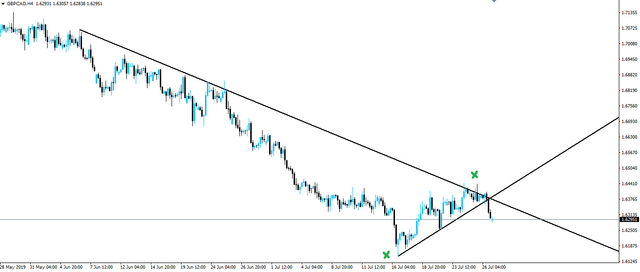 You can see pretty clearly that price is in a bearish trend. You don't need to use anything fancy in order to come to that conclusion. We can just see that price has gone from the top left hand corner of the screen, to the bottom right hand corner of the screen. Yep, that's all it takes to identify a bearish trend.
What I've marked on the chart however, is the little pullback we've seen this last week. Price has rallied against the trend and now hit trend line resistance and is starting to resume downward, in the direction of the higher time frame trend.
If you're a textbook pattern type of trader, you could call this a bearish flag pattern. The fact it's going back into higher time frame trend line resistance, just adds weight to the bearish nature of the setup.
Now zoom into the GBP/CAD hourly chart and lets take a look at what we've got: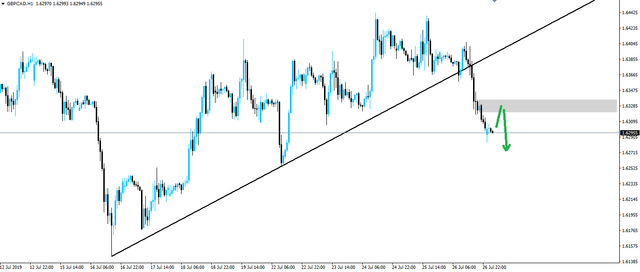 With price continuing lower, it's here I'm looking for short term pullbacks in order to get short. I look for these pullbacks in order to get the best risk:reward possible out of my trades. By waiting, I lower my risk and allow myself to target more money when the trade goes my way.
You can see that price stalled at the grey box and if price does in fact retrace back to the zone and retest this area of previous short term support as resistance, then I'll be getting short.
Best of probabilities to you.
Dane.
Upcoming Economic Releases
GBP M4 Money Supply m/m
GBP Mortgage Approvals
GBP Net Lending to Individuals m/m
(All low impact releases to start the week.)
---
Market Analyst and Forex Broker.
Join my Inner Circle ⭕️ - www.forexbrokr.com