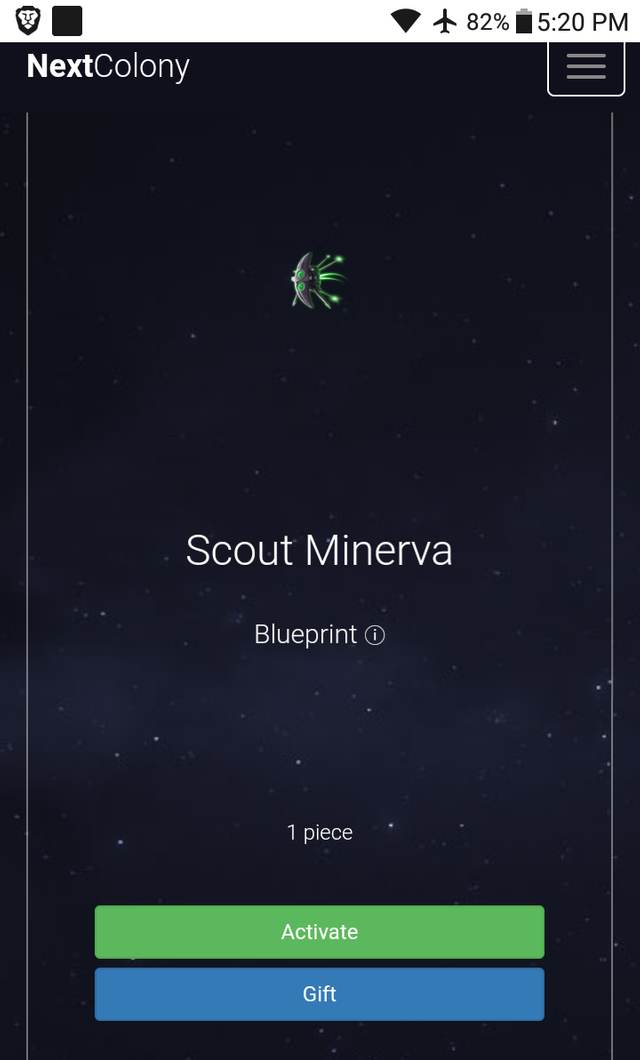 Brand NEW @nextcolony BLUEPRINT to BUILD the Scout Minerva Laser Ship!
You CANNOT buy them in the @nextcolony STORE.
They have to be found during a successful EXPLORATION in the @nextcolony GALAXY.
Only have 1!
Below is the description from the @nextcolony website about the Scout Minerva.
https://nextcolony.io/shipyard
---
Scout Minerva
Scout Minerva is a tiny ship, which has been developed by the Flesssk people as a toy for their youngsters and as a training ship used in the education of their future star-force pilots.
Uranium consumption per coordinate point: 0.001
Speed (coordinate point per hour): 1
Storage capacity: 1
Laser: 1
Structure: 1 / Armor: 1 / Shield: 1
Required Ship Skill: Scout lvl. 20
Required Building Skill: Shipyard lvl. 6
Required Building Level: Shipyard lvl. 6
Cost: 48 C, 24 Fe, 12 Cu, 6 U
01:42:18
---
[FOR-SALE] @nextcolony Scout Minerva BLUEPRINT [FOR-SALE]
Thank you for stopping by!
If you have any questions or concerns, please don't hesitate to ask.
Best regards,
@frankcapital
Posted using Partiko Android