[FOR SALE] @nextcolony Transporter III [FOR SALE]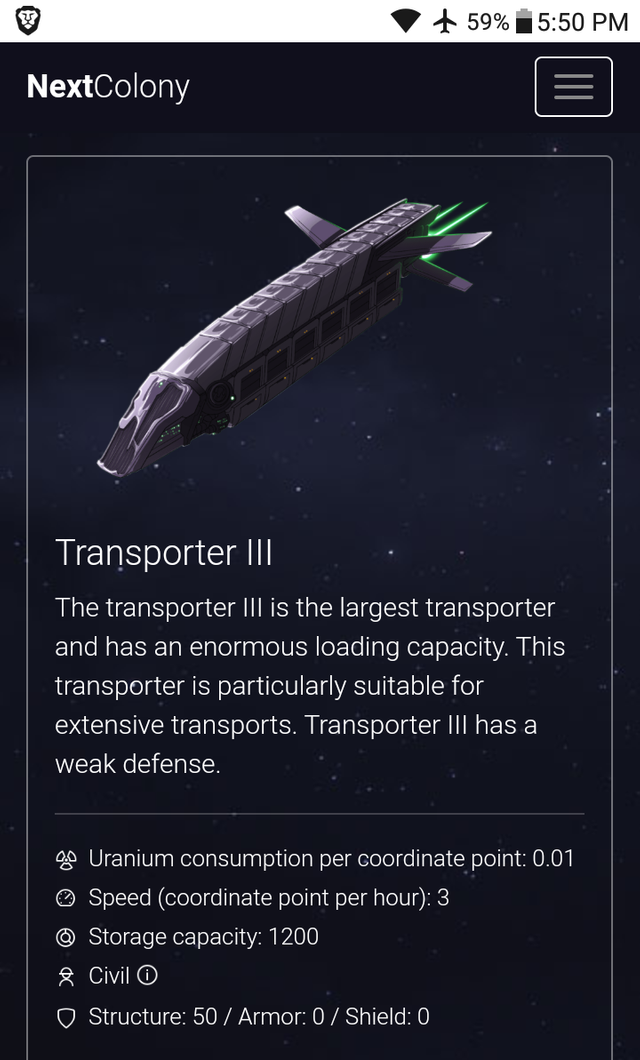 ---
Don't like waiting to build ships and want to EXPLORE and BATTLE today?! Now is your chance to purchase @nextcolony Transporter III.
Normally would take almost a day to build and that's if you have the required LEVEL and RESOURCES.
---
Transporter III
The transporter III is the largest transporter and has an enormous loading capacity. This transporter is particularly suitable for extensive transports. Transporter III has a weak defense.
Uranium consumption per coordinate point: 0.01
Speed (coordinate point per hour): 3
Storage capacity: 1200
Civil
Structure: 50 / Armor: 0 / Shield: 0
Required Ship Skill: Transporter lvl. 20
Required Building Skill: Shipyard lvl. 16
Required Building Level: Shipyard lvl. 16
Cost: 1664 Coal, 832 Ore, 416 Copper, 250 Uranium
16:27:25
---
Only have 2 avaliable READY to be DEPLOYED to your planet but have MORE in different parts of the @nextcolony GALAXY. Please inquire or comment which coordinates is suitable to you and @frankcapital can REACH out to the closest @nextcolony PARTNER that can fulfill your order.
Thank you for stopping by!
If you have any questions or concerns, please don't hesitate to ask.
Best regards,
@frankcapital
Posted using Partiko Android