Power Ranking - Best League (Premier) - Subjective
With the International break on us, I thought I'll put together a short article on the Best League, since there has been a lot going on before the break.
CRYSTAL PALACE
Contracting Roy "the owl" Hodgson hasn't really changed the team's position on the table, but there are positive signs; Although they lost out to Newcastle and Tottenham but Crystal Palace players definitely showed up, they had a strong presence in the game. Not to mention the point against Burnley (away) and beating Chelsea at home!!
Hodgson did what he possibly could with this team and what he is good at, nothing surprising really; he made the defence more aggressive and the attacking play more direct.
SWANSEA
The swans from Wales.... All they can do to stay in the Premier League is the same as last year; hope that there will be 3 teams that are weaker than them; although Clement is doing a good job, the best performances of the team were only enough for narrow defeats (in most cases).
WEST HAM
The Hammers are in deep dive; the team has shown some really hopeless performances on the field and their results speak for themselves. Bilic is gone and the saviour the gold digger Moyes is in da house! If we base out predictions on last term's Sunderland, there will be Championship games in the Olympic stadium.
BOURNEMOUTH
Pretty good performances in the last 4 games, narrow defeats to Spurs and Chelsea, and 3 points in both games against Stoke and Newcastle as well. This does not come as surprise seeing Eddie Howe driving the team into a more balanced defensive play.
WEST BROM
"Pulis Out" they say which is no surprise after 9 games without a win in the league. After the good start (6 points in the first 2 games) things are not looking good. But is it really right to say goodbye to the good old Pulis? Give him some time, anyway who would replace him?
EVERTON
Well, Koeman is gone for good and the ex-defender, club legend Unsworth did not manage to prove that he will be the solution to really fill the void left behind Koeman at Everton. Allardyce?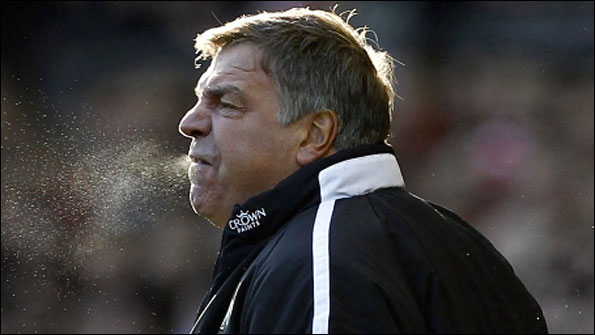 STOKE CITY
As long as Hughes is around no need to worry and fear an exit from the Premier League, but fans do not need to get their hopes too high either to see some Adrenalin-filled football on the pitch. Lukewarm!!!
SOUTHAMPTON
If you are bored watching and supporting Stoke playing around the mid section of the table year after year, then do NOT look for your new team here. Only difference compared to previous years is that they always had fresh talent in their teams, but they have non this year.
LEICESTER
New coach new life, they just always do this. 5 games and non of them lost. Although these teams - Bournemouth, Swansea, WBA, Everton, Stoke - are not the most prestigious names; but still. However I am 100% convinced that after the trip to Manchester City net Saturday this will end.
NEWCASTLE
I have to admit Benitez is doing all right. I would never have guessed that this team with its current squad will be able to produce quality football. Results are ok. Well done Rafa if you are reading this!!!
HUDDERSFIELD
Holy cow, I mean probably everyone would have guessed this team will be eliminated; guaranteed. However they really got into that middle section and they are not planning to leave it, but the hard part comes just now..... They lose every now and then but they compensate for those with miracle wins against teams like United....
WATFORD
They lost their last 3 games and well, that's bad. But they can fix this next time against West Ham.
BRIGHTON
Good job and well done, if they keep going on like this, they will not need to worry about being eliminated by the end of January.
BURNLEY
Let Dyche do what he wants to, it is working. He is a middle-table, ginger Mourinho. 1-0 is his favourite result, but those are important 3 points.
ARSENAL
Here we are, the cream. But there is nothing new here. Same old story; losses where you expect them to lose and wins where you expect them to win. That's it.
LIVERPOOL
Well they did not manage to really impress against the big guns, so as it stands now, they are not real trophy contenders right now in my opinion. They really need to fix that defence, it is good for nothing other than to be in funny videos on Youtube or DTube if you like.
CHELSEA
After some poor results in the Champions League and an awful performance against Crystal Palace, Conte probably went "wat da f**k" in the changing room to make sure that his players give their best; and they did against Man Utd. Conte will do everything to get every points possible to get the team into the top 3.
TOTTENHAM
Unbelievable that this team has not been able to get the trophy in the past years and will most probably fail to do so this season as well. Kane is missing important games to be fair.
MANCHESTER UNITED
Well Mourinho came to the point where he has to answer very important questions. Lukaku stopped scoring and the team managed to score only twice in the last 4 games. I am afraid, the team could only perform so well in the beginning because of the lucky schedule. Questions to answer: Who is going to fill the creative void left by Pogba in midfield? How to get Lukaku back on track? And the most important, how the hell he thinks can win a league with extremely conservative performances against big teams? I mean C'mon!!!!!
MAN CITY
Pep, could you please tell us how you do it? for sure you are using cheat codes or what not, to make this look so easy so far. He and his team is at a diff. level in FIFA right now or something. If they can keep up the results till end of January, that's it. NOBODY will catch them in the spring.