Even I am German I am not sure this is right!
So the German football squad remains in the A-group of the Nations League based on regulation changes - means after a poor performance a reform saved us: DFB eleven still first-class - on a side note - who cares about that contest though lol! World Cup is key - even Euro is boring (just my opinion).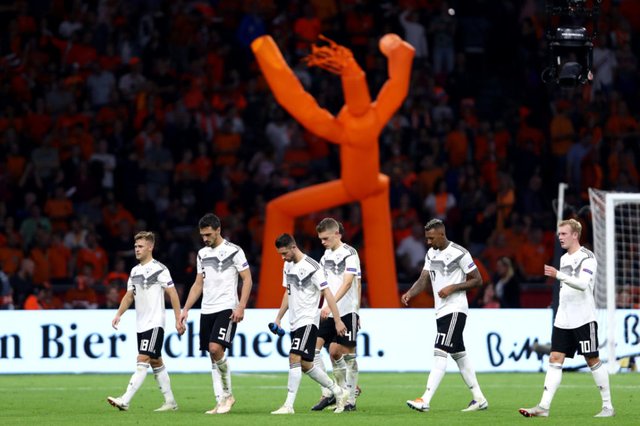 The facts
After the first season 2018/19, the German national team retired from the Nations League, but a reform of the still young UEFA competition helps the DFB team to continue playing in the concert of the big players.
UEFA Nations League
Young competition: The UEFA Nations League is being changed again
As expected, the Executive Committee of the European Football Union decided on Tuesday at its meeting in Ljubljana to increase the A-League from twelve to 16 teams. The four relegated teams of the first 2018 edition from Germany, Croatia, Poland and Iceland will thus be able to compete again in autumn 2020 for the succession of premiere winner Portugal.
The fact that we haven't relegated to the Nations League comes as a personal surprise to me was the feedback by German team manager Jogi - THE LÖW
In the group with world champion France and the re-strengthened Netherlands, Germany had to settle for third place, so they were relegated to the Nations League B group. However, UEFA has reformed the recently introduced competition and is lifting the DFB team back into the A-League.
So it is nothing, despite the sporting failure with the second class, Joachim Löw can compete with his team again with the best teams of the continent. After the European Championship 2020, Germany as well as Croatia, Poland and Iceland will continue in the A relay with the four finalists Portugal, the Netherlands, England and Switzerland, the teams from Italy, Spain, France and Belgium, who were second in their groups for the last time, as well as the four promoted teams from the B group from Bosnia-Herzegovina, Ukraine, Sweden and Denmark.
No friendly matches until 2022
As a consequence of the reform, Germany will have no more friendly matches until the World Cup year 2022. All six international slots in September, October and November 2020 are now reserved for the Nations League in the new groups of four. In March 2021, qualifying for Qatar will start with either ten matches or eight matches and participation in the Nations-League final tournament.
Group B also expanded
Not only the A- but also the B-relay was increased by four teams and will start with 16 nations like the C-league in the future. Seven teams will remain in the D-Group.