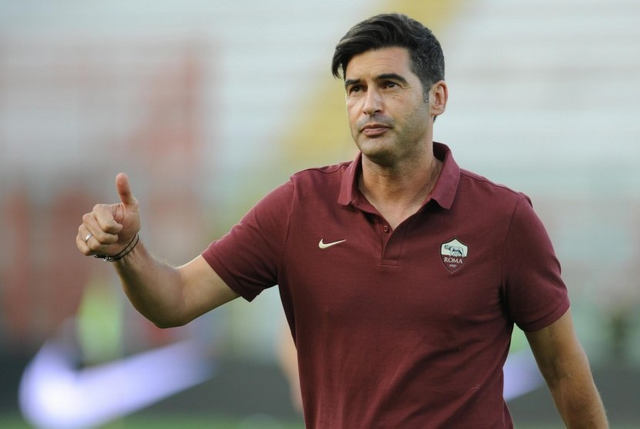 source
Good afternoon, back AS Roma defeated Udinese 4-0. AS Roma travel to the Caia Arena stadium continued Week 10 of the Serie A Italian League. Coach I Giallorossi Paulo Fonseca praised the enthusiasm that is displayed and the struggle of foster children. In fact, in this match AS Roma had to play with 10 people because their player Federico Fazio got an accumulation of red cards
Because according to Fonseca, most of the big teams lacking in playing will definitely play defense or even reduce the instinct of attack and the game will be very challenging but it is not done by foster children.
The capital club of Milan, dubbed the Capital Wolf, is said to be successful by showing great character, the players realize that if they always appear consistent, then victory will unfold.
Rome's winning goal in the match was scored by young midfielder Nicolo Zaniolo in the 13th minute. Followed by goals from Chris Smalling in the 51st minute, Justin Kluivert the 54th minute, and closed by a penalty Aleksandar Kolarov in the 65th minute. With this victory Rome rose to fourth place in the Italian League standings with the acquisition of 19. Congratulations children of Rome
French
Bonjour, l'AS Roma a battu l'Udinese 4-0. L'AS Roma se rend au stade Caia Arena pour poursuivre la 10e journée de la Ligue italienne de Série A. L'entraîneur I Giallorossi, Paulo Fonseca, a rendu hommage à l'enthousiasme manifesté et à la lutte des enfants en famille d'accueil. En fait, dans ce match, l'AS Roma a dû jouer avec 10 personnes car son joueur Federico Fazio a eu une accumulation de cartons rouges.
Parce que, selon Fonseca, la plupart des grandes équipes qui ne jouent pas joueront certainement en défense ou réduiront même l'instinct d'attaque et que le jeu sera très difficile, mais ce n'est pas le cas des enfants en famille d'accueil.
Le club de la capitale milanaise, surnommé le Capital Wolf, est réputé avoir du succès en montrant un très bon caractère. Les joueurs se rendent compte que s'ils paraissent toujours cohérents, la victoire se dévoilera.
Le but victorieux de Rome dans le match a été marqué par le jeune milieu de terrain Nicolo Zaniolo à la 13e minute. Suivi par les buts de Chris Smalling à la 51e minute, Justin Kluivert à la 54e minute et fermé par un penalty, Aleksandar Kolarov à la 65e minute. Avec cette victoire, Rome se hisse à la quatrième place du classement de la Ligue italienne avec l'acquisition de 19. Félicitations aux enfants de Rome