THE SHAMBOLIC ARSENAL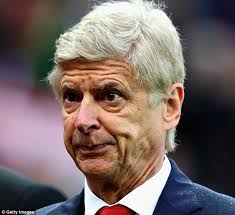 [Source] (https://www.google.com.ng/search?q=arsene+wenger&dcr=0&prmd=niv&source=lnms&tbm=isch&sa=X&ved=0ahUKEwiJ_6Tq08LZAhXOAewKHQTNBS4Q_AUICygC&biw=320&bih=452#imgrc=glIboXDAaTuBCM:&isa=y)
Arsenal Football Club has been in shambles in the last decade. That is why they have not won the English Premier League. The situation is even worse presently.
Ten years ago, a well known analyst on Twitter Piers Morgan said and I quote "Arsenal are gutless, uninspired, creatively devoid and technically incompetent".
They are 27points off the top, 10 points off the top four, knocked out of FA Cup in the 3rd Round by a Championship side, embarrassed in the Carabao Cup final and lost at home to a lowly rated Ostersunds in the Europa League.
It is unfortunate that Arsenal has lost her in invincibility. They have broken the hearts of millions of their fans. The picture of the little boy crying over their loss to Manchester City in the Carabao Cup final lays credence to this.
The moral of the players are down and the best thing to be done to salvage the club is for Arsene Wenger to resign or be sacked.