I'm sure all the football were eagerly waiting for this season's draw and here it is if you hadn't seen it. It's both fair and unfair as always. As a Chelsea fan I shouldn't even care or be looking but I can't help it. I love football first plus I'm secondly a Madrid fan.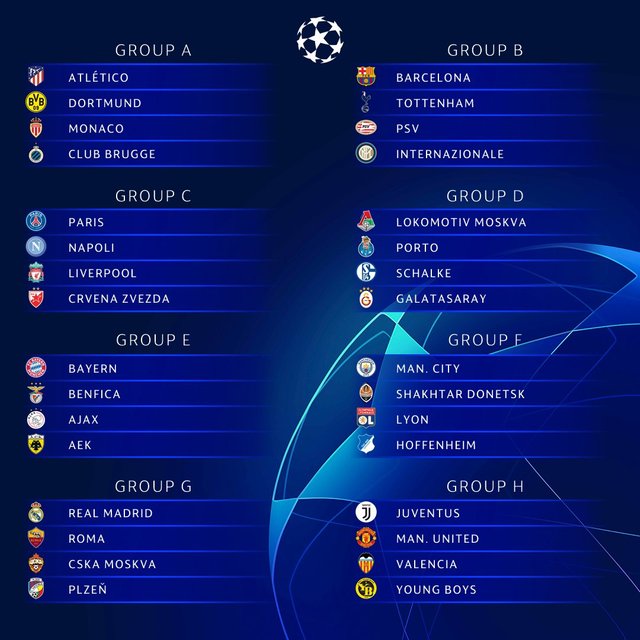 image source: UEFA Champions League Twitter (@ChampionsLeague)
Talking points;
GROUP A: A well balanced group with Atletico slightly ahead and most likely to go through on top. AS Monaco and BVB will have to tussle it out for second place.
GROUP B: My first "group of death" though not that deathly. We're hoping Spurs can surprise Barca in ways more than one. Can they though?
GROUP C: The real "group of death". We shall pray for Zvezda because it will surely die. I personally can't wait for PSG Vs Liverpool. Neymar Vs Salah. Mane Vs Mbappe. Napoli is also one not to be underrated. They could cause some serious damage.
GROUP D: Easy pickings for Porto. Schalke in second maybe.
GROUP E: Light work for Bayern. It's up to Ajax and Benfica who takes second place.
GROUP F: Easy Peasy for Man City. Shaktar and Lyon battle for second place.
GROUP G: Madrid and Roma take this one. Madrid on top of course.
GROUP H: CR7 taking on his former club and former manager which will be emotional but he'll have no mercy I expect. Pogba will also be facing his former club for the first time ever since he left at a very hefty price in summer of 2016. But we all know Man Utd will be joining the Europa league. Juventus top and Valencia second.
Can the Champions League season just kick off already! Please. We might have a new winner this season other than Real Madrid. I hope not Barcelona or any of the English teams.
Meanwhile only Real Madrid players scooped all the UCL awards for the 2017/18 season. Haters gon' hate.
UCL Goalkeeper of the season: Keylor Navas (Courtois has seen days. He can't touch this)
UCL Defender of the season: Sergio Ramos
UCL Midfielder of the season: Luka Modric
UCL Forward of the season: Cristiano Ronaldo(now in Juve)
UCL Goal of the Season: Cristiano Ronaldo (Vs Juventus)