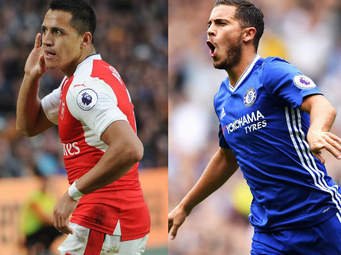 source
The much anticipated game of the weekend, saw two London rivals Chelsea fc and Arsenal fc lock horn in Stanford Bridge. This two clubs has met in 52 matches previously, Arsenal won 19 matches in all. So based on record Arsenal fc had the upper hand to win the tie history suggest.
Arsenal Fc last game was played against Manchester City, where they had 9 shots, 3 of which were on target and 42% possession but unfortunately Arsenal lost the game. In contrast Chelsea Fc won against Huddesfield town fc by 3 goal to nothing where they had 13 shot, 4 of which were on target, and they had 63% possession and completed with 658 passes.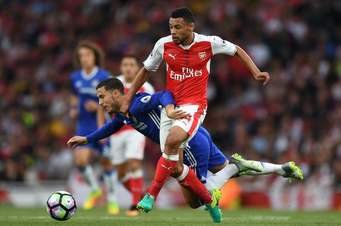 source
Prior to this game, Chelsea Fc coach used the same formation he used in wining his match against Huddesfiled Town while Arsenal Fc coach made two changes to the site last week against Man City.
HERE ARE FIVE REASONS WHY CHELSEA FC WON
MISSED/WASTED CHANGES: Arsenals attacking players were poor in front of goal, they wasted so much chances on consecutive occasions in the first half. Aubumayang had glorious smart chances before the end of the first half but he wasted them, he failed to make used of those chances before Chelsea double their efforts and made it 2 goals within 20 minute of the game. They would have scored at least 3 goals in the first half assuming the work on their weakness.

Source. Goal.com
Chelsea fc dominated the midfield. They had 63% of the possessions and 891 touches compare to Arsenals who had 605 touches. Right on time in the game Chelsea midfielders, Kante and Jioginho master minded the game from the middle, they outclass over the Arsenals midfielders. Chelsea midfieders were the ones dictating and controlling the tempo of the game. Kante in particular was connecting with the attacks while Jioginho sit deep in the middle connecting with the defense, thereby causing a lot of problems to the Arsenals Fc
Defensive lapses. Arsenal defensive problems continued from where they stopped last season. Arsenal has been having some defensives lapses as seen from Marcos Alonso goal. All the goals arsenal Fc conceded where due to some defensive errors and lack of awareness from their defensive players. Since Arsenal can go this far to campaign, they need to have work out a modality and addresses the defensive problems they had.
Chelsea Fc running from deep. Chelsea players where running from deep while Joiginho and David Luiz always tried finding them from the deep with long passes as it was seen from Chelsea Fc second goal. Luiz always tried long pass to the middle which created lot of problems to Arsenal midfielders.
Jioginho. Chelsea completed 1377 passes in the two matches played this season so far. Most of the passes were made by the summer signing Jioginho who controls the tempo of the game. He alone had 165 touches to his name sitting deep and connecting with the defense to allow kante joined the attack. If Chelsea are to win anything this season, much of the work will come from their summer signing Jioginho.
Sources. Goal.com