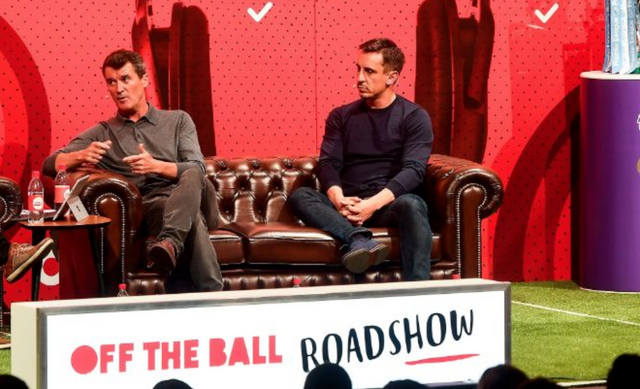 Roy Keane were in Dublin last night for the much anticipated charity event sponsored by Cadbury's and hosted by Off The Ball. Off The Ball is one of my favourite Sports Show in Ireland and the main anchor Joe Molloy was awarded broadcaster of the year last year in Ireland. Himself and co host Ger Gilroy put the questions to Keane and as per usual he did not disappoint. I need to go into some history here to explain what Keane said last night at the event.
After his playing career Keane managed Sunderland , Ipswich and he then took the role as assistant manager with the Republic of Ireland national team. It is widely known that Keane was not a popular figure among some of the players in the Ireland squad and rumours of bust up's were rife over the years. Last year a whatsapp voice message was leaked to a media group from Ireland player Stephen Ward. A so called friend of his leaked the whatsapp voice messages describing an altercation that happened between him and Jon Walters. Below is the voice message.

src
This reached national headlines and it was a bit embarrassing for all involved.
Not long after O Neill and Keane were no longer managing Ireland. Jon Walters also retired. Jon has since been quite prominent in the media trying to get himself established in the media world. He has been telling quite a few stories lately about the goings on at clubs and he has told a few stories at this stage about squaring up to Keane. He also went on the Late Late Show, a show that is a national institution in Ireland and did a very emotional interview which he discussed the passing of his mother and his child being diagnosed with a serious illness. The interview was seen as excellent and Walters was applauded for talking about his mental state. Here it is.
src
So let's go back to last night with Roy Keane. It was clear that he wanted to put the record straight and talk about a few Irish players who were not up to scratch during his tenure and ultimately cost him his job. He spoke about Ward and Harry Artur but he saved the most for Walters.
Here it is. This is gold by the way. Classic Roy. It is not going down well today on Twitter. I loved it. Typical Roy. Brutally honest and suffers no fools.

src
Love him or hate him he is interesting. But Ireland versus Switzerland is now overshadowed by this. Here is the full video for those of you who would like to watch it all.