FOODPHOTOGRAPHY 3 - Photography Contest by @juliank [ BILINGUAL ]
Assalamualaikum sahabat steemit dan para steemians sekalian.....
Kembali bersama saya @muammark013
Assalamualaikum best friend steemit and steemians.....
Come back with me @muammark013
FOOD PHOTOGRAPHY / FOTOGRAFI MAKANAN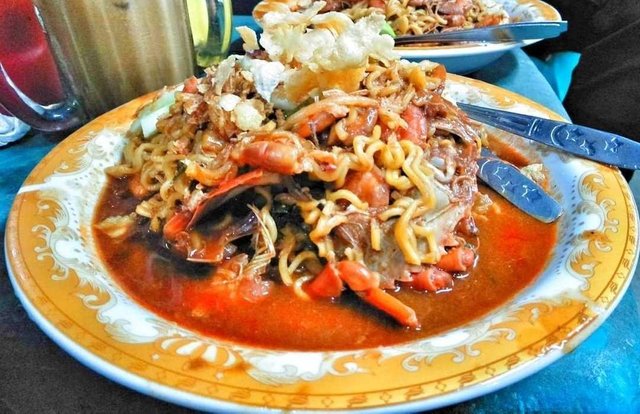 INDONESIAN
Fotografi Makanan adalah cabang dalam fotografi yang subjek dari fotonya adalah makanan.
Seperti pada lukisan, kita mulai dengan kanvas kosong. Lapisan demi lapisan, kita membangun sebuah foto sampai kita mencapai keseimbangan yang sempurna antara realitas dan seni.
Semua yang ada pada foto adalah sebuah keputusan. Setiap bagian itu ditempatkan dengan sempurna oleh sang fotografer.
Setelah kita mencapai kemahiran teknis dengan kamera, apa yang kita lakukan selanjutnya?
Jadi, bagaimana kita meningkatkan fotografi makanan kita di luar dasar?
Beberapa pemula adalah sebuah cerita yang lebih rumit dari yang lain, dan itu mungkin terdengar seperti nol, tetapi sebenarnya tidak.
Mulai saja !
Jika kita tidak memulai mana mungkin kita bisa.
Jadikan fotografi makanan adalah hobimu.
Lakukan setiap saat dan dimana saja.
Lama kelamaan pasti kamu akan menemukan kuncinya.
ENGLISH
Food Photography is a branch in photography that the subject of his photo is food.
As in the painting, we start with a blank canvas. Layer by layer, we build a photo until we reach the perfect balance between reality and art.
Everything in the photo is a decision. Each part was perfectly placed by the photographer.
Once we reach technical expertise with the camera, what do we do next?
So how do we improve our food photography beyond the basics?
Some beginners are a story more complicated than others, and it may sound like a zero, but it really is not.
Get started!
If we do not start where possible we can.
Make food photography is your hobby.
Do it any time and anywhere.
Eventually you will find the key.
Saya harap kalian memberikan tanggapan pada kolom komentar dibawah.
Terimakasih.
I hope you guys respond to the comment field below.
Thanks.
Kontes ini dikurasi dan disponsori oleh @juliank
Terimakasih @photocontests & @juliank untuk pelaksanaan kontes fotografi ini.
These contests are curated and sponsored by @juliank
Thanks for @photocontests & @juliank on the implementation of this photography contest.
Terimakasih telah mengunjungi blog saya, semoga bermanfaat bagi anda dan kita semua.
Salam hormat saya :
Thank you for visiting my blog, may be useful for you and us all.