Menu paling diminati untuk berbuka puasa 2/Menu most desirable for breaking fast 2
Gorengan
Kue kecil yang terdiri dari Bakwan, Risol, Tahu Goreng dan berbagai jenis gorengan lainnya, menjadi makanan ringan yang paling degemari untuk menu berbuka puasa, terutama bagi merekan yang ketika berbuka tidak lansung makan nasi demi memburu shalat Maghrib, maka Gorenganlah sasaran mereka.
Hampir setiap hari makanan kue gorengan seperti bakwan, Risol dan Tahu Goreng lenyap dalam sesaat di pusat pasar belanjaan menu berbuka puasa, bahkan ada yang jauh sebelum waktu berbuka tiba, dagangan gorengan sudah habis terjual.
---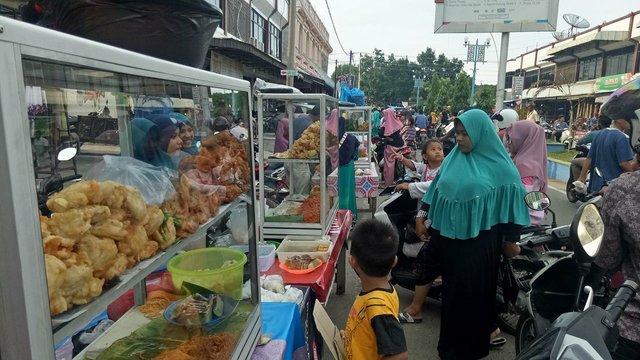 Frying
Small cakes consisting of Bakwan, Risol, Tahu Goreng and various other types of fried foods, become the most demanding snacks for the iftar menu, especially for those who do not eat rice when they break the rice to pursue Maghrib prayers, then fry their targets.
---
Almost every day fried foods like Bakwan, Risol and Tahu Goreng disappear in a moment in the center of the shopping market menu breaking the fast, some even long before the breaking time arrived, fried merchandise is sold out.