---
Sebagaimana sabda Nabi Muhammad SAW, "Orang yang memberikan hidangan berbuka puasa kepada orang lain yang berpuasa, ia akan mendapatkan pahala dari orang-orang tersebut tanpa sedikitpun mengurangi pahala orang yang berpuasa itu" (Hadish Riwayat : Tharmizi).
---
As the saying of Prophet Muhammad SAW, "The one who gives fasting meals to others who fast, he will get the reward of those people without the slightest decrease the reward of the fasting man" (Hadish History: Tharmizi).
---
Maka dibentuklah suatu kepanitiaan untuk bersedekah bubur kanji rumbi kepada orang-orang yang berpuasa disekitar Masjid Besar Bujang Salim – Kruenggeukueh.
---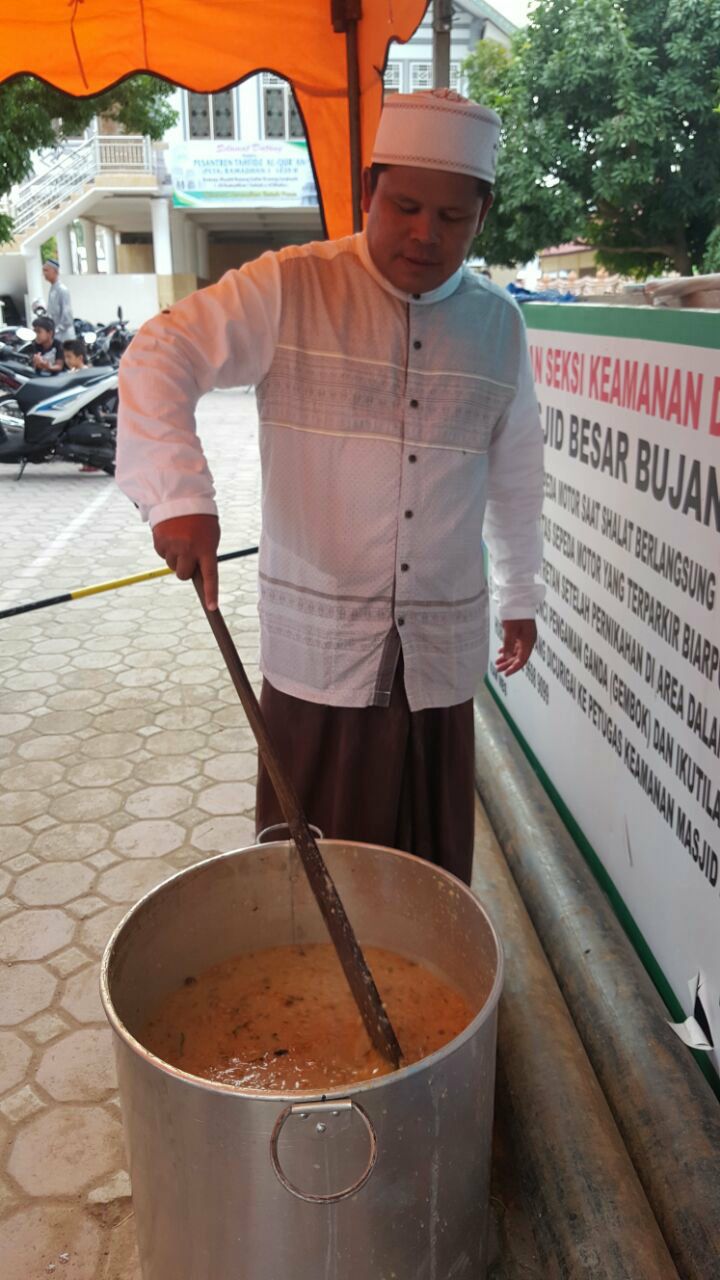 Bubur Kanji Rumbi siap didistribusikan/Kanji Rumbi Porridge is ready to be distributed
---
So formed a committee to give charity gruel kanji rumbi to the people who fasted around the Great Mosque Bujang Salim - Kruenggeukueh.
---
Panitia yang dikoordinatori oleh H. Syamsuar Gade dan Tgk. Herman AR ini melaksanakan pengumpulan dana dari donatur yang mereka datangi langsung maupun dengan menggelar spanduk yang berisi ajakan bersedekah semampunya dan seikhlasnya demi kelancaran mengolah bubur kanji rumbi untuk setiap hari, menjelang berbuka puasa dan dibagikan gratis kepada masyarakat.
---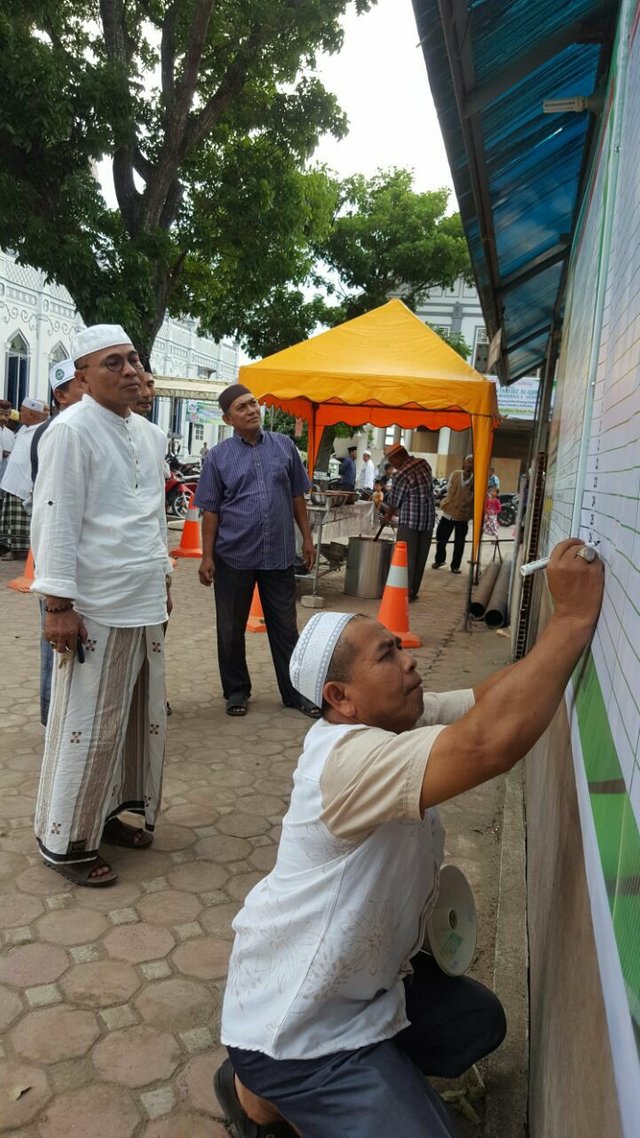 Panitia, H. Syamsur Gade mencatat penyumbang dana/The committee, H. Syamsur Gadai noted donors
---
The committee, coordinated by H. Syamsuar Gade and Tgk. Herman AR is carrying out the collection of funds from donors who they come directly or by holding a banner containing the invitation of charity as best and as sincere for the smooth processing of kumbar kanji rumbi for every day, before breaking the fast and distributed free to the community.
---
Setiap hari panitia membutuhkan dana sebesar Rp 950.000,- (sembilan ratus lima puluh ribu rupiah) untuk memasak dan meramu bahan – bahan kanji rumbi yang tediri dari udang, beras, sayuran dan rempah-rempah dengan hasil 60 liter bubur kanji rumbi dan siap dibagikan kepada masyarakat yang dapat mengambilnya di Masjid besar Bujang Salim pada setiap pukul 16:30 sampai dengan persediaan kanji rumbi habis.
---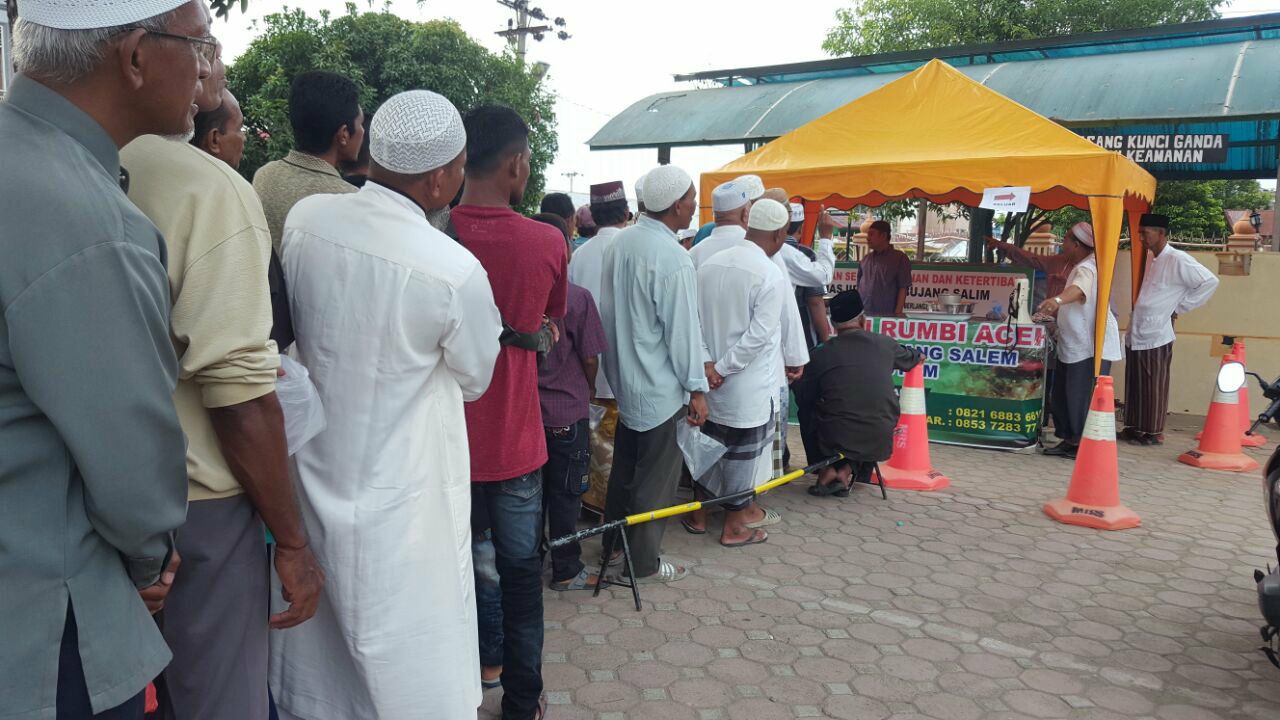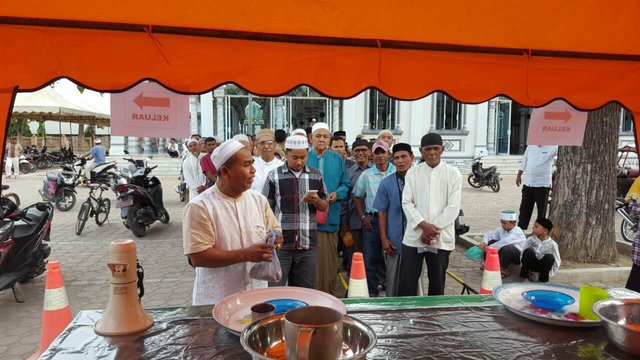 Antrian Masyarakat untuk memperoleh bubur kanji rumbi gratis/Public Queue to get free kanji rumbi porridge
---
Every day the committee needs funds of Rp 950.000, - (nine hundred and fifty thousand rupiahs) for cooking and mixing of kanji rumbi which consists of shrimp, rice, vegetables and spices with 60 liters of pureed kanji rumbi and ready to be distributed to the people who can take it at the great mosque of Bujang Salim at every 16:30 until the supply of kanji rumbi runs out.
---
Maka pantia berharap donatur dapat menyumbangkan sedekahnya demi kelancaran pembuatan kanji rumbi yang telah berlangsung dari Tahun 2017 ini dan semoga menjadi amalan tambahan bagi mereka dalam bulan suci Ramadhan ini, Tgk Herman AR mengharapkan.
---
So the committee hopes donors can donate alms to the smooth making of kanji rumbi that has been going on from the Year 2017 and hopefully become additional practice for them in this holy month of Ramadan, Tgk Herman AR expect.
---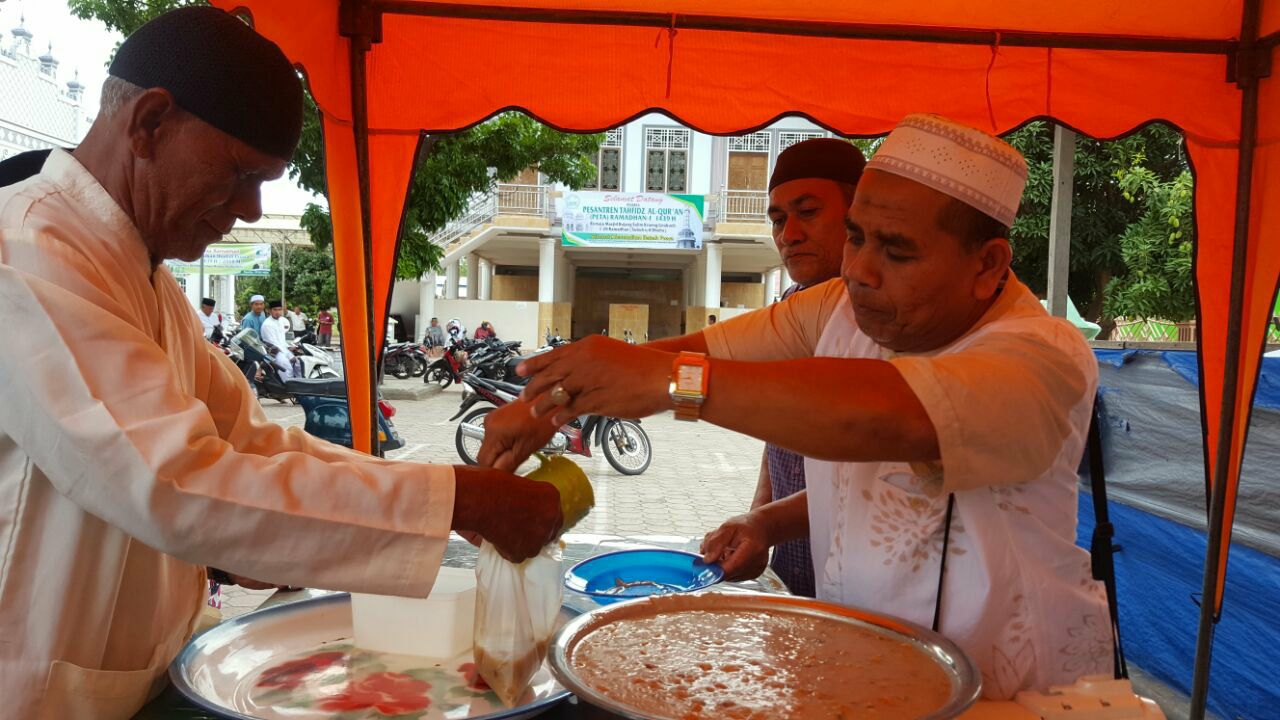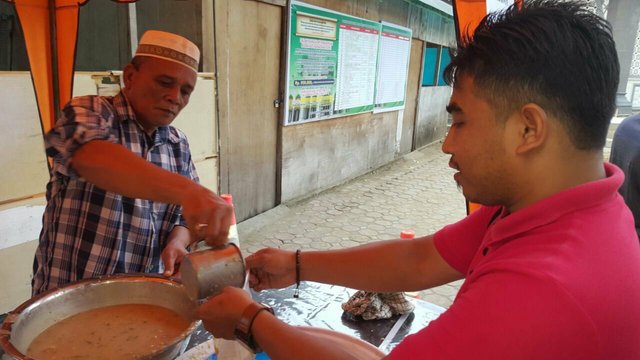 Pendistribusian bubur kanji rumbi/distribution of kumbar kanji rumbi
---
Kanji Rumbi, menurut sejarah adalah sejenis bubur yang berasal dari India dan awalnya populer di Kabupaten Pidie, namun sekarang ini kanji rumbi telah terkenal diseluruh Aceh dan menjadi menu khusus berbuka puasa diberbagai Kabupaten dan Kota.
---
Kanji Rumbi, historically is a kind of mush derived from India and was originally popular in Pidie County, but today kanji rumbi has been well known throughout Aceh and has been a special menu for breaking fasts in various districts and cities.
---