Lamprea, no apto para personas sensibles / Lamprey
Esta receta, es un ejemplo perfecto de transmisión de un legado, o patrimonio, me atrevería a decir cultural, entre generaciones.
This recipe, is a perfect example of transmission of a legacy, or heritage, I would dare to say cultural, between generations.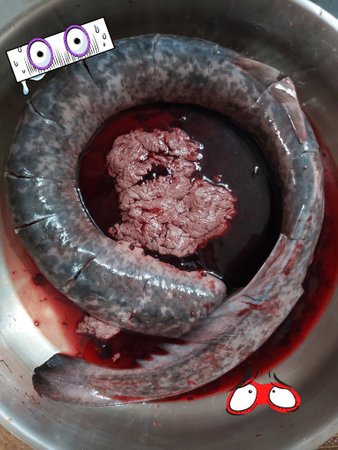 )
Esta manera de preparar este "peixe" o pescado, viene de uno de los restaurantes más conocidos de Galicia y en la elaboración de la lamprea, Casa Ramallo.
This way of preparing this "peixe" or fish, comes from one of the best known restaurants in Galicia and in the production of lamprey, Casa Ramallo.
Antiguamente la importancia de la transmisión de conocimientos se realizaba de boca a boca, y si querías aprender a hacer cualquier cosa, debías desplazarte a la casa o taller del cociner@ o artesan@, normalmente previa invitación y prestar toda la atención posible para retener cada detalle.
Formerly the importance of the transmission of knowledge was carried out by word of mouth, and if you wanted to learn to do anything, you had to go to the house or workshop of the cook or artisan, usually by invitation and pay all possible attention to retain each detail.
Esta fue la manera en la que la receta llegó a las manos de mi suegra, una excelente cocinera entre otras muchas cosas.
This was the way in which the recipe came to my mother-in-law's hands, an excellent cook among many other things.
La lamprea es un plato que tiene una época al año muy acotada, sólo está permitido pescar la unos pocos meses al año, por lo que tiene un componente romántico, diría yo, para los aficionados a este plato.
Lamprey is a dish that has a very limited time per year, it is only allowed to fish a few months a year, so it has a romantic component, for fans of this dish.
¿No os parecen fantásticas esas comidas que sabes sólo puedes disfrutar en contadas ocasiones? Creo que tienen algo que las hacen especiales y merecen una categoría a parte dentro de la cocina o la gastronomía.
Do not you think those foods you know can only be enjoyed rarely? I think they have something that makes them special and deserve a separate category in the kitchen or gastronomy.
En primer lugar, es necesario limpiar muy bien el pescado, con agua caliente y frotar su piel hasta dejarla totalmente libre de suciedad.
First, it is necessary to clean the fish very well, with hot water and rub its skin until it is completely free of dirt.

A continuación, se deben retirar las tripas. En este paso existen variantes, casi tantas como cociner@s, ya que hay quien le mantiene la cabeza y las branquias. En nuestro caso las desechamos, ya que no tienen mucha carne que aprovechar. Le daremos unos cortes sobre la espina dorsal que ayudará a que se cocine mejor y a repartir las raciones a la hora de ser servida a los comensales. En este paso se debe conservar la sangre del pescado, ya que la utilizaremos para la exquisita salsa.
Next, the guts should be removed. In this step there are variants, almost as many as cooks, since there are those who keep their heads and gills. In our case we discard them, since they don't have much meat to take advantage of. We will give you some cuts on the spine that will help you to cook better and distribute the portions at the time of being served to the diners. In this step the blood of the fish must be preserved, since we will use it for the exquisite sauce.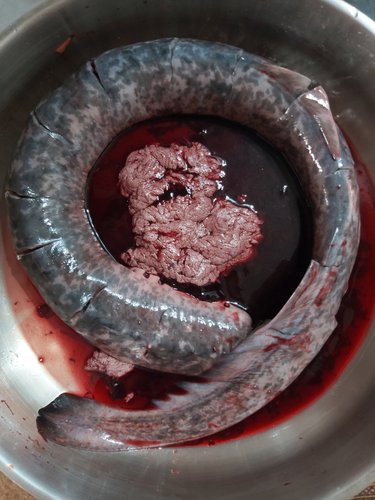 Una vez la lamprea esté limpia, añadimos una cebolla blanca picada, 3 o 4 dientes de ajo un poco de perejil y una pizca de nuez moscada y un buen chorro de vino tinto, que le dará un sabor magnífico a la salsa.
Once the lamprey is clean, we add a chopped white onion, 3 or 4 cloves of garlic a little parsley and a pinch of nutmeg and a good stream of red wine, which will give the sauce a magnificent flavor.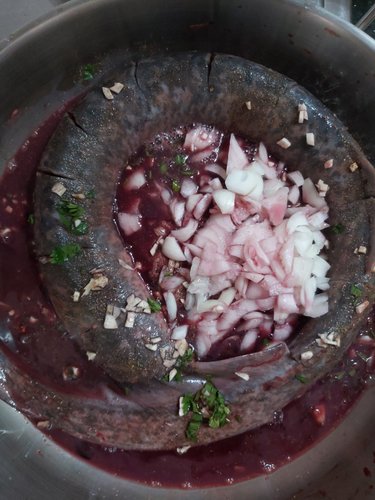 )
Se pone al fuego medio y la dejamos hasta que esté bien hecha, la textura puede sorprender, ya que puede tener más similitud a la carne que al pescado. En 15 o 20 minutos debería estar lista, aunque esto dependerá del tipo de fogón que utilicemos. En nuestro caso, se hace en una cocina de leña tradicional, que aporta un sabor característico y muy bueno a cada plato.
It is put on medium heat and we leave it until it is well done, the texture may surprise, since it may have more similarity to meat than fish. In 15 or 20 minutes it should be ready, although this will depend on the type of stove we use. In our case, it is made in a traditional wood stove, which brings a characteristic and very good flavor to each dish.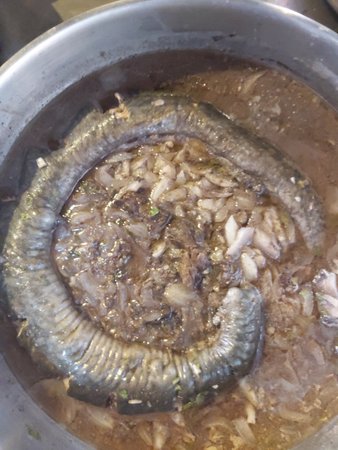 Una vez que esté hecho, pasaremos por la batidora la salsa para dejarla con una textura suave cremosa y sin tropezones. Este plato se acompaña de arroz en blanco y tostadas de pan frito, si es del día anterior mejor. Una buena manera de aprovechar este pan.
Once it is done, we will go through the blender the sauce to leave it with a smooth creamy texture and without tripping. This dish is accompanied by white rice and fried bread toast, if it is the day before better. A good way to take advantage of this bread.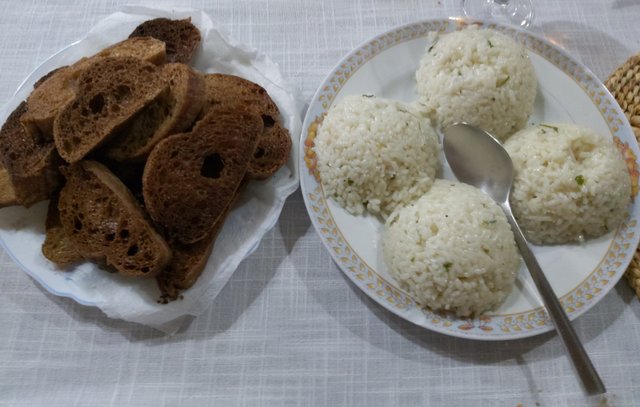 Espero que os haya gustado esta receta y os atrevais a hacerla. Si tenéis alguna duda estaré encantado de responder vuestras dudas y si seguís interesados podemos hablar de cómo se pesca este pescado ya que su captura se realiza de una manera muy peculiar y llena de tradición.
I hope you liked this recipe and you dare to make it. If you have any questions I will be happy to answer your questions and if you are still interested we can talk about how this fish is fished since its capture is done in a very peculiar way and full of tradition.
Todas las fotos fueron tomadas por mi mismo durante la elaboración de la lamprea / All the photos were taken by myself during the elaboration of the lamprey.
Un saludiño.