Whole chicken in foil\Ganzes Huhn in Folie
Hello,my friends!
Today we will cook a whole chicken in foil. We will bake the whole chicken in the oven and cook potatoes as a side dish. In this case, I decided to first remove the skin from the chicken and bake it without it. Less excess fat and unnecessary calories. But if you like a crispy baked crust, then leave the skin on the chicken.
The recipe is simple.
Let's Go!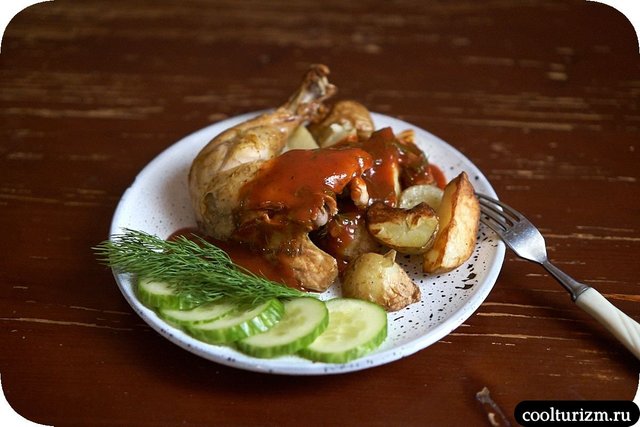 Ingredients:
● Whole chicken -1 pc
● Potatoes -8-10 pieces
● Amba sauce or any sour sauce - 3 tbsp.
● Salt, pepper, herbs, foil - to taste
1.Remove the skin from the chicken. I figured it was excess fat and was worth getting rid of, but you can keep the skin if you like the crunchy crust. The second option is to bake the skinned chicken and then remove it before serving. Take Amba sour mango sauce (there are a lot of masala spices here) or any other sour sauce. The sauce contains oil, so it is fatty. If your sour sauce is not too greasy, add a couple of tablespoons of vegetable oil. As a last resort, you can simply mix masala, vegetable oil and lemon juice. We generously coat the chicken with the mixture.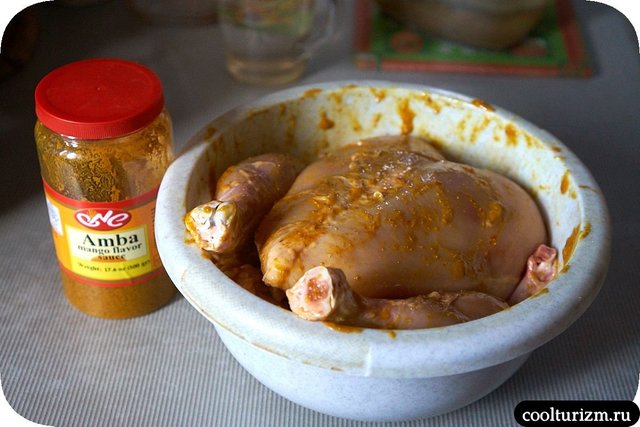 2.We take a heat-resistant glass mold, we will bake the chicken in it. Wrap the chicken tightly in several layers of foil with the shiny side on top. We put the chicken in an oven preheated to 190 degrees. Baking time - 1.5 hours.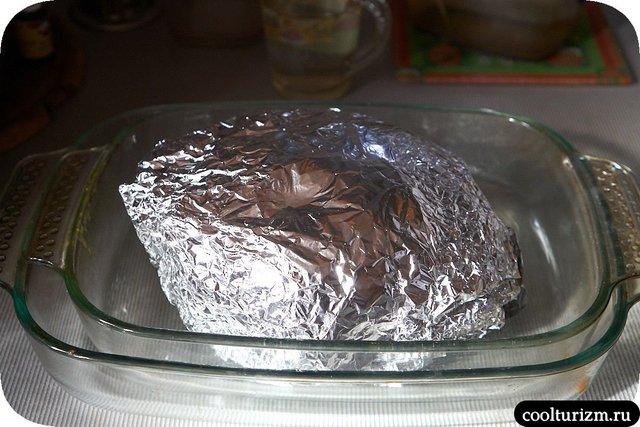 3.Then take out the chicken, carefully open the foil and bake the chicken open for another 30 minutes. You can douse the chicken with foil juice a couple of times. It turns out a fried crust. I served country-style chicken and potatoes. You can find out how to cook potatoes "in a country style" here. The potatoes are ready, it remains to let the potatoes and chicken cool slightly and can be served. I also made homemade tomato sauce. It can be easily made with a mixture of good tomato paste, water, sugar, salt, garlic, herbs and spices.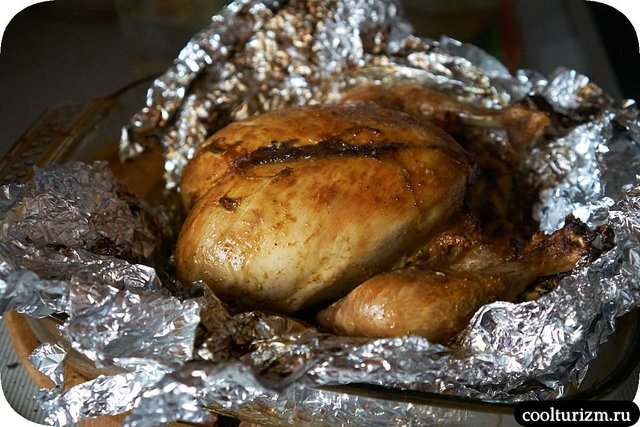 Serve chicken with potatoes, tomato sauce and herbs.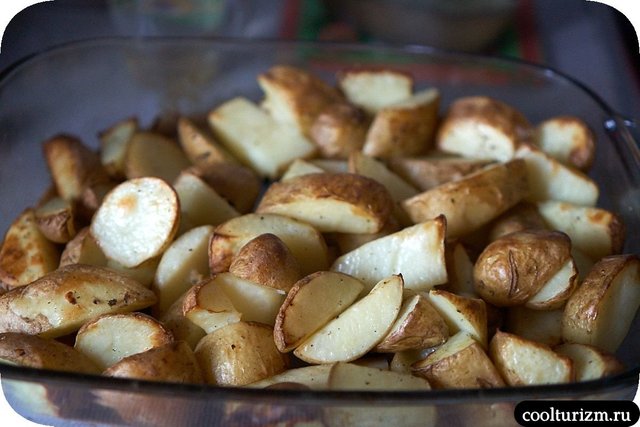 Gorgeous dish! The chicken has never let us down! And even more so chicken and potatoes!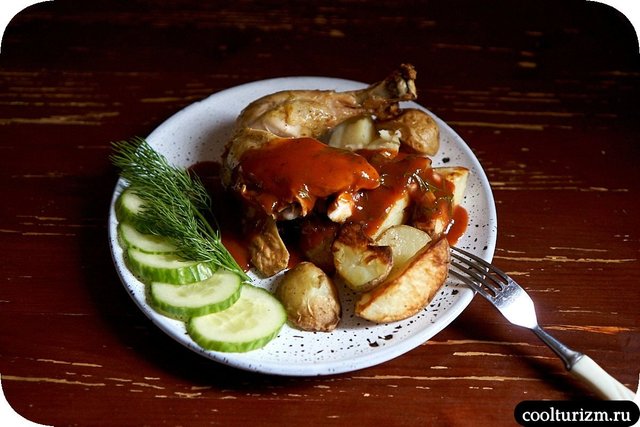 Cooking classics!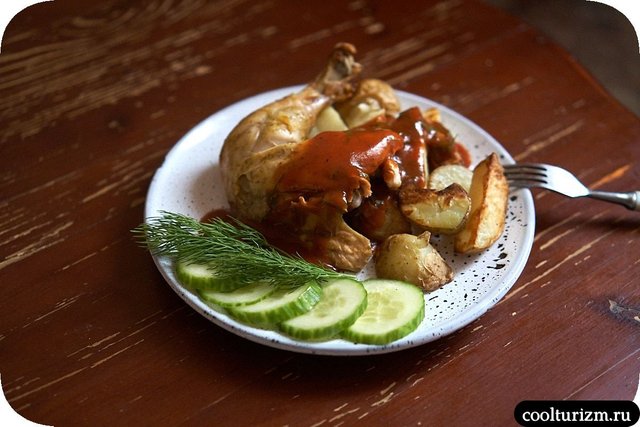 Will We Cook?

Heute kochen wir ein ganzes Huhn in Folie. Wir werden das ganze Hähnchen im Ofen backen und Kartoffeln als Beilage kochen. In diesem Fall habe ich mich entschieden, zuerst die Haut vom Huhn zu entfernen und es ohne es zu backen. Weniger überschüssiges Fett und unnötige Kalorien. Aber wenn Sie eine knusprig gebackene Kruste mögen, dann lassen Sie die Haut am Huhn.
Das Rezept ist einfach.
Lass uns gehen!
Zutaten:
● Ganzes Huhn -1 Stück
● Kartoffeln -8-10 Stück
● Amba-Sauce oder jede saure Sauce - 3 EL.
● Salz, Pfeffer, Kräuter, Folie - nach Geschmack
1.Entfernen Sie die Haut vom Huhn. Ich dachte, es wäre überschüssiges Fett und es lohnt sich, es loszuwerden, aber Sie können die Haut behalten, wenn Sie die knusprige Kruste mögen. Die zweite Möglichkeit besteht darin, das enthäutete Hühnchen zu backen und es dann vor dem Servieren zu entfernen. Nehmen Sie Amba saure Mangosauce (es gibt viele Gewürze im Geiste von Masala) oder eine andere saure Sauce. Die Sauce enthält Öl, ist also fettig. Wenn Ihre saure Sauce nicht zu fettig ist, fügen Sie ein paar Esslöffel Pflanzenöl hinzu. Als letzten Ausweg können Sie einfach Masala, Pflanzenöl und Zitronensaft mischen. Wir bestreichen das Huhn großzügig mit der Mischung.
2.Nehmen Sie eine hitzebeständige Glasform, wir backen das Huhn darin. Wickeln Sie das Hähnchen fest in mehrere Lagen Folie mit der glänzenden Seite nach oben. Wir legen das Hühnchen in einen auf 190 Grad vorgeheizten Ofen. Backzeit - 1,5 Stunden.
3.Dann das Hähnchen herausnehmen, die Folie vorsichtig öffnen und das Hähnchen weitere 30 Minuten offen backen. Sie können das Huhn ein paar Mal mit Foliensaft übergießen. Es stellt sich eine gebratene Kruste heraus. Ich habe Hühnchen und Kartoffeln im Landhausstil serviert. Wie man Kartoffeln "im Landhausstil" kocht, erfahren Sie hier. Die Kartoffeln sind fertig, es bleibt noch übrig, die Kartoffeln und das Hähnchen etwas abkühlen zu lassen und können serviert werden. Ich habe auch hausgemachte Tomatensauce gemacht. Es kann leicht mit einer Mischung aus gutem Tomatenmark, Wasser, Zucker, Salz, Knoblauch, Kräutern und Gewürzen zubereitet werden.
Hähnchen mit Kartoffeln, Tomatensauce und Kräutern servieren.
Wunderschönes Gericht! Das Huhn hat uns noch nie im Stich gelassen! Und noch mehr Hühnchen und Kartoffeln! Kochklassiker!
Werden wir kochen?