Vermicelli casserole with egg\Vermicelli-Auflauf mit Ei
Hello, my friends!
Today we will make a delicious sweet noodle casserole with prunes and eggs. Eggs are needed to pour the casserole on top so that we get a beautiful shiny crust. The recipe is simple, but the result is excellent!
Let's Go!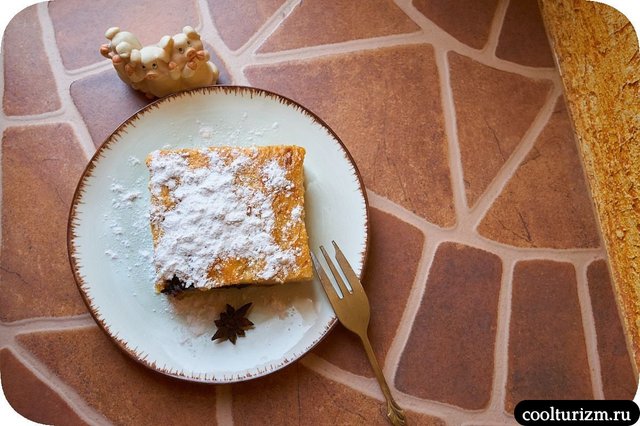 Ingredients:
● Vermicelli - 400 gr
● Prunes - a generous handful (can be replaced with raisins)
● Sugar -2/3 glass
● Crystalline vanillin -1 pack (1gr)
● Egg-2 pieces
● Salt, oil, semolina (optional) - to taste
1.I took noodles from durum wheat, although you can take any, cheap noodles stick together even better. We need to cook the vermicelli until cooked and even more, do not add too much water, we need a sticky, mushy mass. Cook noodles in lightly salted water. I took about 1.5 liters of water. Excess water can always be drained off, this is not a problem. Pour sugar and crystalline vanillin into a saucepan. Then add a generous handful of prunes and raisins. I recommend rinsing the prunes well beforehand, they grease it with vegetable oil of unknown origin and it is very fatty. The whole operation of cooking vermicelli takes about 20 minutes.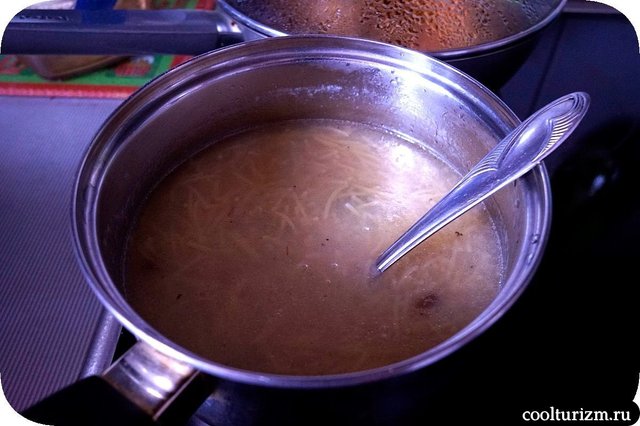 2.The consistency of the porridge, if it is watery, then you can put a little semolina. We transfer the boiled noodles into a greased baking mold. Beat 2 eggs with a whisk or fork and grease the top of the vermicelli casserole with a brush. I have a silicone brush especially for this purpose, it is very convenient. We put the casserole in a preheated oven to 180 degrees. Roasting time -40 minutes.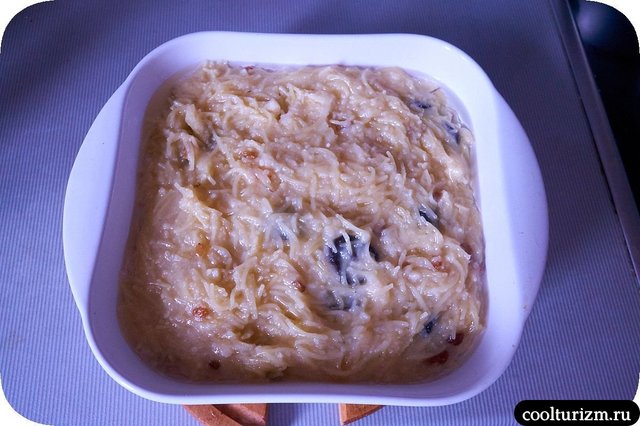 3.At the exit we get just such a fried casserole with a beautiful crust. Let the casserole cool down. So it will look more beautiful in the cut and will not fall apart.
4.And now all that remains is to cut the vermicelli and prune casserole into generous pieces and serve in plates. You can decorate the casserole with powdered sugar and dried fruits. Just Imaginate !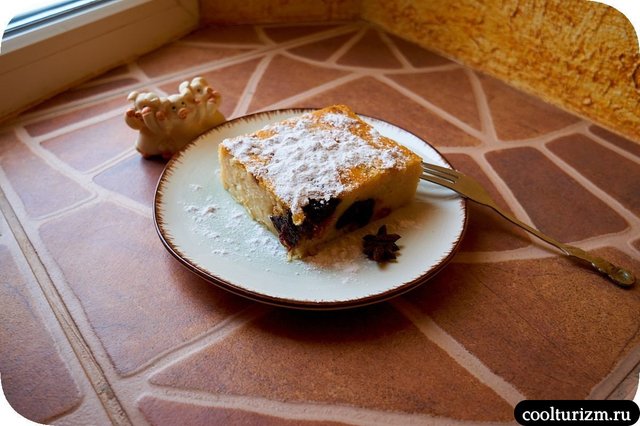 Very satisfying and tasty stuff! I Recommend it!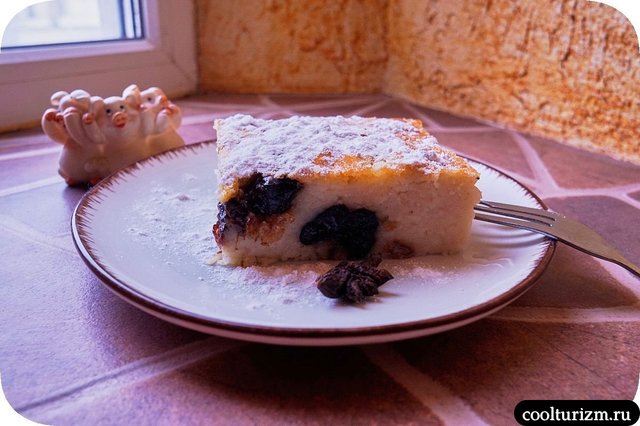 Will We Cook?

Heute machen wir einen leckeren süßen Nudelauflauf mit Pflaumen und Eiern. Eier werden benötigt, um den Auflauf darüber zu gießen, damit wir eine schöne glänzende Kruste erhalten. Das Rezept ist einfach, aber das Ergebnis ist ausgezeichnet!
Lass uns gehen!
Zutaten:
● Fadennudeln - 400 gr
● Pflaumen – eine großzügige Handvoll (kann durch Rosinen ersetzt werden)
● Zucker -2/3 Glas
● Kristallines Vanillin -1 Packung (1gr)
● Ei-2 Stück
● Salz, Öl, Grieß (optional) - nach Geschmack
1.Ich habe Nudeln aus Hartweizen genommen, obwohl man jede nehmen kann, billige Nudeln kleben noch besser zusammen. Wir müssen die Fadennudeln kochen, bis sie gar sind, und noch mehr, nicht zu viel Wasser hinzufügen, wir brauchen eine klebrige, breiige Masse. Nudeln in leicht gesalzenem Wasser kochen. Ich habe etwa 1,5 Liter Wasser genommen. Überschüssiges Wasser kann jederzeit abgelassen werden, das ist kein Problem. Zucker und kristallines Vanillin in einen Topf geben. Dann eine großzügige Handvoll Pflaumen und Rosinen dazugeben. Ich empfehle die Pflaumen vorher gut abzuspülen, sie fetten sie mit Pflanzenöl unbekannter Herkunft ein und sie sind sehr fettig. Der gesamte Vorgang des Kochens von Fadennudeln dauert etwa 20 Minuten.
2.Die Konsistenz des Brei, wenn er wässrig ist, können Sie etwas Grieß hinzufügen. Wir geben die gekochten Nudeln in eine gefettete Backform. 2 Eier mit einem Schneebesen oder einer Gabel schlagen und die Oberseite des Fadennudeln-Auflaufs mit einem Pinsel einfetten. Ich habe extra für diesen Zweck eine Silikonbürste, die ist sehr praktisch. Wir stellen den Auflauf in einen auf 180 Grad vorgeheizten Ofen. Bratzeit -40 Minuten.
3.Am Ausgang bekommen wir so einen gebratenen Auflauf mit einer schönen Kruste. Lassen Sie den Auflauf abkühlen. So sieht es im Schnitt schöner aus und fällt nicht auseinander.
4.Und jetzt müssen Sie nur noch die Fadennudeln und den Pflaumenauflauf in großzügige Stücke schneiden und auf Tellern anrichten. Sie können den Auflauf mit Puderzucker und Trockenfrüchten dekorieren. Sich vorstellen!
Sehr befriedigendes und leckeres Zeug! Ich empfehle es!
Werden wir kochen?