Tofu with pumpkin and shiitake mushrooms veg\ Veganer Tofu mit Kürbis und Shiitake-Pilzen
Hello,my friends!
Today we will cook a bright and unusual dish of soy tofu cheese, shiitake mushrooms and pumpkin.
A vegan dish in a pan-Asian style. It's fashionable now.
Tofu and shiitake can be found in our stores, but not everyone knows which of them can be prepared.
This is one of the recipes for this topic.The recipe is simple.
Let's Go!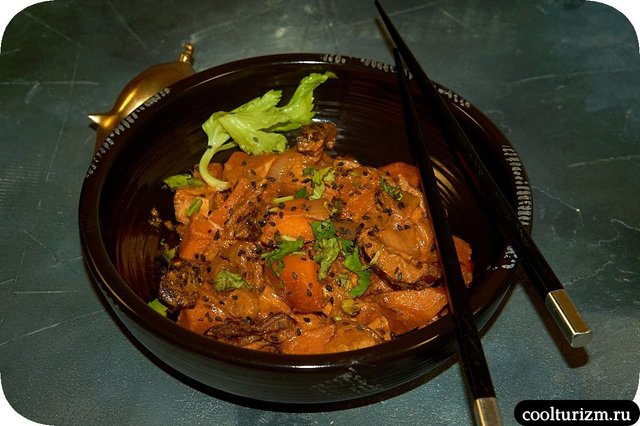 Ingredients:
● Tofu - 150-250 gr
● Dried Shiitake -7-10 pcs
● Cream -200 ml
● Pumpkin -200 gr
● Onions -1 pc
● Tomato paste - 1 tbsp.
● Soy sauce, oil, pepper, herbs, spices - to taste
1.Let's start the process by preparing the shiitake mushrooms. They do not grow in our area, and therefore I bought them dried. And these are good tender mushrooms, it is enough to soak them for 2-3 hours and they swell well.
I usually soak my shiitake overnight. Drain the water and dry the shiitake a little. Cut the tofu into cubes. Fry tofu pieces and chopped mushrooms in vegetable oil in a hot skillet. Do not fry too much, just get a light crust on the tofu. Remove the tofu and shiitake from the pan and set aside.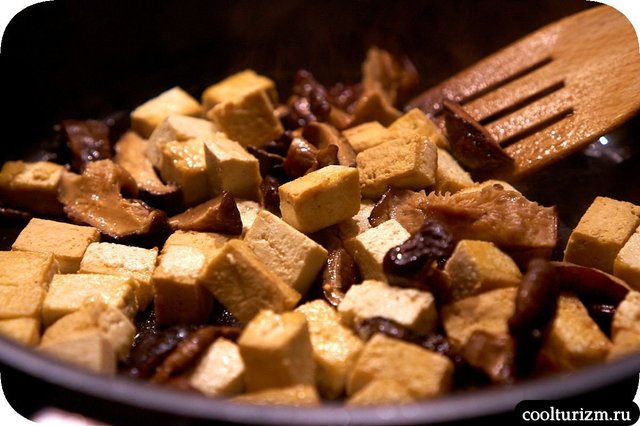 2.We clean the onion from the husk, cut into half rings. Peel the pumpkin and cut into cubes, add to the pan. Fry the onion until translucent. We focus on the doneness of the pumpkin, it should be soft.. Add tofu and shiitake to the pan. Dissolve a spoonful of tomato paste in a glass of water. I immediately add a spoonful of sugar to balance the taste, otherwise it can sour. Cook shiitake and tofu with onions in tomato paste over low heat for 5-7 minutes. Add soy sauce and pepper to taste. Adjust the spiciness yourself, I did not make a very spicy dish.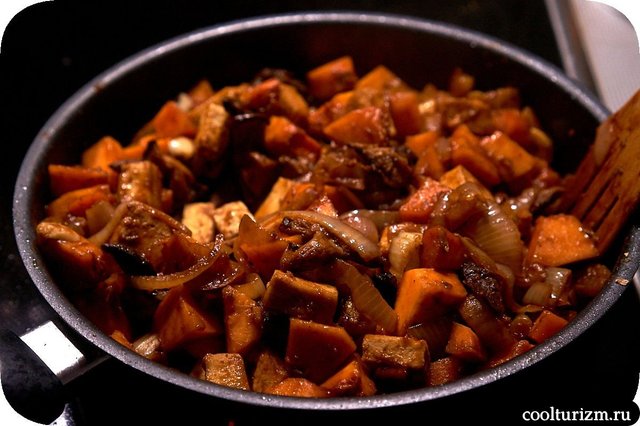 3.At the final stage, pour in the cream at room temperature, stir the contents of the pan and cover the pan with a lid. Cook for another 10 minutes. Serve the dish with herbs and sesame seeds.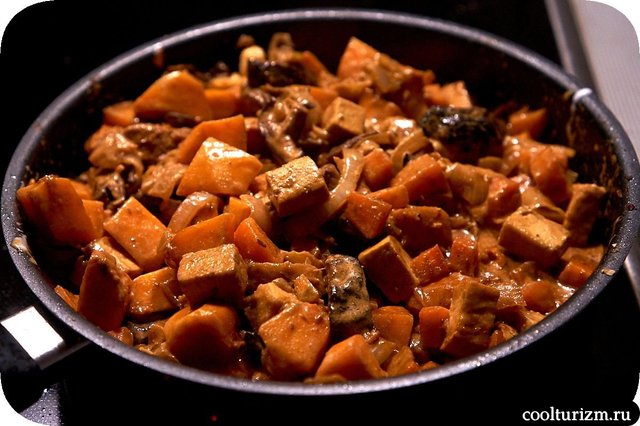 Delicious and not too difficult!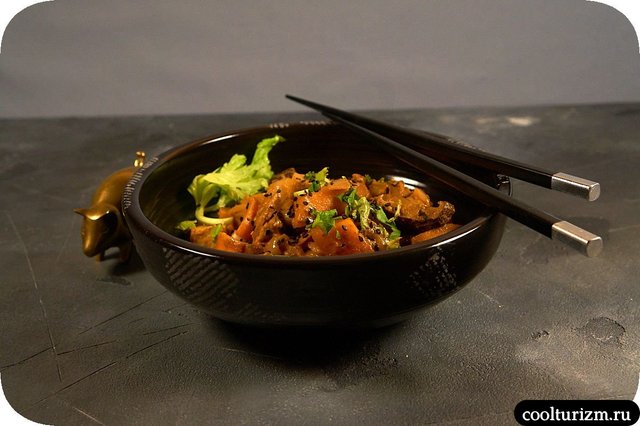 I Recommend it!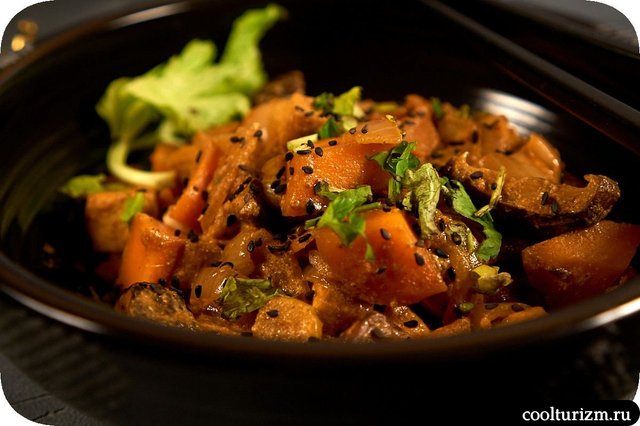 Will We Cook?

Heute bereiten wir ein helles und ungewöhnliches Gericht aus Soja-Tofu-Käse, Shiitake-Pilzen und Kürbis zu. Ein veganes Gericht im panasiatischen Stil. Es ist jetzt in Mode. Wir haben Tofu und Shiitake in unseren Läden, aber nicht jeder weiß, welche hergestellt werden können. Dies ist eines der Rezepte zu diesem Thema.
Das Rezept ist einfach. Gehen wir zu!
Zutaten:
● Tofu - 150-250 gr.
● Getrockneter Shiitake - 7-10 Stück.
● Sahne - 200 ml.
● Kürbis -200 gr.
● Zwiebeln -1 Stück.
● Tomatenmark - 1 EL.
● Sojasauce, Öl, Pfeffer, Kräuter, Gewürze - nach Geschmack.
1.Beginnen wir den Prozess mit der Zubereitung von Shiitake-Pilzen. Sie wachsen nicht in unserer Gegend, also habe ich sie trocken gekauft. Und dies sind gute zarte Pilze, es reicht aus, sie 2-3 Stunden lang einzuweichen, und sie werden gut anschwellen. Normalerweise weiche ich meinen Shiitake über Nacht ein. Den Shiitake abtropfen lassen und etwas trocknen. Tofu in Würfel schneiden. Tofustücke und gehackte Champignons in Pflanzenöl in einer heißen Pfanne anbraten. Nicht zu viel braten, nur den Tofu zu einer leichten Kruste machen. Tofu und Shiitake aus der Pfanne nehmen und beiseite stellen.
2.Zwiebel schälen und in halbe Ringe schneiden. Den Kürbis schälen und in Würfel schneiden, in die Pfanne geben und die Zwiebel glasig braten. Wir konzentrieren uns auf den Röstgrad des Kürbisses, er sollte weich sein. Tofu und Shiitake in die Pfanne geben. Einen Löffel Tomatenmark in einem Glas Wasser auflösen. Ich füge sofort einen Löffel Zucker hinzu, um den Geschmack auszugleichen, sonst kann es sauer werden. Shiitake und Tofu mit Zwiebeln in Tomatenmark bei schwacher Hitze 5-7 Minuten köcheln lassen. Sojasauce und Pfeffer nach Geschmack hinzufügen. Machen Sie selbst das Feuer, ich habe kein sehr scharfes Gericht gekocht.
3.Zum Schluss Sahne bei Raumtemperatur einfüllen, den Inhalt der Pfanne umrühren und die Pfanne mit einem Deckel abdecken. Weitere 10 Minuten kochen und mit Kräutern und Sesam servieren.
Lecker und nicht schwer! Ich empfehle dies!
Sollen wir kochen?