Homemade spicy salted mackerel recipe\Hausgemachtes Rezept für scharf gesalzene Makrelen
Hello, my friends!
Today we will cook delicious homemade spicy salted mackerel. There is nothing complicated in the recipe. All you need is a good, large, frozen mackerel, rock salt and a small selection of spices.
There are many options for salting mackerel, I will dry salted whole mackerel, but first remove the head, fins and intestines.
We will salt the fish in a plastic bag.
The recipe is very simple.
Let's Go!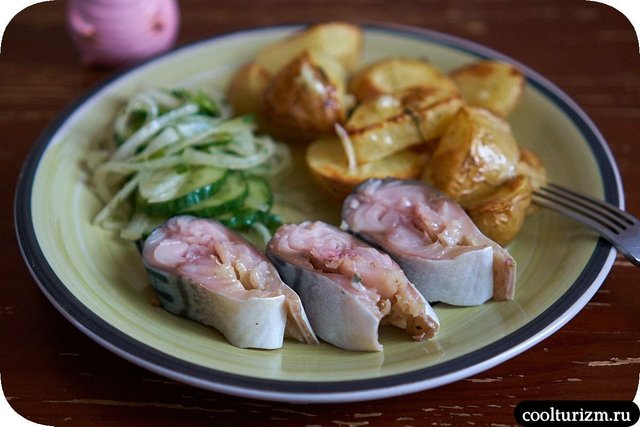 Ingredients:
● Big beautiful mackerel -1 pc
● Bay leaf -2 pcs
● Coriander seeds -1 tsp.
● Sugar - 1 tbsp.
● Salt - 1 -1.5 tbsp.
● Masala (optional) -1 tsp. and some ground pepper
1.Defrost the mackerel. A large mackerel fell into my hands, the very thing for salting! Looks good!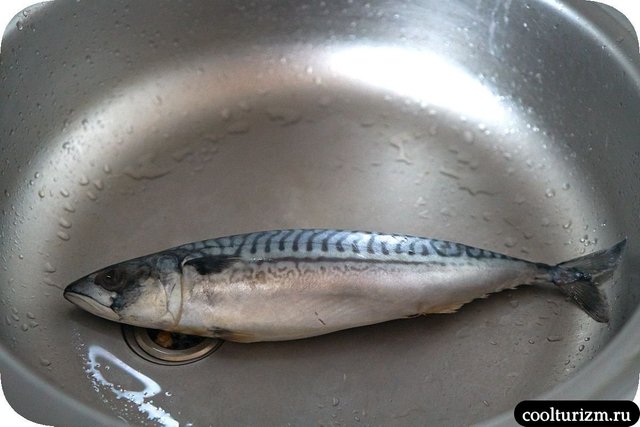 2.Clean the mackerel, remove the head, cut off the fins and remove the intestines, thoroughly rinse the belly from black coatings.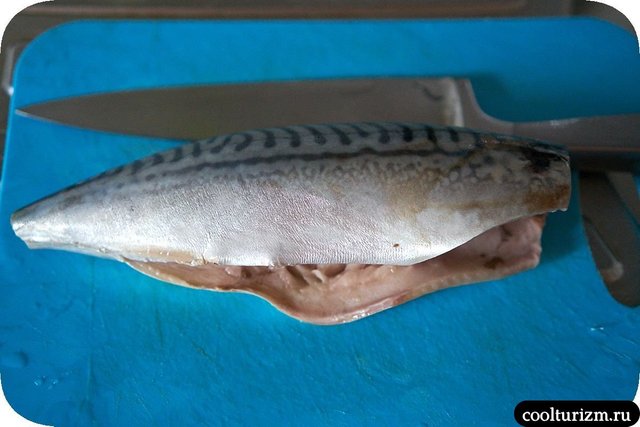 3.Now we make a mixture for dry salting. We take the most common cheap salt, mix it with sugar. Add coriander, masala . Break the laurel leaves. You can also add a couple of cloves. Everything is ready for pickling.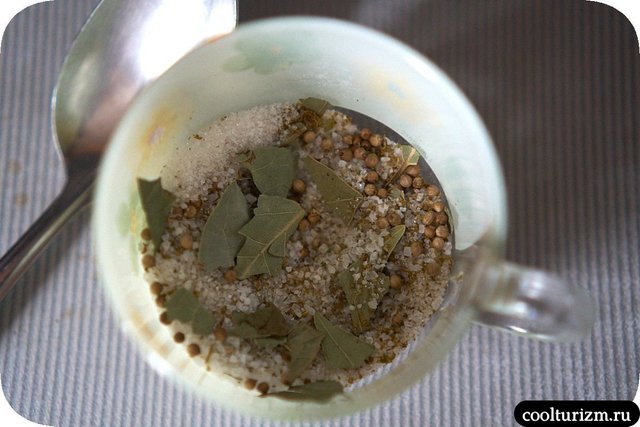 4.Rub the mackerel with a spicy mixture. Both outside and inside. Let's let it lie like this for about 10 minutes, but for now we'll prepare a couple of plastic bags for salting.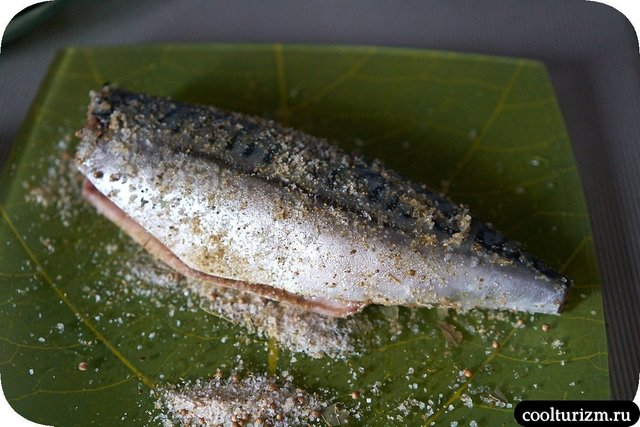 5.We tie the mackerel into bags. I took 2 packages, it's safer. You can leave the fish on the table, then it will be salted in 4-6 hours, but I preferred to put the fish in the refrigerator overnight.
Fish salted for about 24 hours. During this time, the fish was salted qualitatively.
Do not make such fish in reserve, it will be oversalted. Spicy salted mackerel is done quickly and you can make it right to the table, it will be tastier.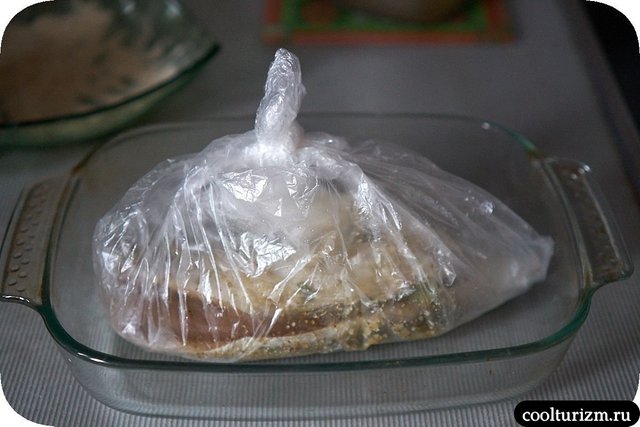 6.We take out the spicy salted mackerel from the bag. We wash off the spices and dry the fish.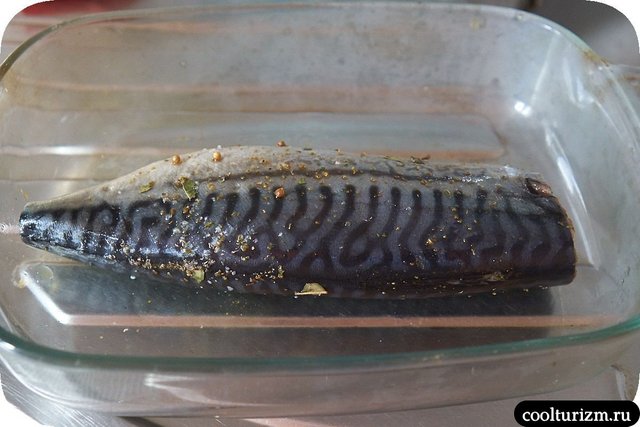 7.And now all that remains is to cut the mackerel into arbitrary pieces. Someone salted mackerel fillets or cut mackerel into pieces, but I like the salting of a whole fish more, and even so it falls apart less when sliced.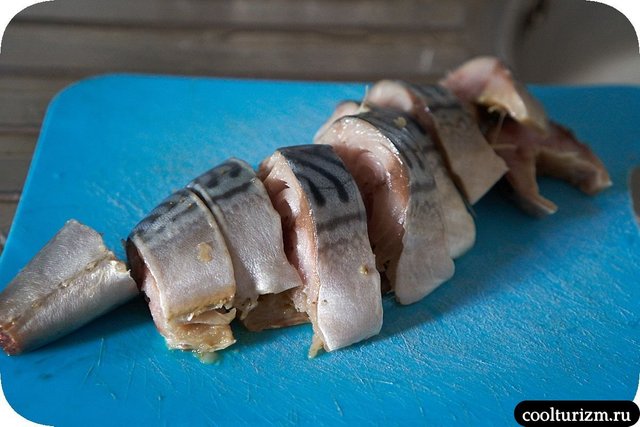 I served spiced salted mackerel with cucumber salad and country-style potatoes.
Very tasty!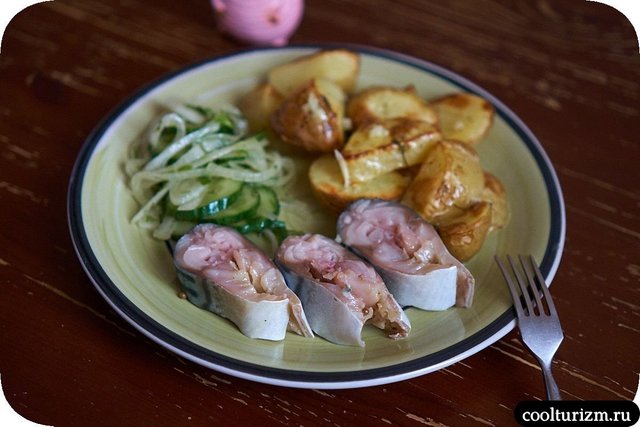 Highly recommend! But be more critical of the quality of the mackerel, if it is "not very good, then you should not salt it.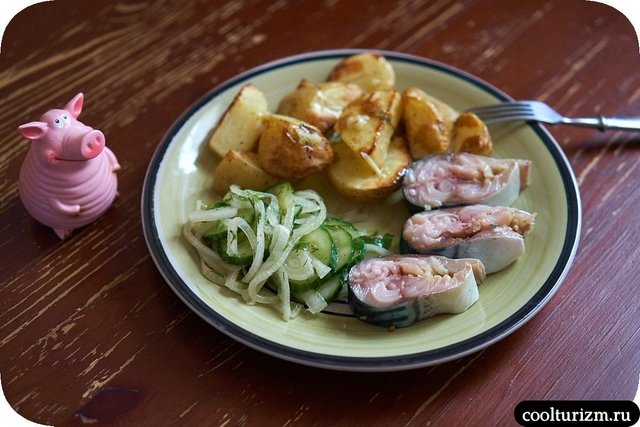 Will We Cook?

Heute kochen wir köstliche hausgemachte würzige Salzmakrele. Das Rezept enthält nichts Kompliziertes. Alles, was Sie brauchen, ist eine gute, große, gefrorene Makrele, Steinsalz und eine kleine Auswahl an Gewürzen.
Es gibt viele Möglichkeiten, Makrelen zu salzen, ich werde gesalzene ganze Makrelen trocknen, aber zuerst den Kopf, die Flossen und den Darm entfernen.
Wir werden den Fisch in einer Plastiktüte salzen.
Das Rezept ist ganz einfach.
Lass uns gehen!
Zutaten:
● Große schöne Makrele -1 Stück
● Lorbeerblatt -2 Stück
● Koriandersamen -1 TL.
● Zucker - 1 EL.
● Salz - 1 -1,5 EL.
● Masala (optional) -1 Teelöffel. und etwas gemahlener Pfeffer
1.Tauen Sie die Makrele auf. Eine große Makrele fiel mir in die Hände, genau das Richtige zum Salzen! Sieht gut aus!
2.Reinigen Sie die Makrele, entfernen Sie den Kopf, schneiden Sie die Flossen ab und entfernen Sie den Darm, spülen Sie den Bauch gründlich von schwarzen Belägen ab.
3.Jetzt machen wir eine Mischung zum Trockensalzen. Wir nehmen das gängigste billige Salz und mischen es mit Zucker. Koriander und Masala hinzufügen. Brechen Sie die Lorbeerblätter.
Sie können auch ein paar Nelken hinzufügen. Alles ist bereit zum Beizen.
4.Reiben Sie die Makrele mit einer würzigen Mischung ein. Sowohl außen als auch innen. Lassen wir sie etwa 10 Minuten in dieser Form liegen, aber jetzt bereiten wir ein paar Plastiktüten zum Salzen vor.
5.Wir binden die Makrele in Säcke. Ich habe 2 Pakete genommen, es ist zuverlässiger. Sie können den Fisch auf dem Tisch lassen, dann wird er in 4-6 Stunden gesalzen, aber ich habe den Fisch lieber über Nacht in den Kühlschrank gestellt.
Der Fisch wurde etwa 24 Stunden gesalzen. Während dieser Zeit wurde der Fisch qualitativ gesalzen.
Machen Sie keinen solchen Fisch in Reserve, er wird übersalzen. Würzige Salzmakrele ist schnell gemacht und Sie können es direkt auf den Tisch bringen, es wird schmackhafter.
6.Wir nehmen die scharf gesalzene Makrele aus der Packung. Wir waschen die Gewürze ab und trocknen den Fisch.
7.Und jetzt müssen Sie nur noch die Makrele in beliebige Stücke schneiden. Jemand hat Makrelenfilets gesalzen oder Makrelen in Stücke geschnitten, aber ich mag es lieber, einen ganzen Fisch zu salzen, und trotzdem fällt er beim Schneiden weniger auseinander.
Ich habe gewürzte Salzmakrele mit Gurkensalat und Bauernkartoffeln serviert.
Sehr lecker! Sehr empfehlenswert! Seien Sie aber kritischer bei der Qualität der Makrele, wenn sie "nicht sehr gut ist, dann sollten Sie sie nicht salzen.
Werden wir kochen?