Flounder with carrots and cranberries\Die Flunder mit Karotten und moosbeeren
Hello, my friends!
Today we will cook delicious flounder in cream. Carrots with dried cranberries and cumin will serve as a garnish. Almost a restaurant dish, flounder is a very tender delicate fish, a real delicacy.
The recipe is not the most complicated one.
Let's Go!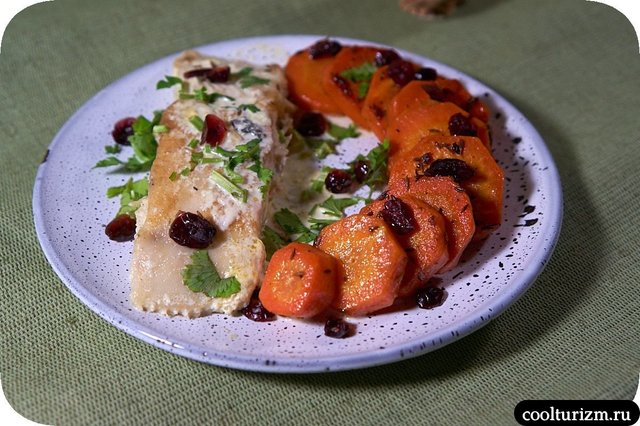 Ingredients:
● Small flounder -1 pc
● Carrots -2-3 pcs (large carrots)
● Cream 10% -200 ml
● Zira-pinch
● Butter -100 gr
● Dried cranberries-handful (can be replaced with raisins or dried apricots)
● Salt, pepper, herbs, spices - to taste
1.Here is such a beautiful flounder! The flounder should have red spots on the back. Cut off the fins and rinse the fish thoroughly. Cut the flounder into pieces. Rub the fish with salt and pepper and leave it alone.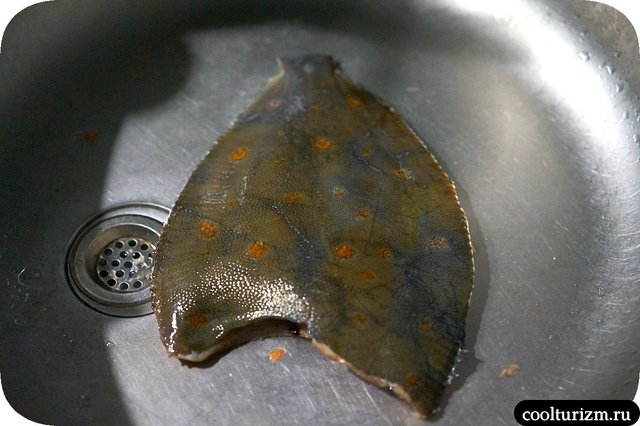 2.We clean large carrots from the skin. Cut the carrots into large slices and cook a little. It is enough to cook carrots in boiling water for 10 minutes.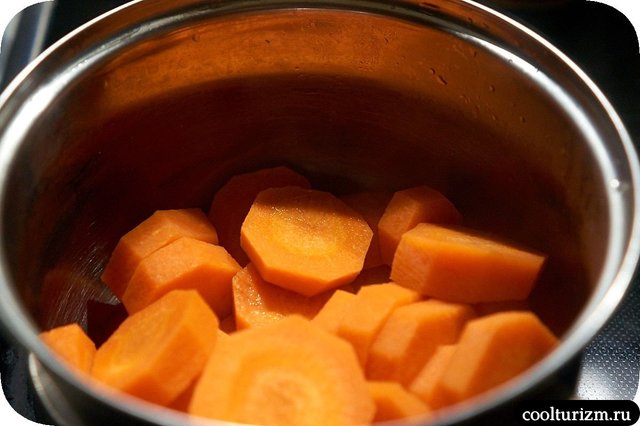 3.Preheat the pan. Add butter and a teaspoon of cumin. We spread the carrots and fry them on both sides, 5-7 minutes per side. Medium fire. Add salt to taste. There should be a lot of butter, in fact, this will be our butter sauce.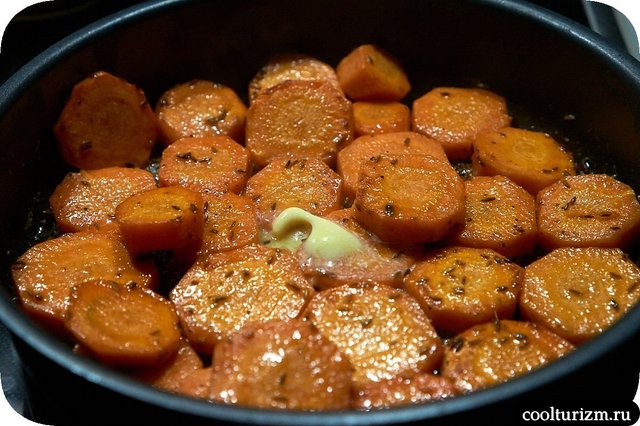 4.I took dried cranberries and pre-soaked them in water. But you can also use raisins or dried apricots with prunes, as you like. Dried apricots will look worse in color, prunes and raisins contrast better with carrots. We spread the cranberries into the finished carrots. By the way, this is a good independent vegetable side dish for any dish.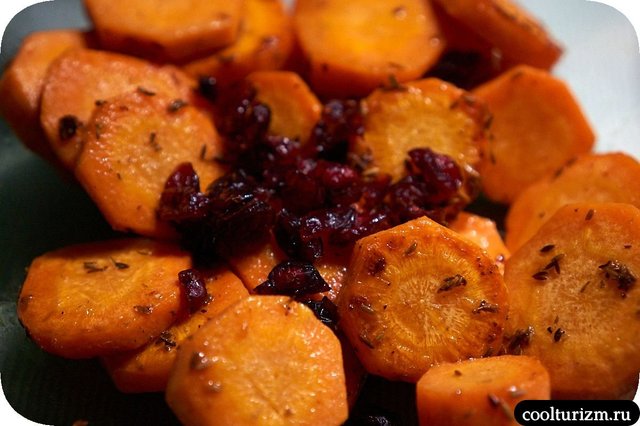 5.And what about the flounder? Better to pour the flounder in flour, so the skin will remain intact. I hurried and did not, and when frying, the tender skin peeled off slightly. Fry the flounder in oil on both sides. Add cumin and salt. It takes 10-15 minutes.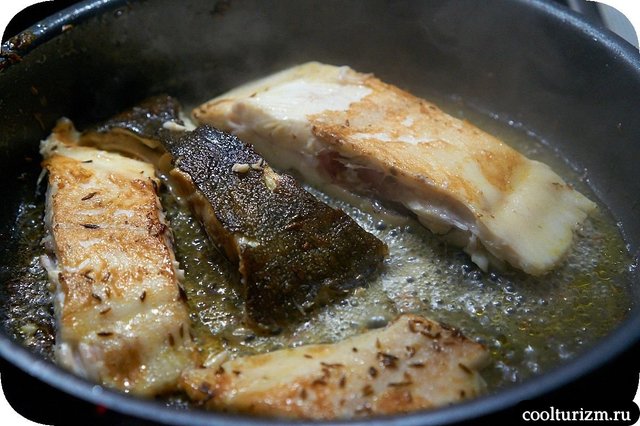 6.Reduce heat to low and pour in cream at room temperature. Cover the pan with a lid and cook the flounder over low heat for 15-20 minutes.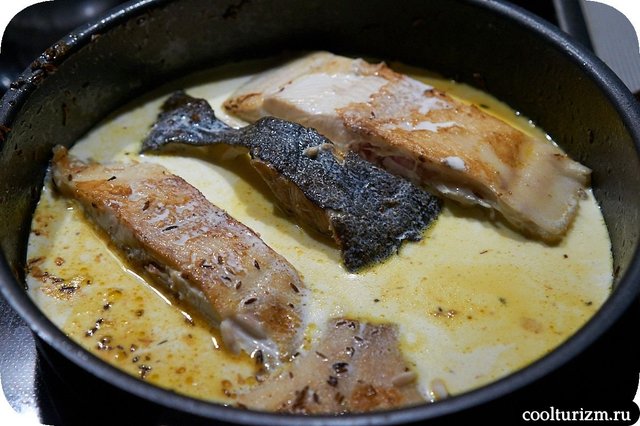 7.Put on a plate flounder in cream and carrot garnish with cranberries.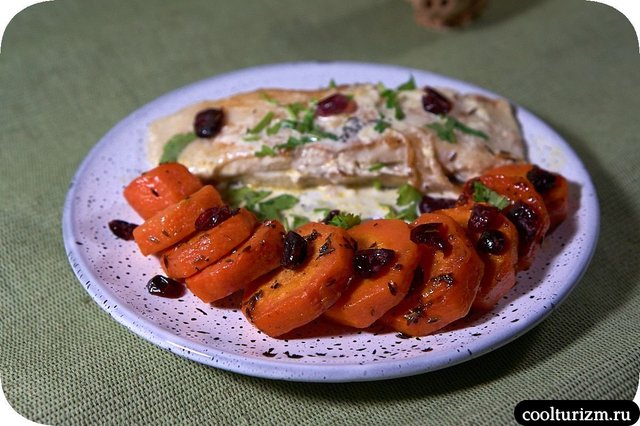 Great taste! The tender flounder meat goes well with the light sweetness of fatty carrots and the sourness of cranberries.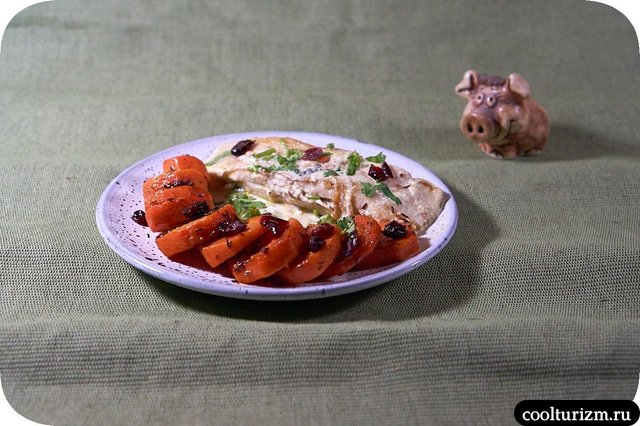 Will We Cook?

Heute kochen wir köstliche Flunder in Sahne. Als Beilage dienen Karotten mit getrockneten Preiselbeeren und Kreuzkümmel. Flunder ist fast ein Restaurantgericht, ein sehr zarter Fisch, eine echte Delikatesse. Das Rezept ist nicht das komplizierteste.
Lass uns gehen!
Zutaten:
● Kleine Flunder -1 Stück
● Karotten -2-3 Stück (große Karotten)
● Sahne 10% -200 ml
● Zira-Prise
● Butter -100 gr
● Handgetrocknete Cranberries (kann durch Rosinen oder getrocknete Aprikosen ersetzt werden)
● Salz, Pfeffer, Kräuter, Gewürze - nach Geschmack
1.Hier ist so eine schöne Flunder! Die Flunder sollte rote Flecken auf dem Rücken haben. Schneiden Sie die Flossen ab und spülen Sie den Fisch gründlich ab. Die Flunder in Stücke schneiden. Reiben Sie den Fisch mit Salz und Pfeffer ein und lassen Sie ihn in Ruhe.
2.Wir reinigen große Karotten von der Haut. Die Karotten in große Scheiben schneiden und etwas anbraten. Es reicht aus, Karotten in kochendem Wasser 10 Minuten lang zu kochen.
3.Die Pfanne vorheizen. Butter und einen Teelöffel Kreuzkümmel hinzufügen. Wir verteilen die Karotten und braten sie auf beiden Seiten, 5-7 Minuten pro Seite. Mittleres Feuer. Fügen Sie Salz hinzu, um zu schmecken. Es sollte viel Butter sein, tatsächlich wird es unsere Buttersauce sein.
4.Ich habe getrocknete Cranberries (moosbeere) genommen und sie in Wasser eingeweicht. Du kannst aber auch nach Belieben Rosinen oder getrocknete Aprikosen mit Pflaumen verwenden. Getrocknete Aprikosen sehen in der Farbe schlechter aus, Pflaumen und Rosinen kontrastieren besser mit Karotten. Wir verteilen die Cranberries in die fertigen Karotten. Übrigens ist dies eine gute unabhängige Gemüsebeilage für jedes Gericht.
5.Und was ist mit der Flunder? Es ist besser, die Flunder in Mehl zu rollen, damit die Haut intakt bleibt. Ich beeilte mich und tat es nicht, und beim Braten löste sich die zarte Haut leicht ab. Die Flunder in Öl von beiden Seiten anbraten. Zira und Salz hinzufügen. Es dauert 10-15 Minuten.
6.Reduzieren Sie die Hitze auf eine niedrige Stufe und gießen Sie die Sahne bei Raumtemperatur ein. Decken Sie die Pfanne mit einem Deckel ab und lassen Sie die Flunder bei schwacher Hitze 15-20 Minuten köcheln.
7.Auf einem Teller Flunder in Sahne und Karotte mit Cranberries garnieren. Großartiger Geschmack! Das zarte Flunderfleisch harmoniert gut mit der leichten Süße fetter Karotten und der Säure von moosbeere.
Werden wir kochen?