It is no news again; and it has been argued and concured by food lovers world over that the Nigerian Jollof Rice is THE BEST IN THE WORLD. Other West African countries are only crawling up behind Nigeria. You wanna confirm that? Don't worry, I will teach you how to make it, then you will confirm that by yourself.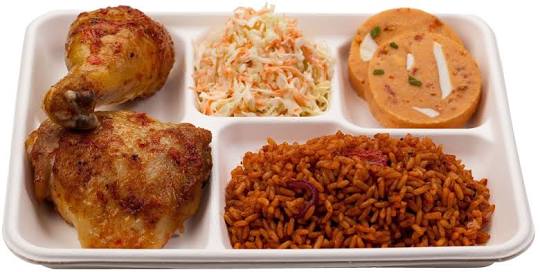 The Jollof Rice recipe discussed here is the classic Nigerian Jollof Rice prepared at parties and it is the most popular Nigerian Rice recipe. You will always see it in parties. It is quite easy to prepare if you follow the simple steps.
However, these are other variations of Jollof Rice:
(a) Leafy Jollof Rice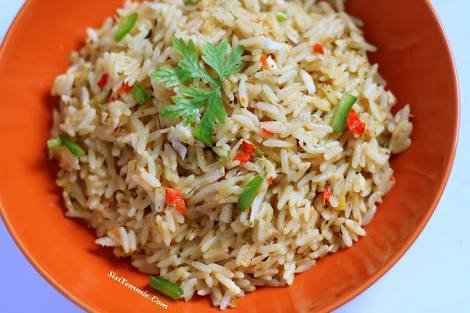 (b) Coconut Jollof Rice

(c) Mixed Vegetable Jollof Rice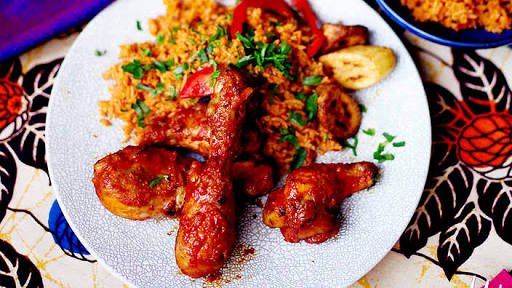 (d) Rice and Beans Jollof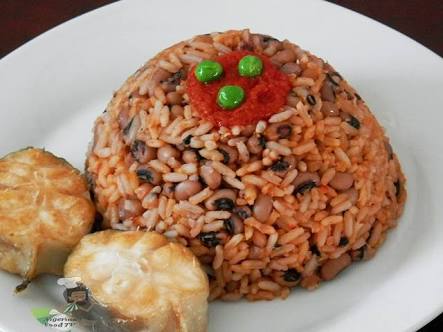 Now to cook the Nigerian Jollof Rice, the following ingredients must be on ground:
• 3 cigar cups | 750g long grain parboiled rice
• Tomato Stew 500 mls
• Chicken (whole chicken, drumsticks or chicken breast)
• Pepper and salt (to taste)
• 2 medium onions
• 3 teaspoons seasoning
• 2 teaspoons thyme
• 2 teaspoons curry powder (Nigerian curry powder)
Before you cook Jollof Rice:
Prepare the tomato stew.

If you will use whole chicken then wash and cut it into pieces. Cook with the thyme, teaspoons seasoning and 2 bulbs of onions (chopped). The cooking time depends on the type of chicken. The rooster or cockerel cooks much faster than the hen but the hen is definitely tastier. When done, grill it in an oven. You may also fry it. This is to give it a golden look which is more presentable especially if you have guests for dinner.

Parboil the rice. Rinse the parboiled rice and put in a sieve to drain.
Cooking Directions
Pour the chicken stock and the tomato stew into a sizeable pot and leave to boil.

Add the drained parboiled rice, curry powder, salt and pepper to taste. The water level should be the same level of the rice. This is to ensure that all the water dries up by the time the rice is cooked.

Cover the pot and leave to cook on low to medium heat. This way the rice does not burn before the water dries up.
The rice should be done by the time the water is dry. Taste to confirm. If not, you will need to add more water and reduce the heat to prevent burning. Keep cooking till it's done.
Serve,
with Fried Plantain: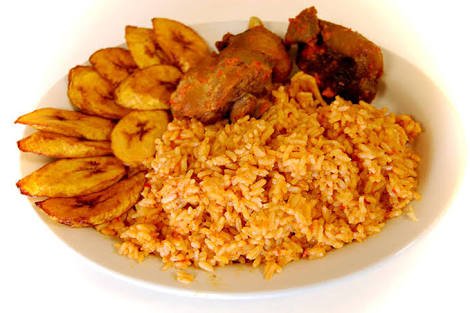 with Nigerian Moi Moi:

with Nigerian Salad: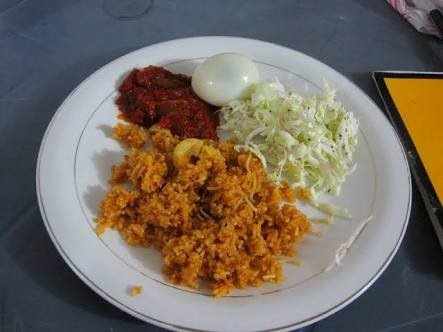 with Coleslaw: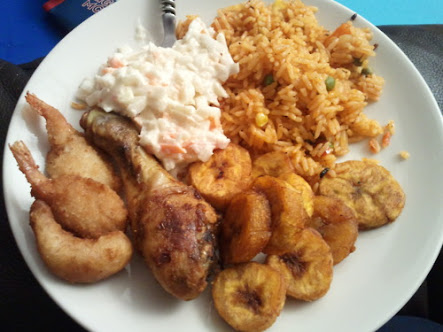 or spice it up by adding 2 well known vegetables to arrive at what we refer to as Mixed Vegetables Jollof Rice.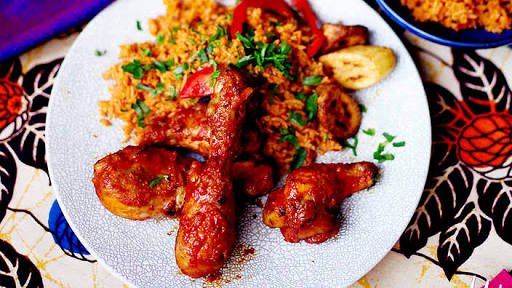 If you have any questions about cooking the best Nigerian Jollof Rice, feel free to ask me. wink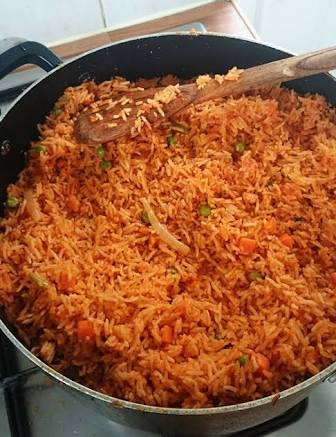 Food is ready!
@yemikareem
15th July, 2017.
Credits
Nigerian recipe TV
All Nigerian Recipes