The perfect breakfast? There is nothing better than fluffy, sweet pancakes with brown caramel and crunchy hazelnuts. Anyone?... I made my own caramel and I should confess that it was the first time I was doing that. All I heard about caramel was that it is really difficult to prepare as there is a very fine line between sweet caramel and bitter burnt sugar. But I tell you something: it is not as scary as I thought it would be. The most important is to let the sugar melt on medium heat and control the color of it.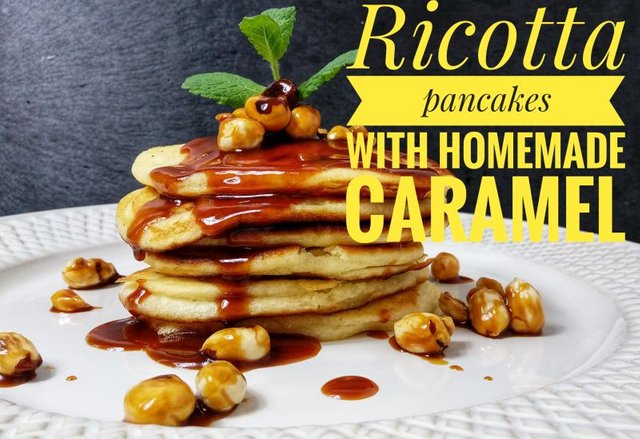 Of course you can use the ready-made caramel and the result will be similar. I know that in the morning the last thing you want is to cook something difficult and time-consuming, so don't put preassure on yourself and do what works the best for you. Remember that the secret to fluffy pancakes is the combination of whipped egg whites and ricotta cheese. This couple will guarantee the success of your pancake morning.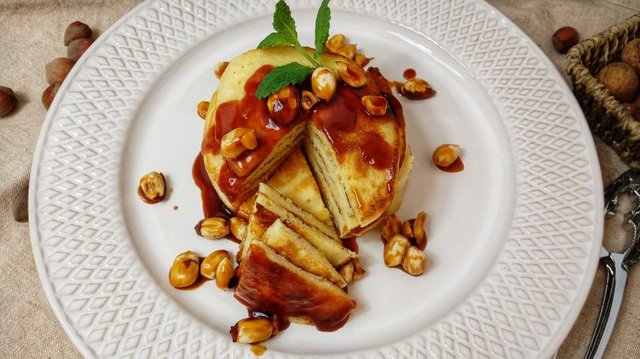 Ingredients:
 🍬 1,5 glass milk
 🍬 1,5 glass flour
 🍬 100 g ricotta cheese
 🍬 2 tablespoon sugar
 🍬 3 eggs
 🍬 1 teaspoon baking powder
 🍬 pinch of salt
Caramel:
 🍬 120 g sugar
 🍬 200 g heavy cream
 🍬 2 teaspoons butter
Additionally: hazelnuts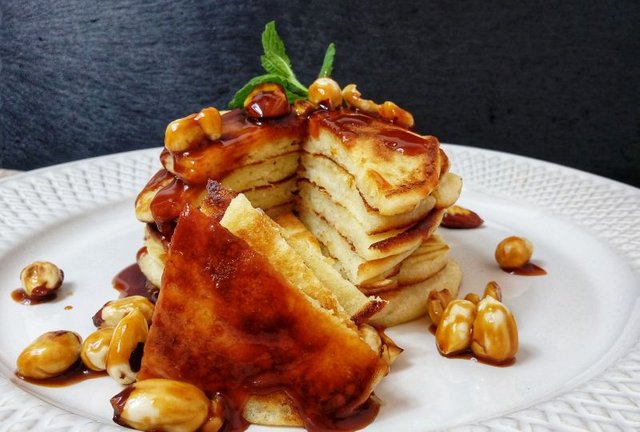 Method:
Prepare the caramel. Spread the sugar on the pan and turn on the heat. Wait until the sugar begins to melt. Don't stir. You can move the pan so the sugar heats equally but do not stir. Once all sugar melts and gets the nice light brown color add 1/3 of heavy cream and stir quickly as it bubbles a lot. Than add the rest of heavy cream and butter. Take off the heat and cool down.
Fry the hazelnuts on the pan without any oil.
Beat the whites until stiff.
 Mix egg yolks with milk and ricotta. Add flour, baking powder, sugar and salt. Mix well and then add carefully whipped egg whites.  
Spread the oil and heat the pan. Brown the pancakes on both side and serve hot with hazelnuts and caramel.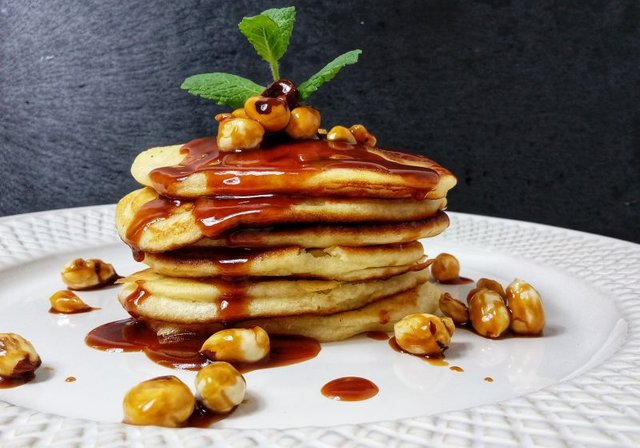 Bon appetit!  😊