Chicken Fetuccine Alfredo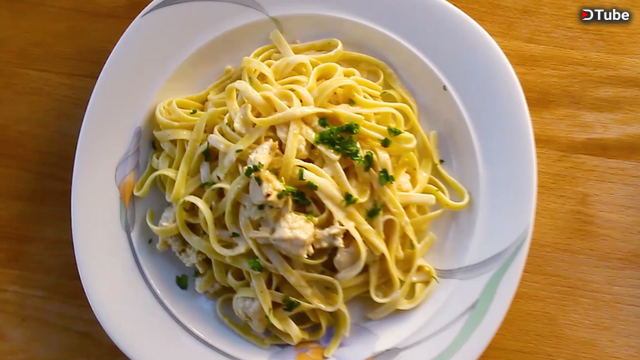 ---
This isn't the healthiest pasta dish, but it's one of my favorites! It's very high in cholesterol, but I think it's alright consumed in moderation. It certainly isn't vegan or vegetarian either. Fettuccine alfredo is a newer dish and originated in Rome, Italy in the 20th century.
INGREDIENTS
3 ounces of chicken breast
2 ounces of fettuccine pasta
3 tablespoons of unsalted butter
1/2 cup of heavy cream
1/2 cup of parmesan cheese
A small handful of flat leaf Italian parsley.
Salt
Pepper
DIRECTIONS
Boil fettuccine in salt water according to directions on the box.
Melt 1 tablespoon of butter on medium high heat.
Season and cube the chicken breasts with salt and pepper (garlic powder is optional and recommended) and cook thoroughly in the melted butter.
Remove the chicken from pan.
Melt 2 tablespoons of butter in the same skillet.
Reduce the heat on the stove to low.
Mix in heavy cream and parmesan cheese.
Add the chicken back.
Add the cooked and drained noodles to the pan.
Mix everything together until the sauce thickens.
Chop parsley and garnish on top of the pasta.
Bon appetito!
Longer format videos on my YouTube channel