HIGH TEA AT ANTI:DOTE SINGAPORE - review with 1000 words and 17 photos
We wrote about high tea tradition in our recent post. Now, we took part in that tradition and were a part of this noble afternoon pause. I must admit it this high tea is great for the soul and the social life. You drink delicious tea and enjoy your little snack with someone you like. And you take time for it, like they did in past and not just quick drink like it is common nowadays. Maybe, a high tea is the queen's secret of wellbeing and looking good no matter what her age is. You know, pacing down and enjoying antioxidants in a good company. This time, we had a great company. Our friend Goga, who lives here in Singapore, accompanied us. For our first high tea, we choose Fairmont's Anti:dote restaurant, where you get served your snack in the petit drawer box. The ratings were good with this one. Despite that Goga, warned us, that this one is not the tastiest. However, it was certainly the nicest for the eyes. So, we tried it.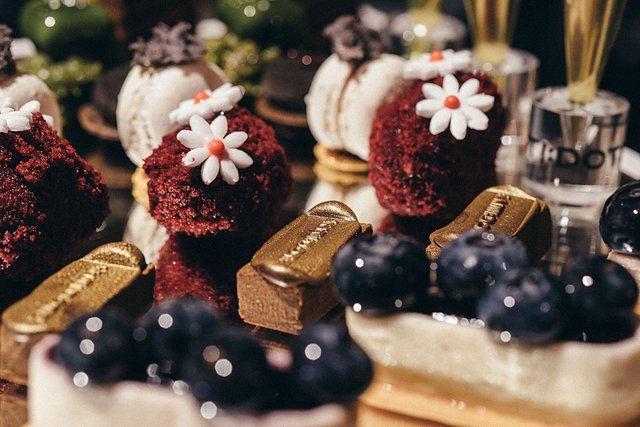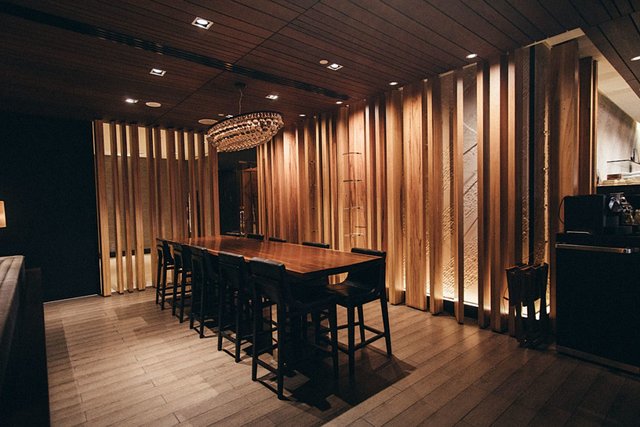 The restaurant itself is nicely decorated and the staff is extremely nice, which is to expect from the place like this. Selection of their teas is great. Ian chose Sweet Innocence so that he could be innocent with his tea :). The tea is a composition of black tea and green tea combined with fresh mélange of Japanese flower blossoms and ripe tropical mango. The taste was amazing and the sweetness of mango didn't override the other tastes as can happen with mango teas. His selection was stronger compared to my Pink Flamingo Tea. Pink Flamingo Tea is actually TWG tea – the finest luxury tea brand in the world. It's green tea with crimson hibiscus blossoms. The tea gets a nice rose color from hibiscus and gives tarty and fruity overtones. Our friend was drinking Holiday in Paris, which is a mix of rare Yin Zhen and sweet vanilla. Nard and wildflowers decorate this cup with their crisp, floral flavor and leave a heady, perfumed aftertaste.
For an appetizer, Ian got truffle with organic egg, some cauliflower, and crispy foie gras. The flavors were very clean, and the egg was cooked to perfection. Truffles were nicely composed and didn't overwhelm the egg yolk and foie gras.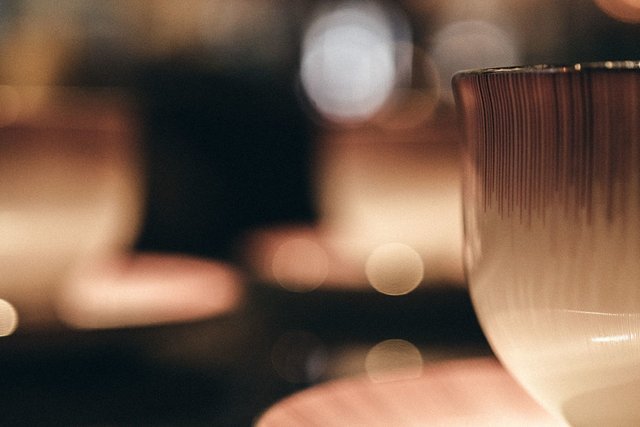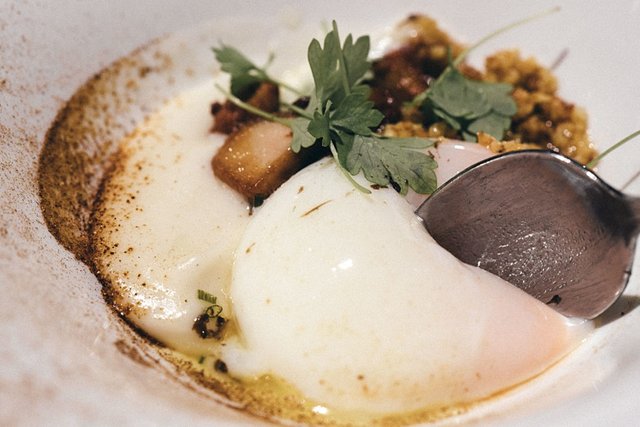 My dish was truffles with slow cooked egg and chives. The dish was served in a plastic imitation of an eggshell placed on the nice plate of rocks. That was a combination of a warm egg yolk and cold cream. It was a great contrast, only the truffles were too weak. They could be more generous with them. Lately, however, it is a lack of them on the market so we better get used to this movement…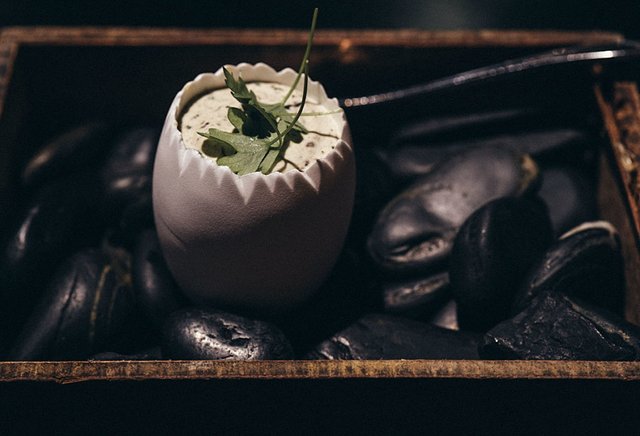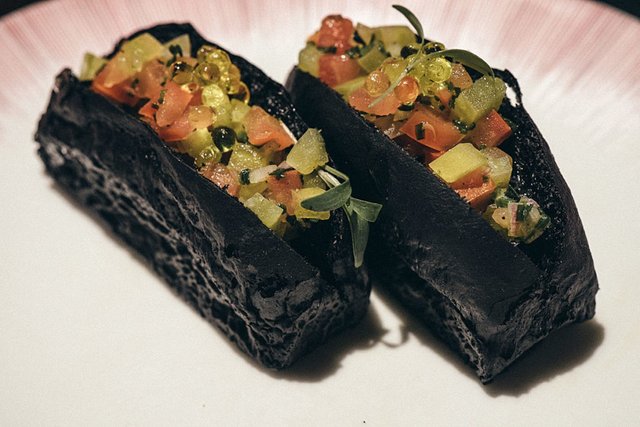 After foreplay, our high tea set came. The set is uniquely decorated in this big box with drawers and on top of it, a mirror with desserts stands. In the first drawer, there were traditional scones. One with blackberry and another plain. We had far better scones than those ones. They were crushing way too much! The raspberry jam, Devonshire clotted cream, and their homemade lemon curd was very tasty and was a great companion to scones. There were five types of sandwiches. The first one was with smoked salmon and lemon cream cheese, salmon ikura roe and rye bread. This two bites sandwich was very delicious with a great selection of ingredients and, of course, my beloved fish eggs on top.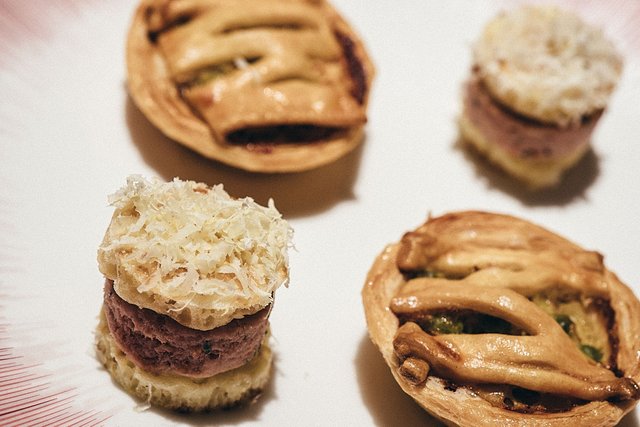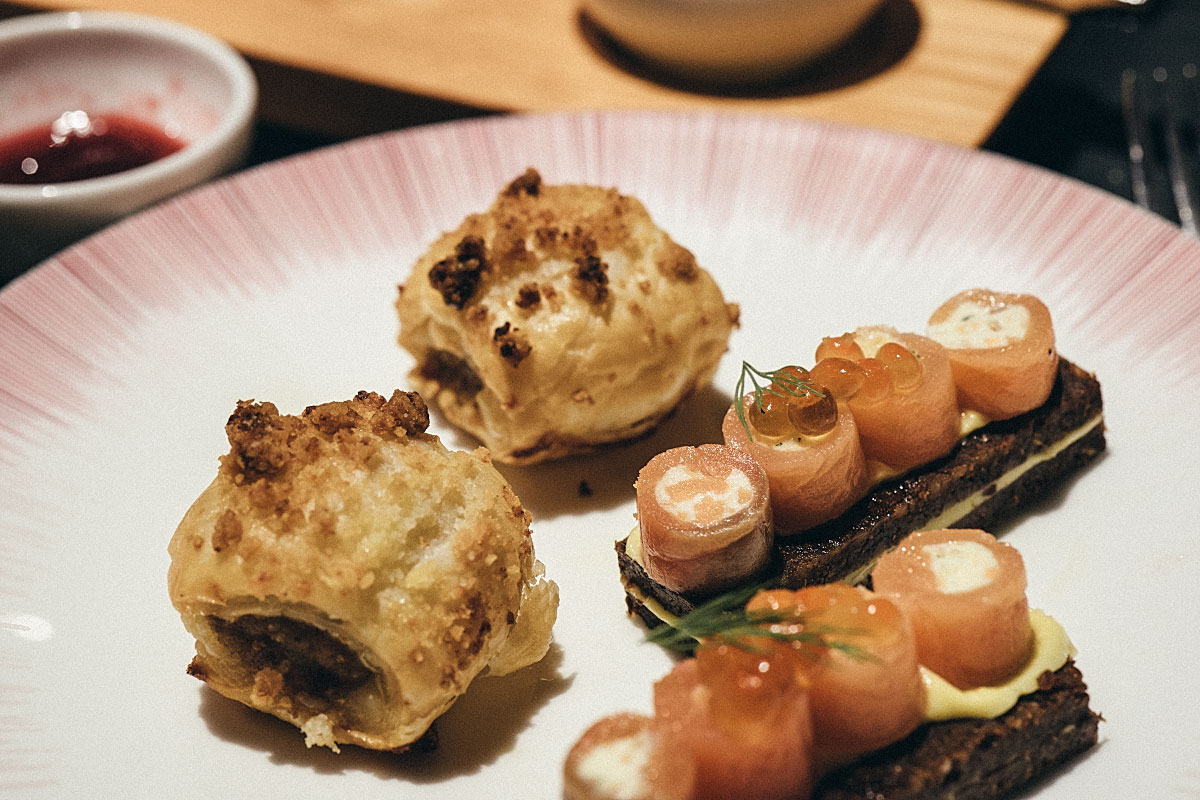 Afterwards, there was duck rillette with mustard and chestnut snow. The duck wasn't distinctive enough in this little canape. However, it was an overall good idea. The third goodie was braised abalone (sea snail) with leek and potato in a home-made tart. This one was very good. The tart was crunchy, while the filling was moist enough and the abalone cooked perfectly. There was also a vegetarian version of canapes – heirloom tomato in pesto brioche. Pretty O.K. brioche, only the taste wasn't so fresh. They were a bit moisty and not crunchy enough. The last sandwich was home-made pork sausage in a puff pastry. We were missing some good sauce with this. I would add some wasabi with sour cream and chives for some freshness.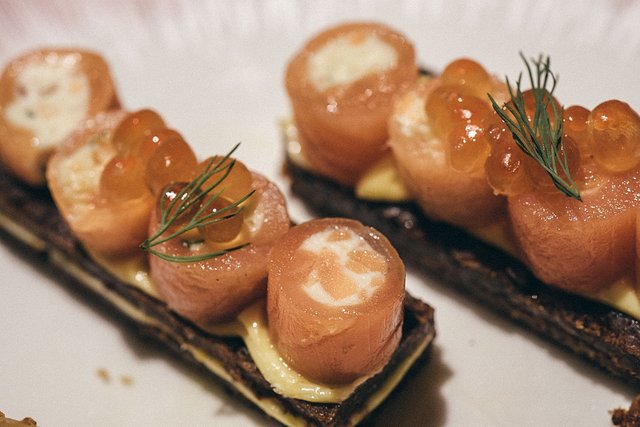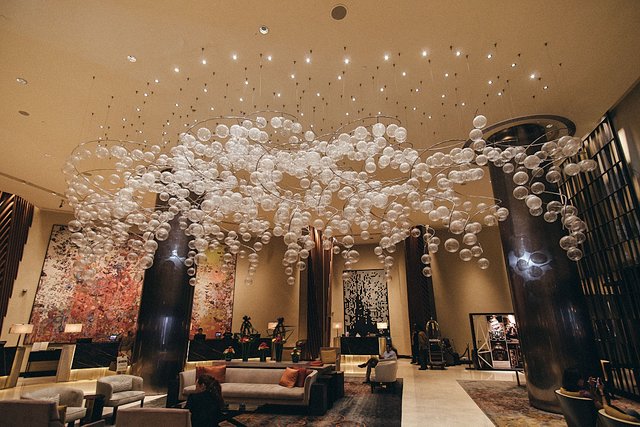 And at the end my favorite – dulcet! Some were pretty good, others were disappointing. However, we need to admit it – all was looking damn good. Sweet potato coconut cone wasn't special. A bit to dry and coconut wasn't delectable at all. Also, berries macaron wasn't really what I expected. The dough was O.K. but the filling was a bit dull and too dry. Next in line were all goodies. Blueberry with brandy cheesecake was a divine and grateful bite. Caramel tanzanite couverture was delicious. All of us liked the salty caramel. The chef should be even more generous with the salt.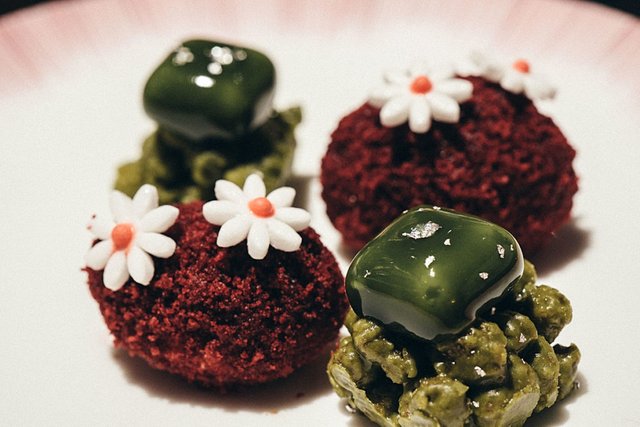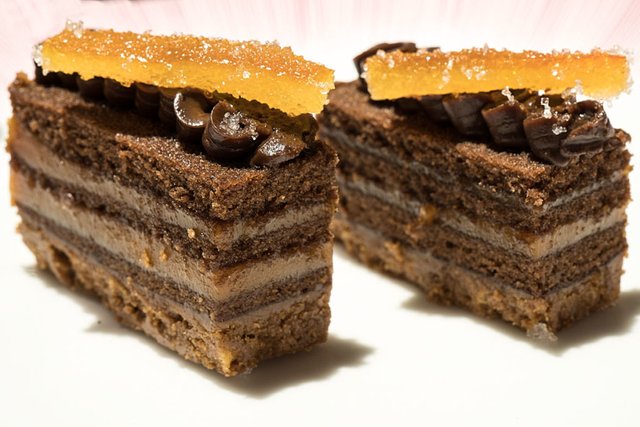 The next dulcet was white Zephyr cocoa with green tea jelly on sable Breton. A very good dessert, not too sweet with a perfect balance between the rich taste of milk and cocoa butter with green tea. The Breton was great for texture and crunch effect! The next praline was with sesame on sable. Ian liked them, while I wasn't convinced. However, they weren't bad at all! The next sweet bite was exactly for my taste buds – Rose crème with grapefruit marmalade and velvet soil. Those were a nice appearance for the eyes and the mouth. Eventually, there was grand cru bonbon – good cacao sweet finish after all. In the last drawer, there were cookies to take them home. One was buttery and the other two were with matcha tea. Well, those cookies weren't so good, but I appreciate a nice gesture.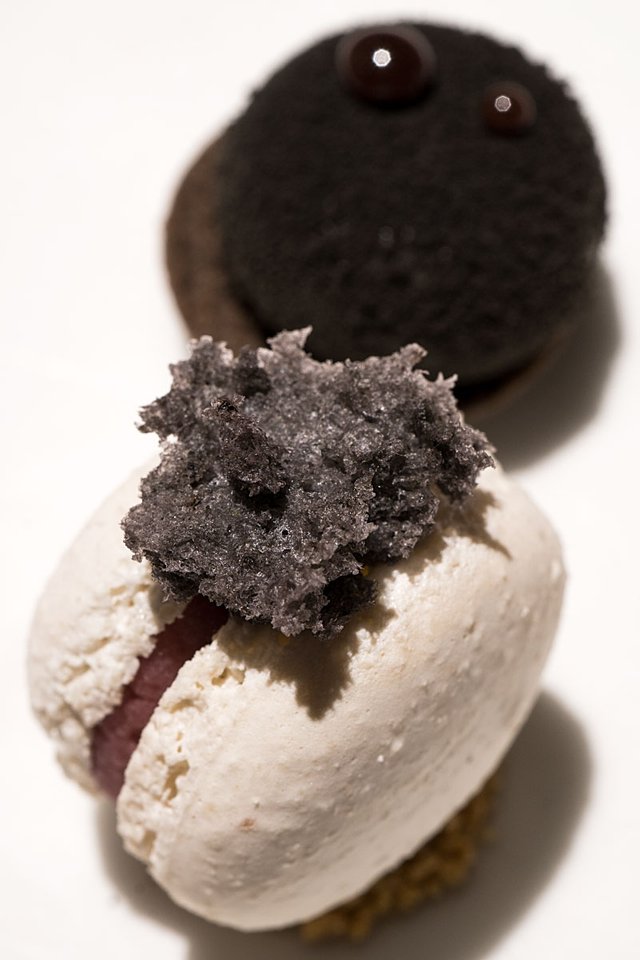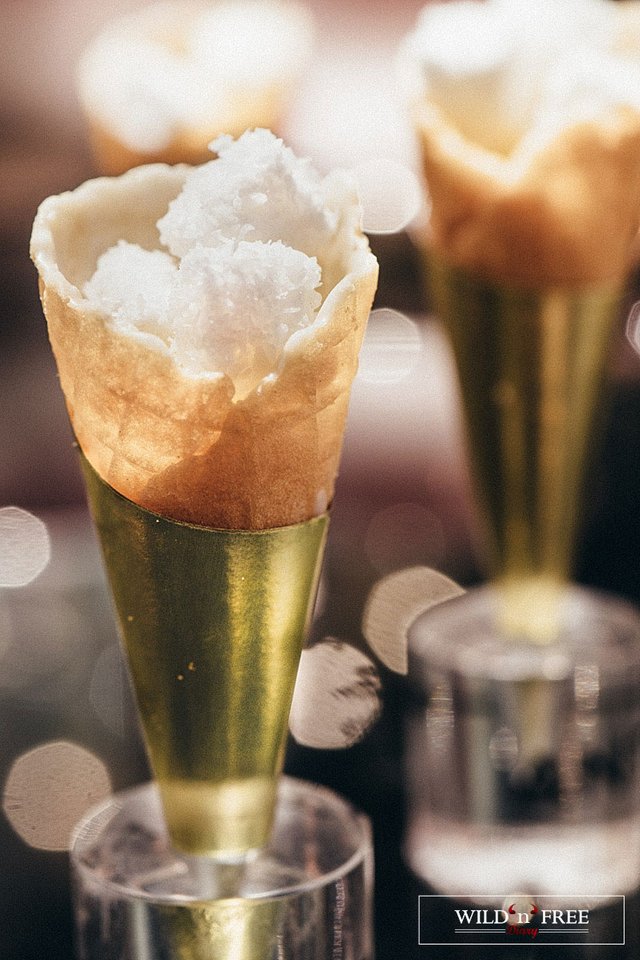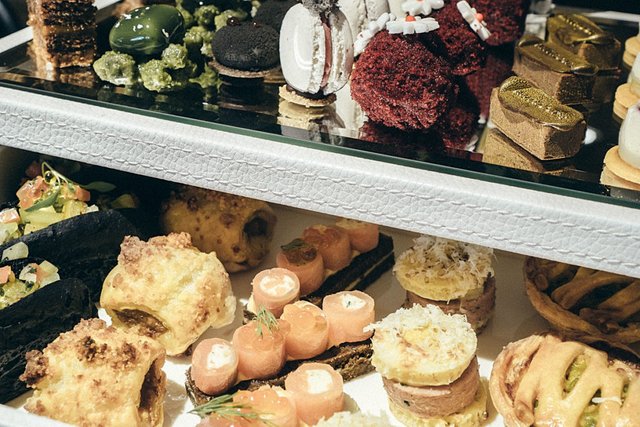 After all, this high tea really was more for the eyes than for the taste buds. On the internet, we found some reviews about this high tea and the rates were very high. It looks like there aren't honest reviewers in the field or they were better back in time. However, as our friend said (who is a gourmand with experience in gastronomy) she was never convinced here. Anyway, it was a nice presentation and those snacks weren't bad. It's just that they could be prepared much better. After all, that is a high-end restaurant.