Surprise everyone with a different meal. Baked chicken An easy recipe to make.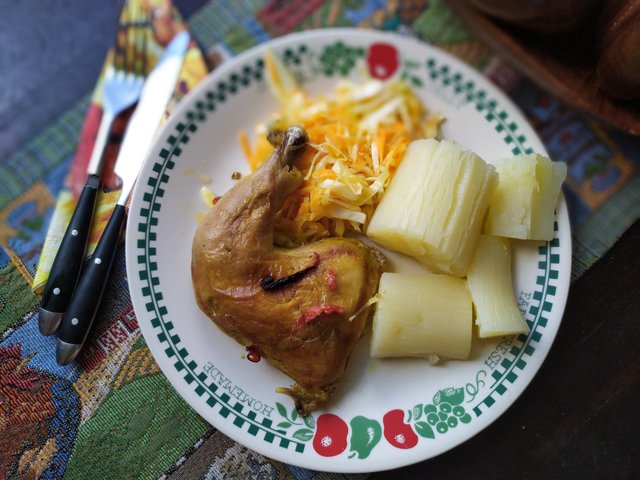 The art of cooking is the only one we all practice every day without realizing it. Adding salt to the preparation, serving some rice in an elegant way, decorating a plate with spices on the edge is part of the art of cooking. Today like every good artist in the kitchen I will teach you some tricks to prepare a nutritious, healthy, different and delicious meal that your family will appreciate. Cook with me steemian.
Day by day can be very tiring. If you live with a family, and it is you who cooks, whether you are male or female, it will always be more difficult to impress diners. Especially if you have small children, they tend to be more complex when it comes to eating. Not having a varied menu can become a big problem. That is why today I will show you some tips so you can surprise everyone at home with a different meal: Baked Chicken.
Is it difficult bake chicken?
The answer is no, it is not difficult to bake chicken. It's all about having enough time to complete the preparation. Remember that the interesting thing about this recipe is how easy it is to make it.
I like to have the whole chicken and chop it into pieces myself, so I take advantage of all its parts. you will need a refractory container or tray, foil, a whole chicken of 1.80kg This weight is ideal for it to cook perfectly in the established time. And of course you favorite marinade. I chose orange juice, red paprika, turmeric, salt and pepper. After having everything chopped the following will marinate the chicken for about 45min approximately up to 1 hour. Being an acid-based marinade, times must be respected. IF you spend that time the acid will break the protein bonds in the chicken. This will make it harden after two hours.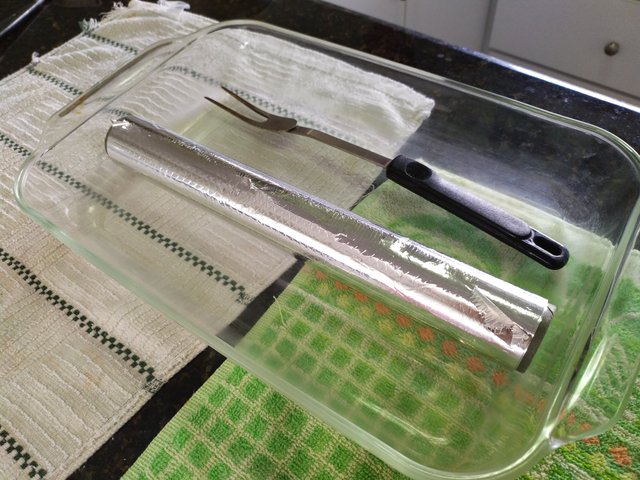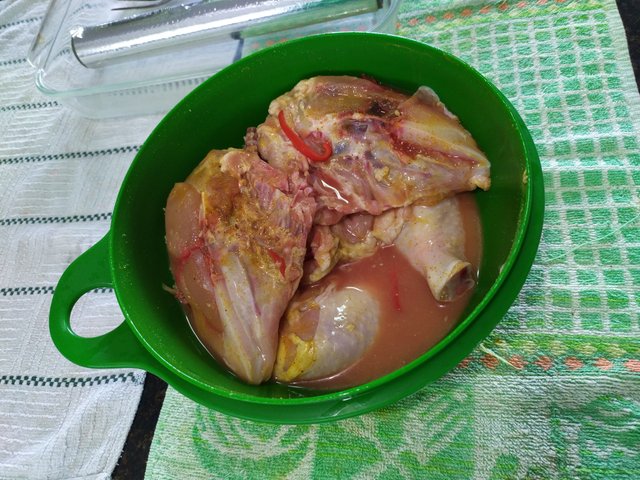 After placing the pieces in the tray, cover it with aluminum foil. In this way we will prevent the chicken from burning and cooking properly. You will notice that I have left the chicken skin, in this case I like the flavor it provides. If you want your food to have less fat content, the solution is to remove the skin.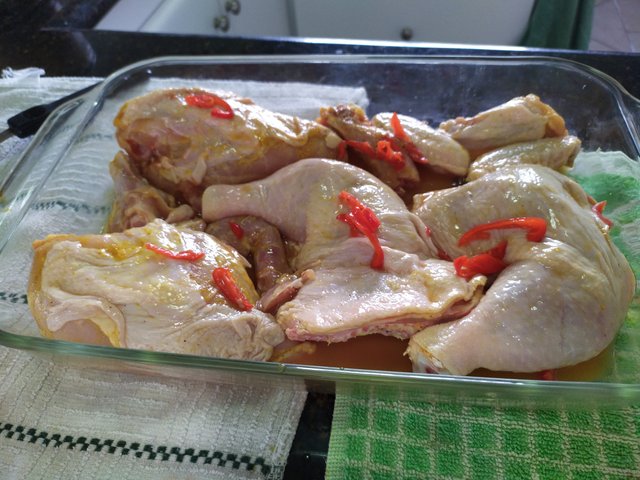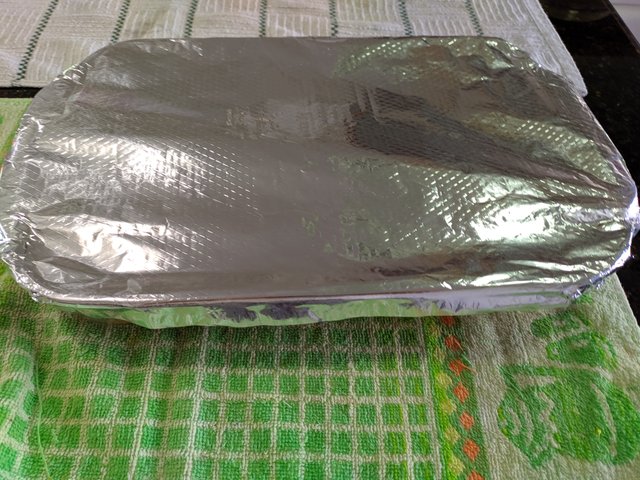 Let's start cooking.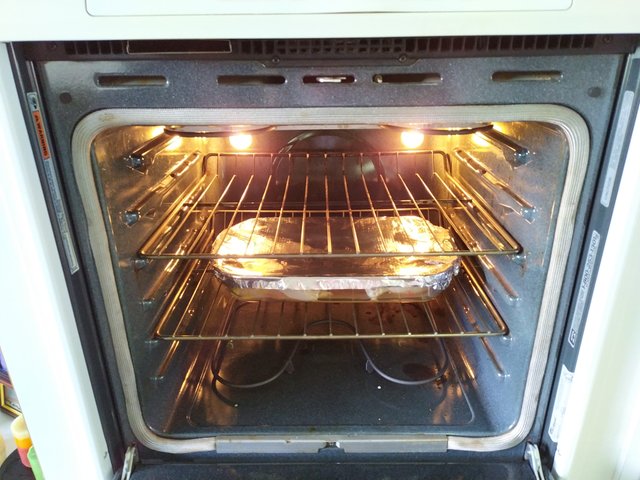 First we will cook the chicken for 45 minutes with a temperature of 375ºF. After that time, we make the first review to make sure everything is going well. After the quick glance, we cover again and let it cook for another 30 minutes.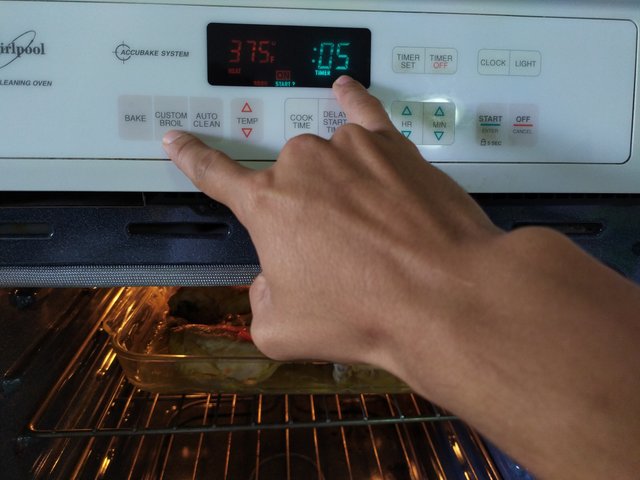 We are almost ready to finish the chicken, the last step will be to place the chicken in the highest part of the oven, adjust the temperature in "Broil mode" and let it cook for about 15 minutes more, with that you will get the skin to turn golden and crunchy.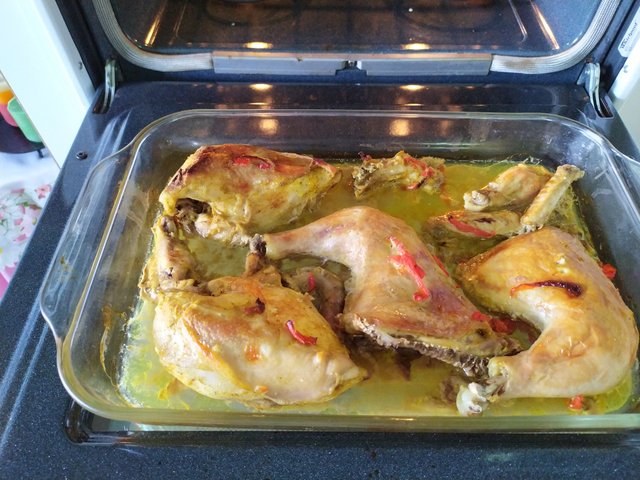 As you can see it looks delicious. All the pieces were cooked to perfection. Crispy and golden on the outside, juicy and soft on the inside. The interesting thing about doing this at home is that cooking times can be used. While the chicken is in the oven, prepare a cabbage salad with carrots, add salt, oil and a little garlic, reserve it until serving.
Another companion is cassava. It is a tuber that is widely consumed in Venezuela. You can replace it with any other vegetable. In this case, cassava provides us with bone protection. Among the vitamins that we can find in this tuber, vitamin K stands out. It is low in fat. It helps digestion apart has a satiating effect. He is undoubtedly the ideal companion.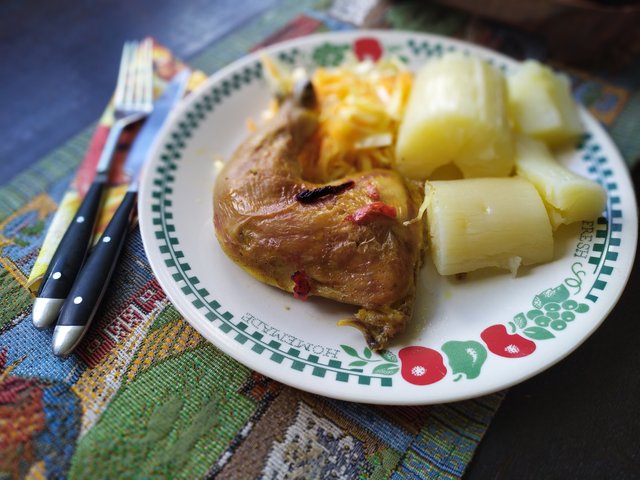 Facts
The Baked chicken breast contains 35 grams of protein. These nutrients are responsible for maintaining healthy tissues and allow healing after an injury.
Baked chicken helps balance energy levels during the day. 113 grams of baked chicken breast contain 0.39 micrograms of vitamin B12. It will also increase iron levels in your body.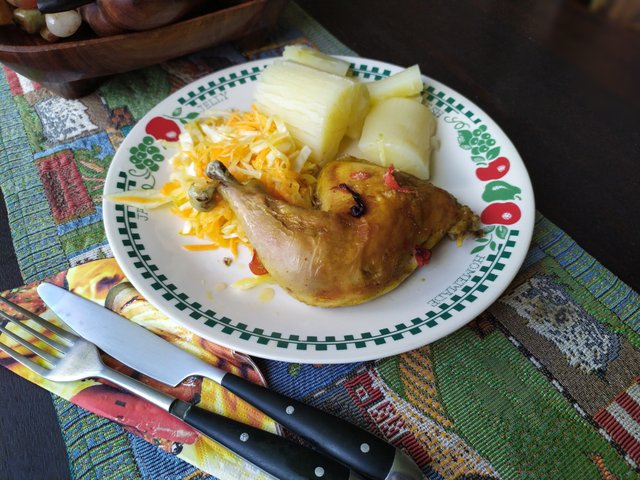 Surprise everyone with a different meal. Don't forget to prepare a dressing for cassava and chicken. A guasacaca would be fine. but if you prefer a little Ketchup it would be fine.
Text, Edition and Photos by @wisejg