Hello Everyone,
Steemit newbie here. I love to cook and love everything food. While I am not a Michelin star chef (I wish!), I love experimenting with different kinds of ingredients, and coming up with simple, easy recipes that everyone can work with.
For my first post, I thought I'd share a recipe that I came up with when I was drunk (not really true, but my wife is convinced of this). The first time I made this dish, she just could not wrap her head around what I was doing to these hot dogs (I realize what that sounds like). After coming out of the initial shock, both my wife and daughter have come to love this dish. I hope you like it too.
Ingredient List:
2 or 3 packets of pre-cooked, unseasoned hot dogs (generally 8 hot dogs per packet): Doesn't matter if they are beef, turkey, chicken, pork, or blended. Just make sure they're unseasoned.

One large onion (2 onions if they are medium sized): I generally use the red onions, but you can use the white or yellow onions as well.

3 or 4 Asian Green Chili peppers: I generally use the asian or east indian green chili peppers. These are always available in east indian stores and in some asian grocery stores as well. If you are unable to get a hold of some, you can substitute with Jalapeno peppers too (two big japapeno peppers should do), but the taste is definitely better with the asian chilies. You can add more chili peppers if you want to make it spicier, but the recipe also uses cayenne pepper powder, so just a heads up. See the pic for what asian chilies look like.

2 or 3 Roma Tomatoes.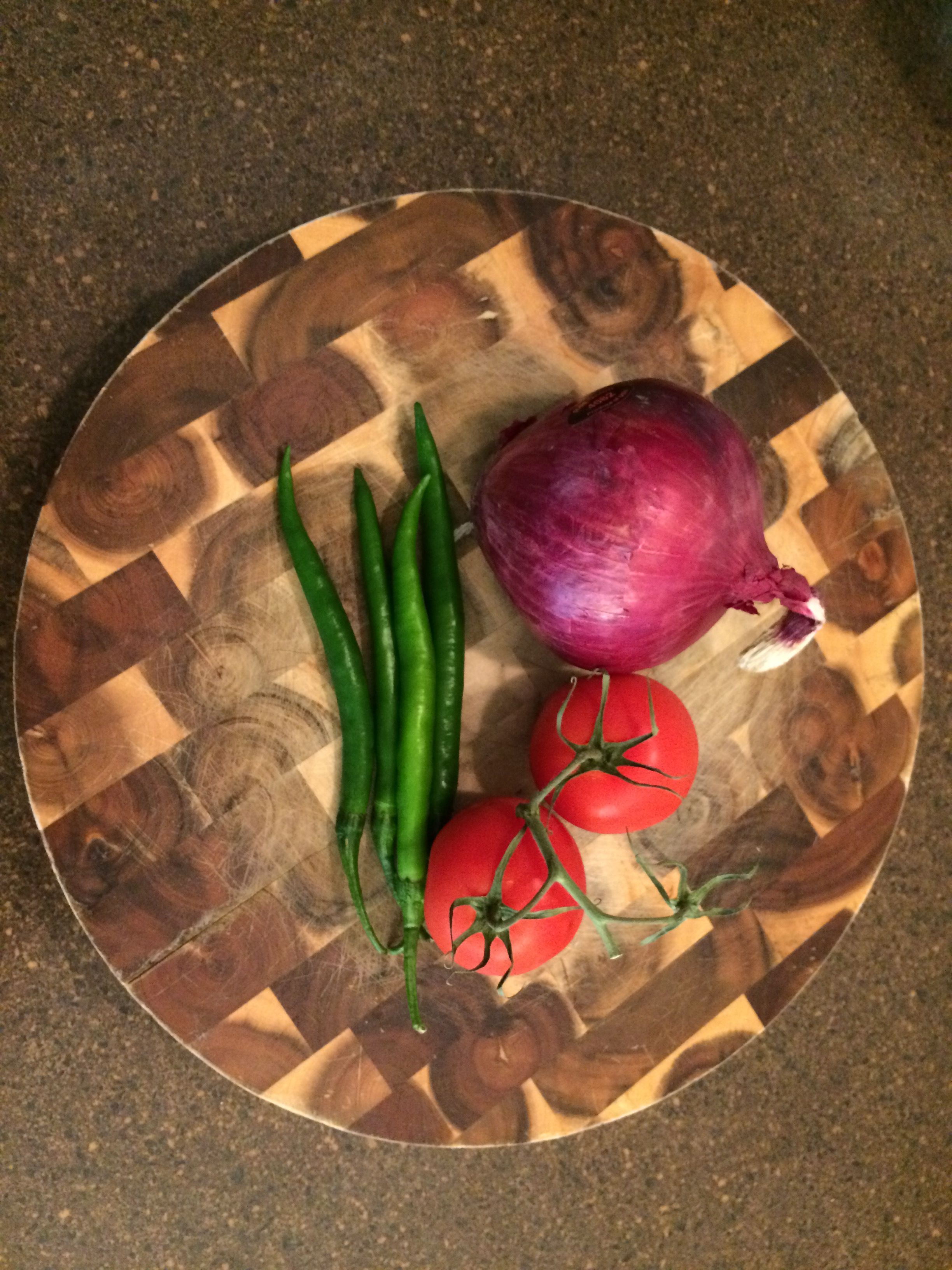 Cayenne Pepper Powder (2 teaspoons, depending on how spicy you want it, you can add more): This is always available in any grocery store. You can also use Kashmiri red chili powder, which is always available in any east indian grocery store. Kashmiri red chilies are known for their deep red color but their heat is not as intense as other chili powders. And when used in cooking, the kashmiri red chili powder imparts a deep red color to the dish.

Turmeric Powder (1 or one-half teaspoon): These days, turmeric powder is gaining popularity as a cooking ingredient. So it should be available in the international section of the gropcery store, but you can always go to an east indian grocery store and get it there. Turmeric is a very popular and staple ingredient in most east indian dishes.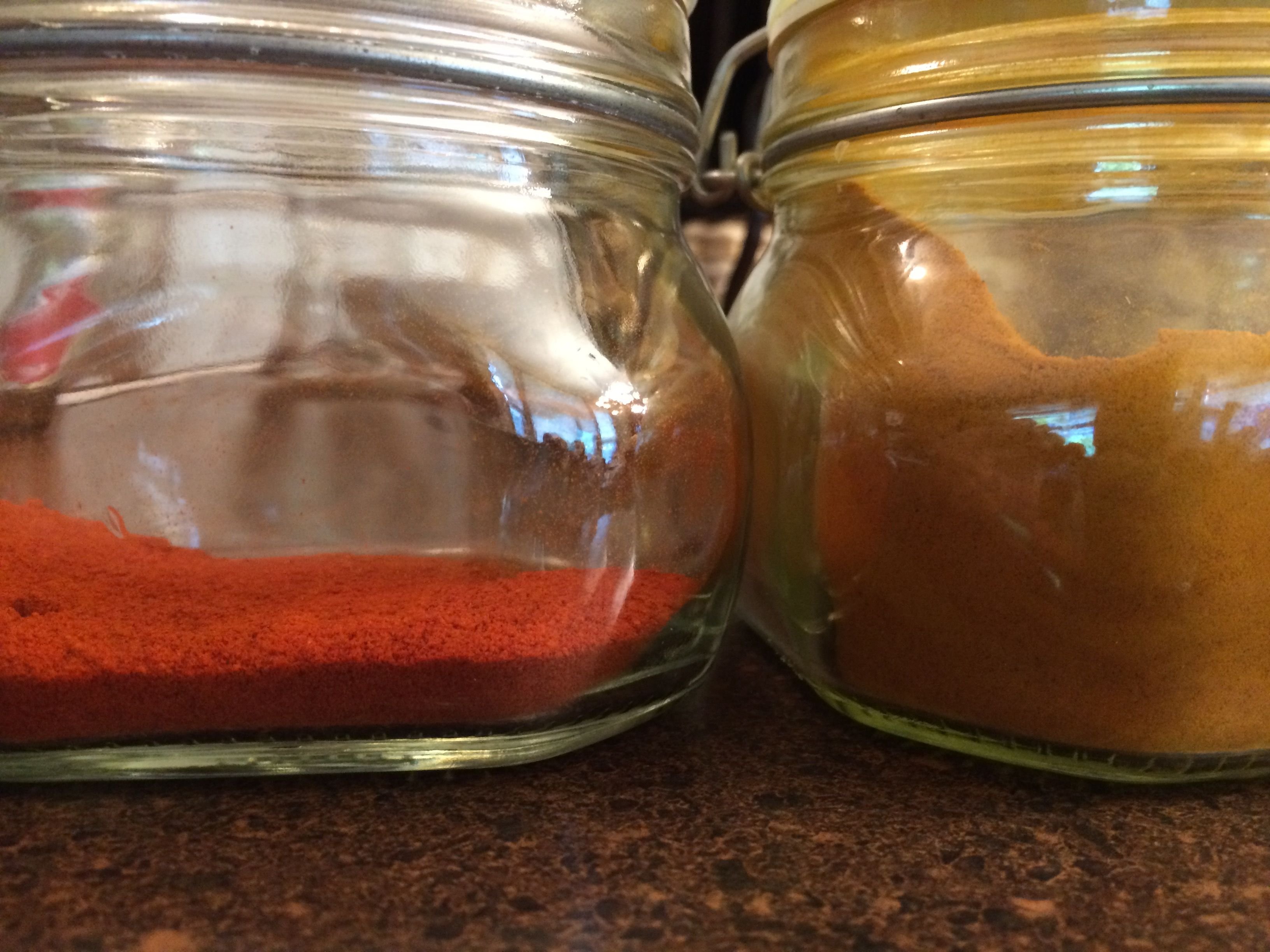 Half a lime or lemon

Cilantro (for garnish)

Olive oil for cooking
Prep work:
Chop the onions into small pieces.

Chop the chili peppers - if you are using the asian green chili peppers, chop off the stems first. Then chop the chilies cross-section, i.e., perpendicular to the length (see pic). If you are using Jalapeno peppers, since they are larger in size, cut them length-wise after you chop off the stem, and then cut them into small pieces. Regardless of what peppers you use, do not de-seed, the seeds give a lot of flavor.

Chop the tomatoes into small pieces.

Chop the hot dogs into small pieces. What I usually do is I first cut the hot dog in half length-wise. Then take each length-wise half and cut that in half length-wise. Then take each length-wise quarter and chop that into small pieces. It's easier (and quicker) of course, if you do this four hot dogs at a time - so take four hot dogs, quarter each dog first, and then take the whole bunch and chop them up. See pic.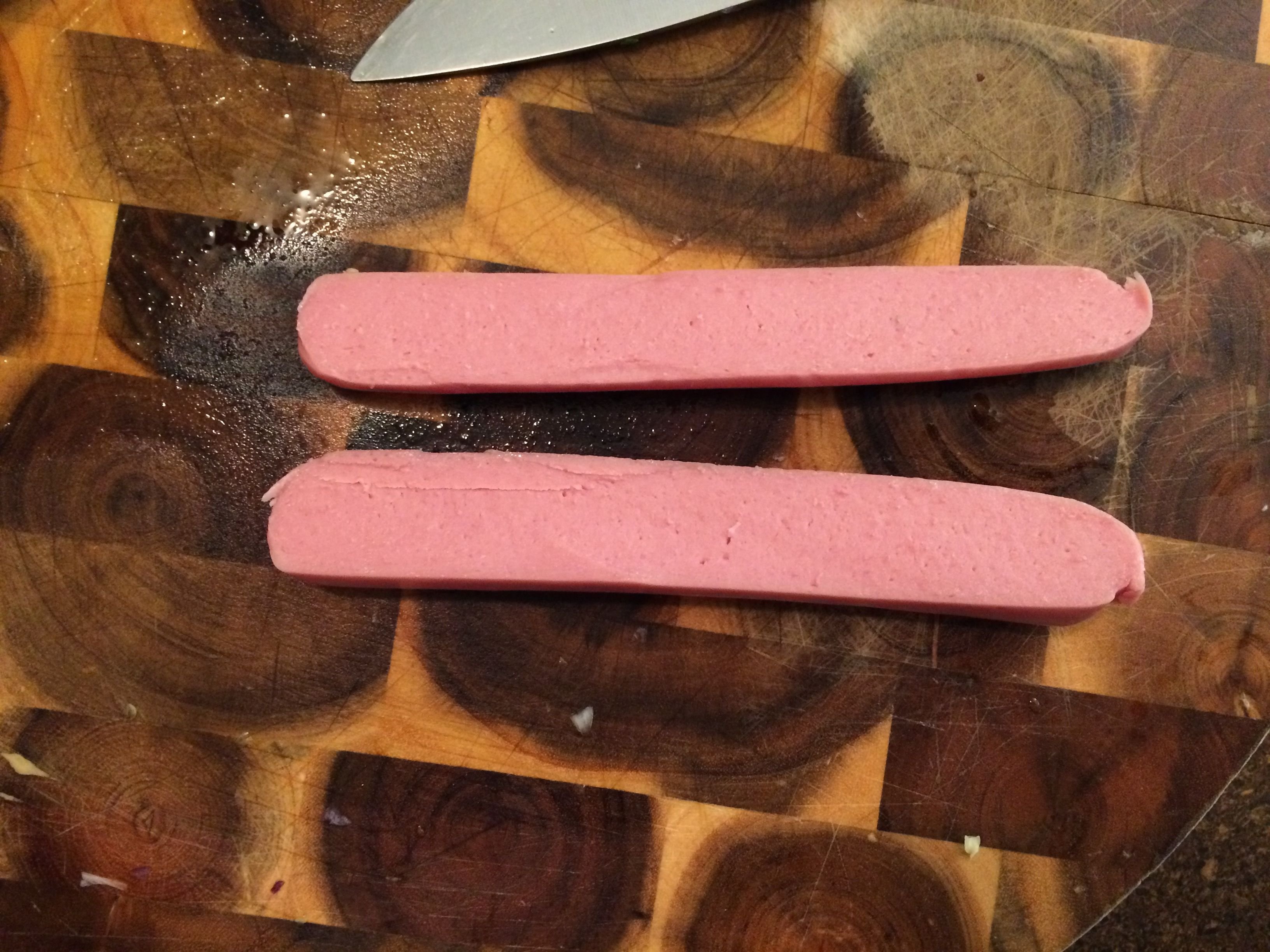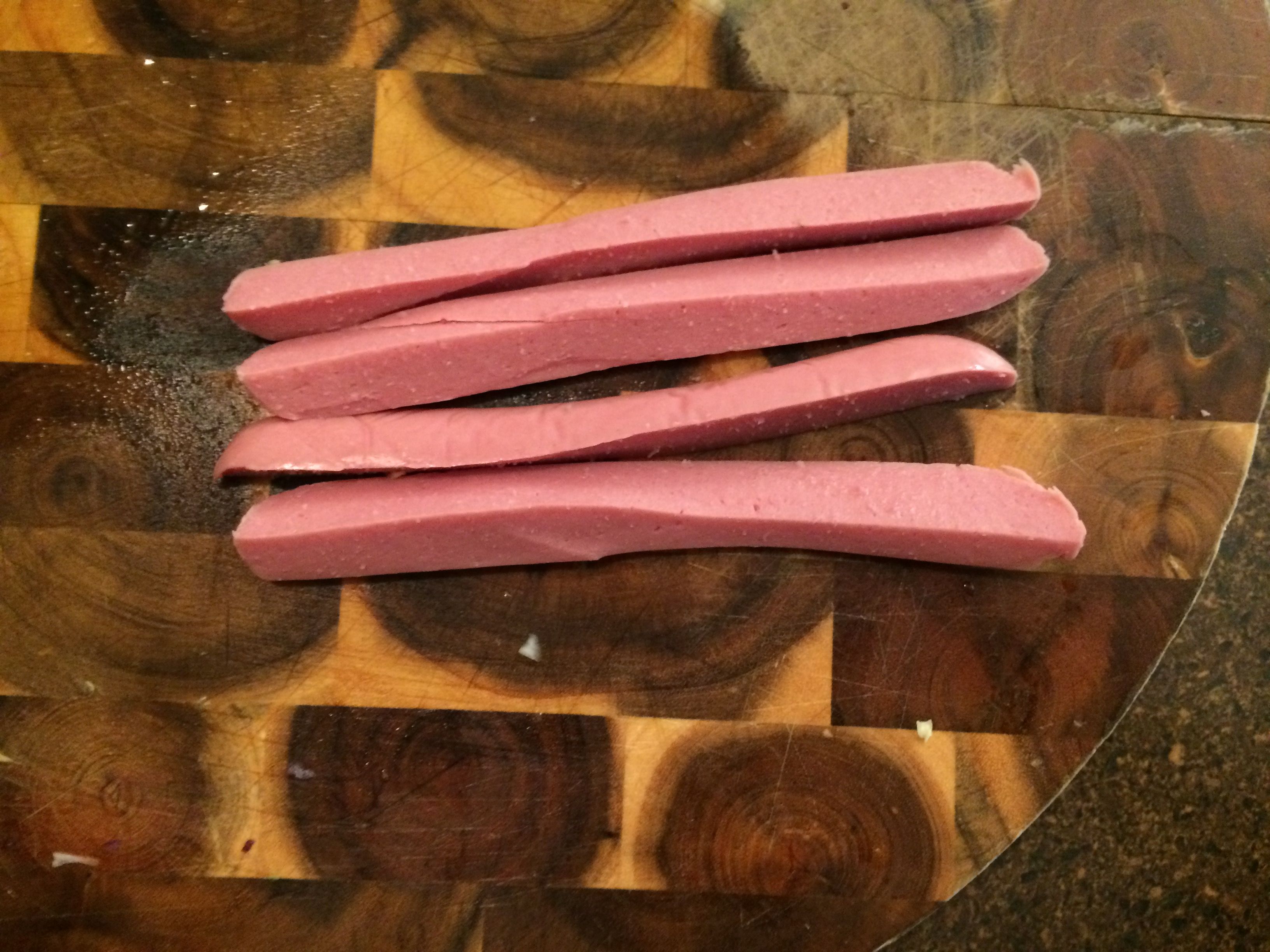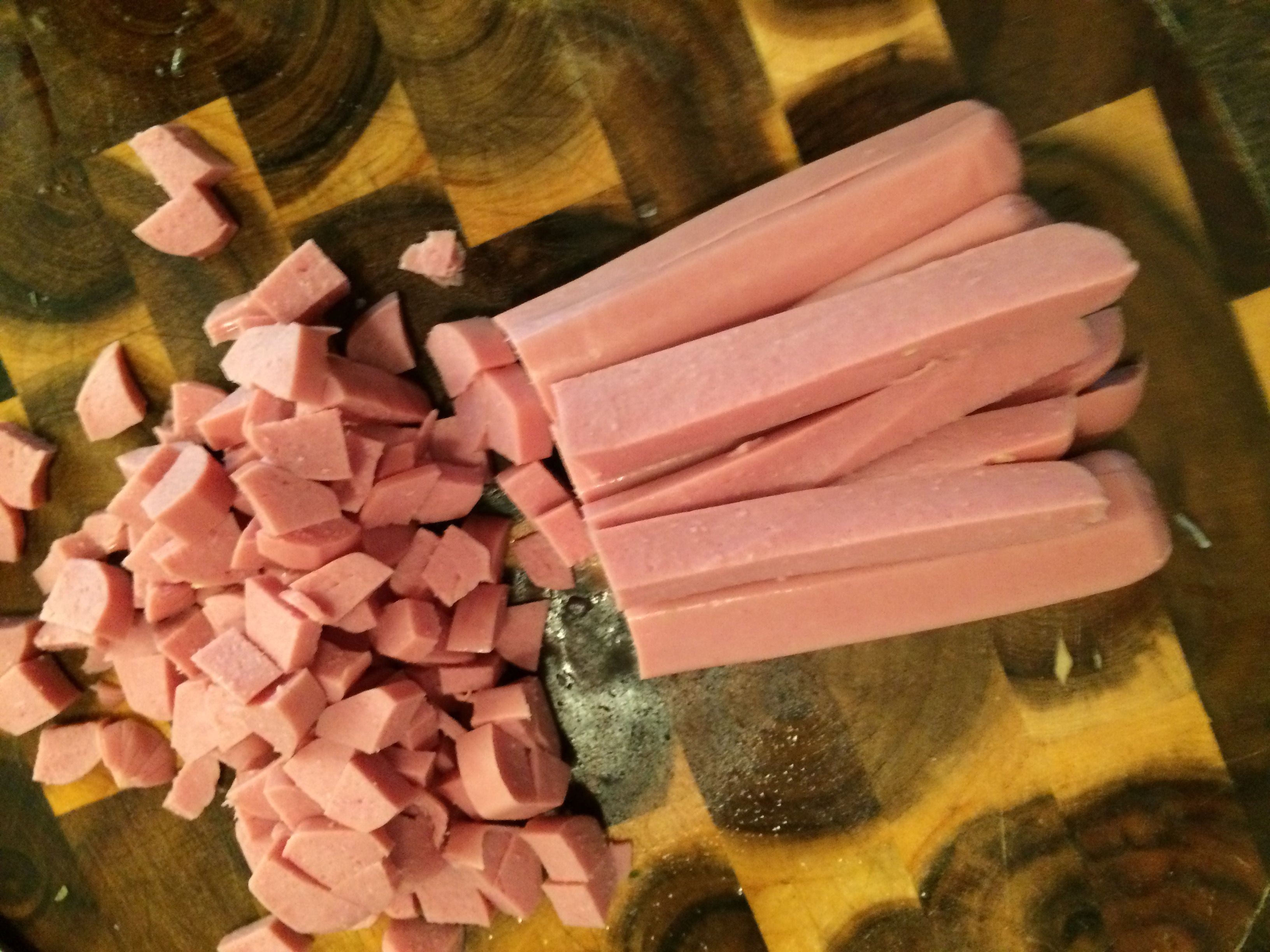 Here's all the ingredients chopped up and ready to go.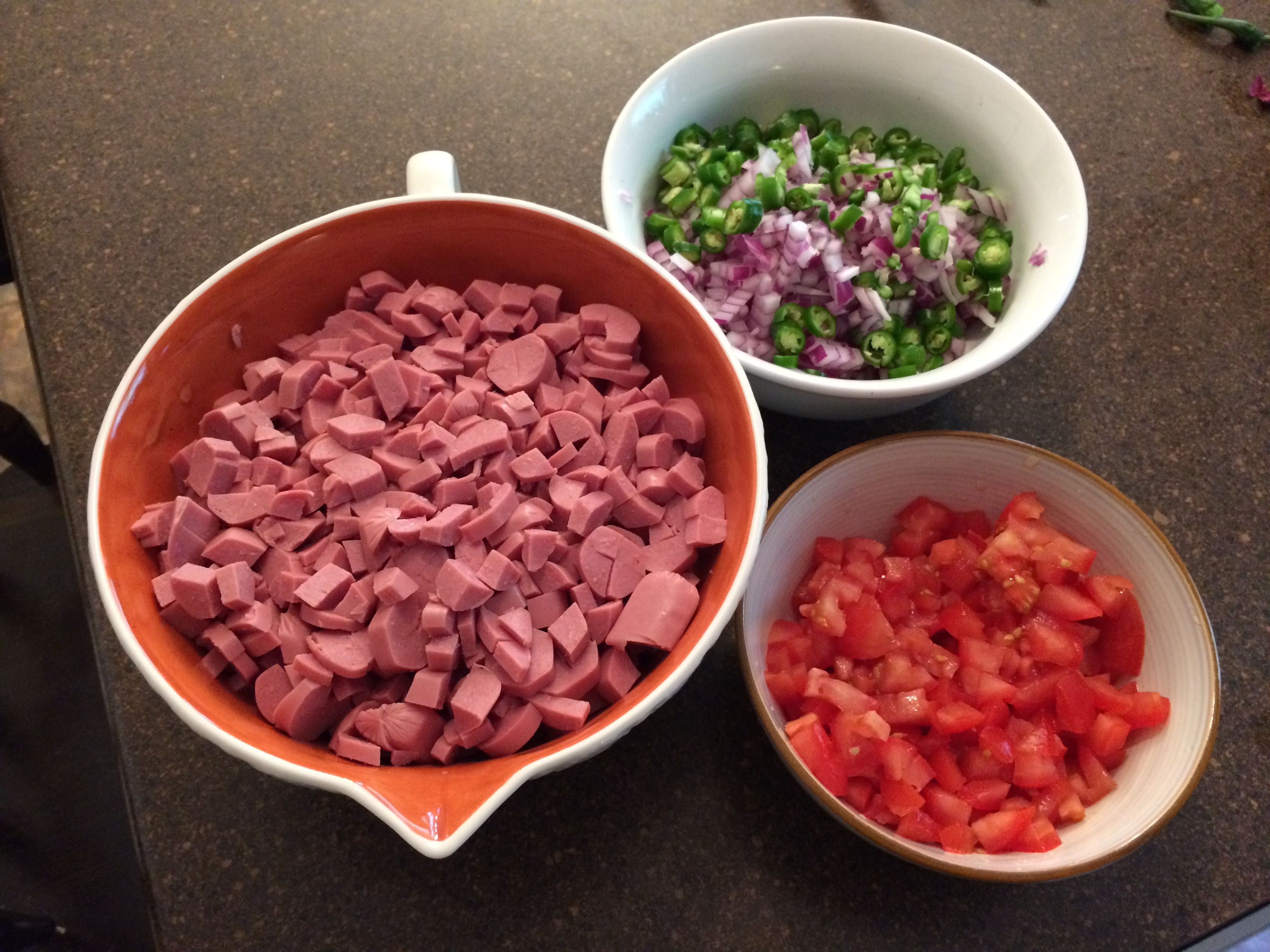 Cooking:
Heat some olive oil in a pot/deep pan on medium heat, and throw in the chopped onions and chili peppers once the oil is heated. USe enough oil to fry the onions and chili peppers, until the onions become translucent.

Add in the chopped tomatoes, and fry until the tomatoes reduce.

Add in the turmeric and cayenne pepper powder. Add a tablespoon of salt to taste, but this is optional. Fry these spices in oil for a few minutes.

Add the chopped hot dogs and stir them in so they mix with the spices. Cover and cook for a few mins on medium/low heat. Then, stir the chopped hot dogs again just so that all of them are exposed to the heat, and then cover and cook again for a few mins. The hot dogs are precooked so we aren't really trying to cook them here, but just making sure that they are all heated evenly. Do this a couple of times, and at this stage also squeeze in the half lemon or lime.

Once done, add a little chopped cilantro on top for garnish. The final product looks as shown in the pic.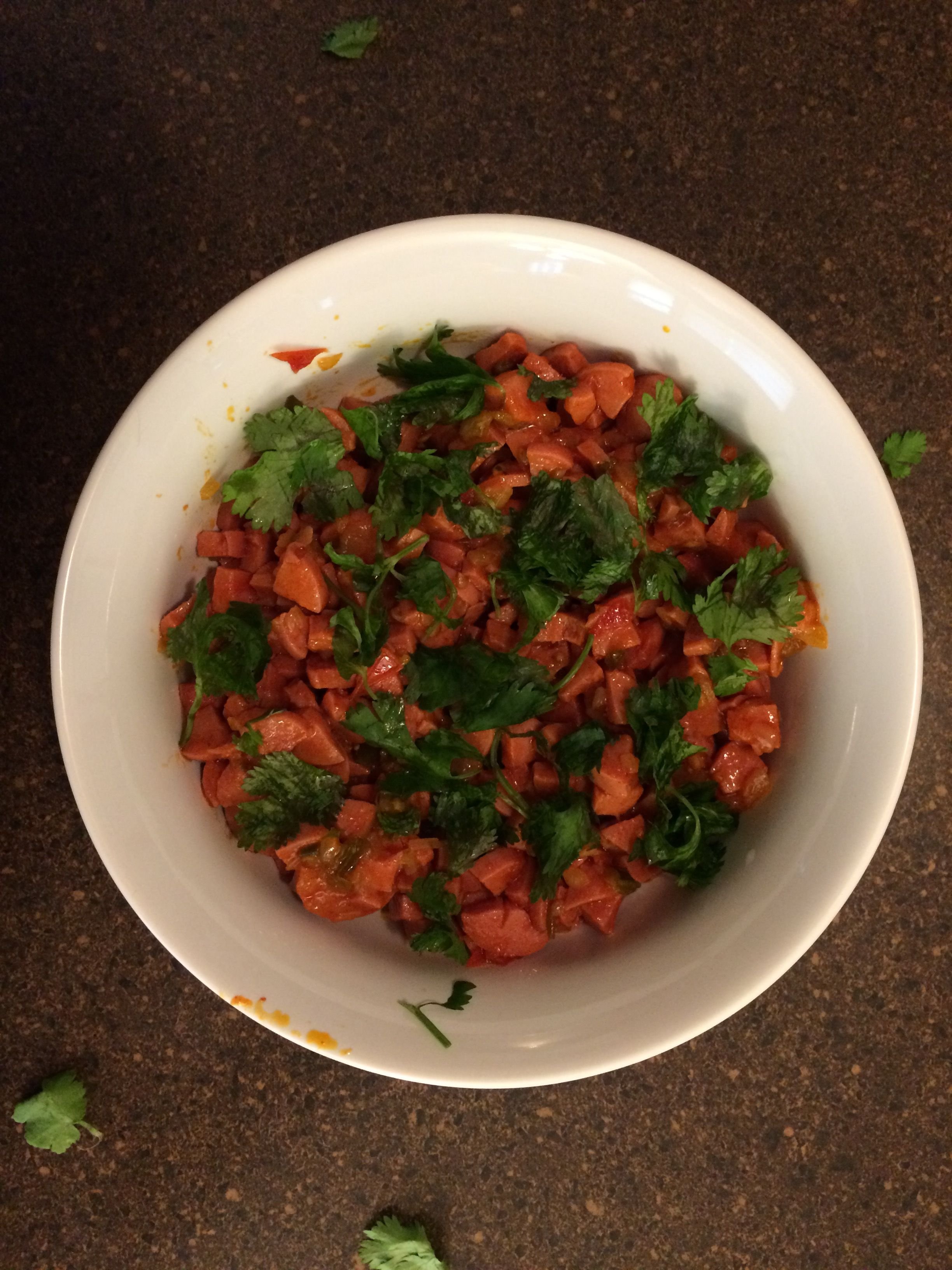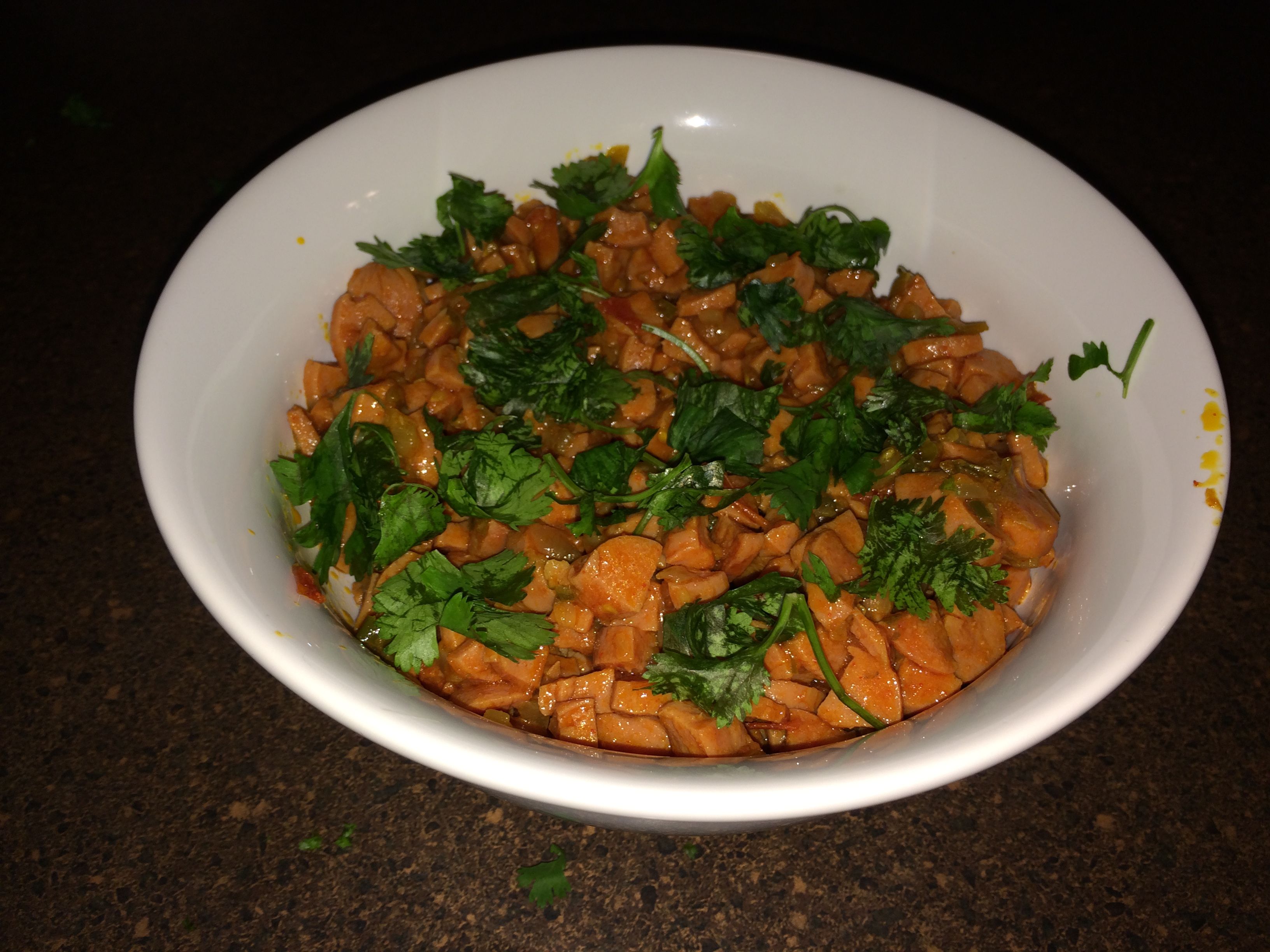 How To Eat: This dish is very versatile. It can be eaten with any type of bread (any kind of east indian bread, like naan, or burger buns, hot dog buns, in a pita bread, or any kind of sandwich bread). It also tastes great with rice (white rice, wild rice) or quinoa. You can also use it as a filling in puff pastries to make appetizers, or even as a topping on pizza.
Cheers!