Tofurnik (tofu cheesecake)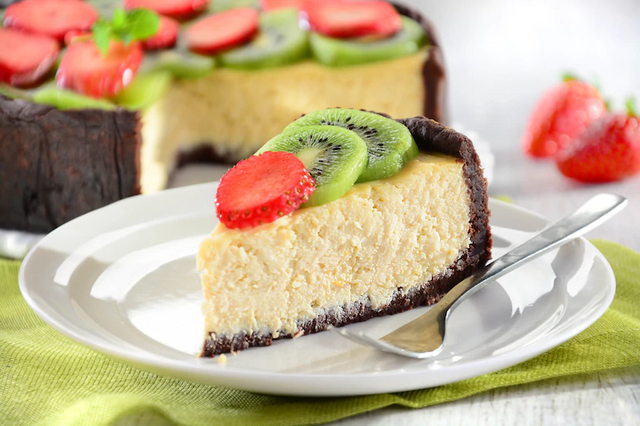 Bottom of the cake:
•millet flour 200 g
•cocoa 30 g
•baking soda 0.5 teaspoons
•Kasia without lactose 125 g
•powdered sugar 2 tbsp
•ground linseed 1 tablespoon
•water 3 tablespoons
Mass:
•natural tofu 600 g
•almond milk 200 ml
•powdered sugar 1 cup
•orange juice 150 ml
•potato flour 50 g
•coconut flakes 50 g
•lemon 1 items
Top of the dough:
•kiwi 3 pcs
•strawberries 3 pcs

Preparation:
1.Flaxseed fill with warm water. Mix the flour, cocoa, soda, powdered sugar, soaked in pulp and chopped Kasia in a bowl. Mix everything together with a mixer.
2.Place a cake with a diameter of 21 cm with Kasia and put it on baking paper. Roll out the dough. The bottom and sides of the mold are prepared with dough and prick with a fork.
3.Tofu imprint with excess water and blend together with orange juice. Wash the lemon, wipe the skin off and squeeze the juice.
4.In a bowl, mix tofu, powdered sugar, potato flour dissolved in almond milk, juice and lemon zest and coconut flakes.
5.Put the ready mass on the prepared bottom in the form. Put into a preheated oven and bake first 20 minutes at 200 degrees, then 40 minutes at 140 degrees. Haircut.
6.Wash the fruit. Peel the kiwi and cut it together with the sliced ​​strawberries. Finished tofurnik decorate with fresh fruit.

If you like it, you can vote and boast a comment about what you think about it!