Shortcrust pastry with rhubarb and meringue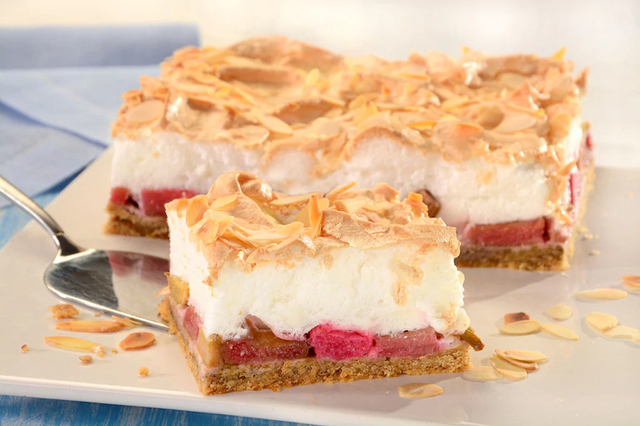 Cake:
•flour 120 g
•Baking cube Kasia 100 g
•ground almonds 50 g
•sugar 50 g
•yolk 1 pcs
•cream 1 spoon
•baking powder 0.5 teaspoons
Meringue:
•protein 5 items
•fine sugar 350 g
•potato flour 1 spoon
Accessories:
•rhubarb 500 g
•potato flour 2 tbsp
•almond flakes 10 g

Preparation:
1.All ingredients of the dough are cut with a knife on a coffee table and kneaded with a smooth dough. Wrap in foil and leave it in the fridge for 30 minutes.
Roll out the cooled dough and stick it to the bottom with a baking sheet molded 20x20 cm. Puncture the cake with a fork and put in a pre-heated oven for 180 minutes for 15 minutes.

Wash the washer, dry with a paper towel and cut into pieces about 2 cm long.

Put the pieces of rhubarb on the baked bottom and lightly sprinkle with potato flour.

The proteins are beaten stiffly. Then gradually add the sugar and mix until the mass is thick and shiny. At the end of mixing, add the potato flour.

We make meringue paste for rhubarb. Bake at 180 ° C for 15-20 minutes until light brown. Then turn off the oven and leave the cake in it for 25 minutes. Remove from the oven and leave to cool. Before serving, sprinkle with almonds roasted in a dry pan.

If you like it, you can vote and boast a comment about what you think about it!