Jackob's cake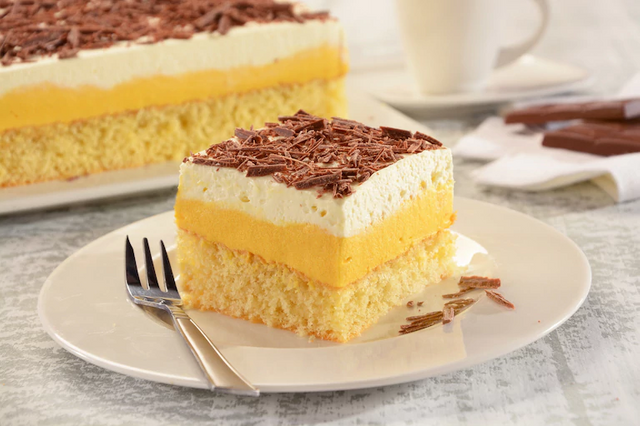 Cake:
•wheat flour 150 g
•Cube for baking Kasia 50 g
•sugar 200 g
•medium eggs 4 items
•baking powder 1 teaspoon
Punch:
•tea 150 ml
•lemon juice 25 ml
•sugar 2 teaspoons
Fruit mass
•Baking cube Kasia Ekstra Maślany Smak250 g
•Kubuś juice900 ml
•creamy pudding3 pack
•sugar50 g
Cream mass:
•36% cream 500 ml
•mascarpone cheese 250 g
•vanilla sugar 2 teaspoons
•powdered sugar 2 teaspoons
Top:
•grated milky chocolate 100 g

Preparation:
Kasia thaw in a saucepan. Form a 22 x 30 cm size with baking paper. Whisk eggs with sugar on fluff, add
flour mixed with baking powder and mix with a mixer.

Then add melted Kasia and gently stir with a spoon. Put the mixture into the mold and bake for about 25 minutes at 180 ° C.
Haircut.

Mix lemon juice with sugar and tea. With the punch received, soak the dough in the mold.

Boil three glasses of juice, mix the rest with pudding and sugar. Pour the pudding and pudding dissolved in the juice to the boiling juice
cook constantly stirring until the mass thickens. Take off the heat, cover with food foil and put away.

Soft Ekstra Ekstra beat on fluff. Whipping up constantly, add a chilled and mixed pound mass after the spoon.

Mix mascarpone with cream, powdered sugar and vanilla sugar. Whisk with a mixer for a stiff, fluffy cream.

First put the fruit mass on the cake in the form and then the cream mass. Align the surface and set it aside
refrigerators for several hours to keep the whole concentrated. Before serving, sprinkle with grated chocolate.

If you like it, you can vote and boast a comment about what you think about it!