Instant pear cake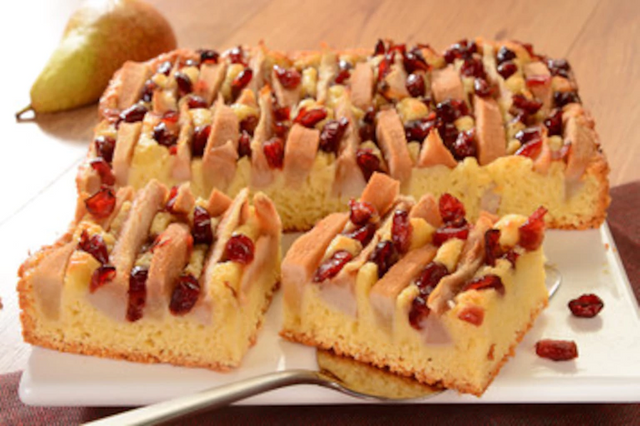 Components:
•Cube for baking Kasia 150 g
•wheat flour 200 g
•sugar 150 g
•baking powder 10 g
•eggs 3 items
•pears 3 items
•lemon juice 25 ml
•Dried cranberries 3 tablespoons

Preparation:
1.Mix the flour with sugar and baking powder. Add a soft cassia and eggs. Mix with a mixer to combine ingredients (no longer).
2.Put the dough into a 20 x 20 cm mold lined with baking paper. Spread evenly with a spoon soaked in cold water.
3.Cranberry pour boiling water, when it swells to drain on the sieve. Wash the pears, peel and remove the seed nests. Cut into slices and drizzle with lemon juice.
4.Pears and cranberries arrange thickly on top of the dough. Preheat the oven to 180 ° C.
5.Cover the dough with aluminum foil. Bake first 30 minutes under cover, then discover and bake for another 20 minutes.

If you like it, you can vote and boast a comment about what you think about it!