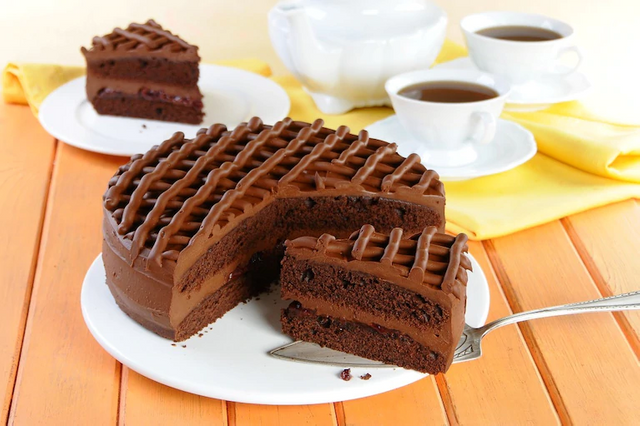 Cake:
•baking cube Kasia 200 g
•150 g sugar
•flour 170 g
•60 g cocoa
•milk 4 tablespoons
•egg 6 pcs
•baking powder 1.5 teaspoons
Cream:
•baking cube Kasia 50 g
•bitter chocolate 300 g
•30% cream 500 ml
•milk 2 tbsp
•gelatin 1 tbsp
Accessories:
•cherry confiture 200 g

Preparation:
1.Soften Kasia with sugar on the fluff, adding gradually one egg.
2.Then add flour mixed with cocoa and baking powder and milk. Mix everything thoroughly.
3.Place the bottom of two identical cake tops with a diameter of 22 cm with baking paper, brush with Kasia. Divide the dough into two parts and put it in the cake tops. Bake about 20 minutes at 180 degrees.
4.Gelatin soak in milk and let it swell. Clean the cream in a saucepan with Kasia. Put the chocolate in hot and mix with a mixer. Finally, add gelatine and mix. Put it in the fridge so that the mass thickens.
5.Place one dough on the pate. Brush with cherry jam and cover with half the chocolate cream.
6.Cover with a second cake roll. Put a layer of cream on the cake. Put the remaining cream into the spit and decorate the cake with it.

If you like it, you can vote and boast a comment about what you think about it!