Gluten-free gingerbread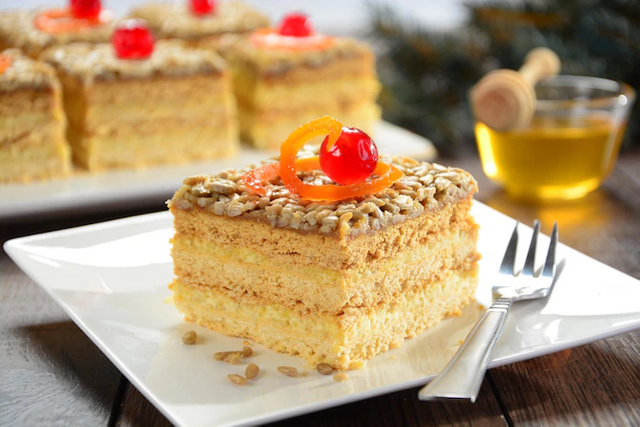 Cake:
•a mixture of gluten-free flours 400 g
•baking soda 1 teaspoon
•Kasia without lactose 100 g
•honey 100 g
•eggs 3 pcs
Cream:
•Kasia without lactose 150 g
•millet groats 150 g
•water 2 glasses
•powdered sugar 150 g
•juice of 1 lemon 50 ml
Icing:
•Kasia without lactose50 g
•sugar3 tablespoons
•honey3 spoons
•sunflower seeds150 g

Preparation:
1.Put all ingredients of the dough into a bowl and mix with a mixer. (If the mass is too dry, add a tablespoon of water.) Then put everything on a floured table and knead into a smooth dough.
2.Divide the dough into three equal parts. Fill a 22 x 22 cm dish with baking paper. Roll out one portion of dough and tap the bottom of the pan with a fork and bake for about 10 minutes at 180 ° C. Do the same with the second portion of dough.
3.Prepare the topping. In a saucepan, dissolve Kasia, sugar and honey, add sunflower seeds and bring to a boil.
4.Pour the third portion of the dough into the mold like the previous ones. Spread sunflower seeds over the dough and bake for 15 minutes at 180 ° C.
5.Sprinkle the buckwheat with boiling water, then put in a pot, pour over water and cook until the porridge absorbs all the liquid. Kasy uładyj with powdered sugar, adding a spoonful of cooled buckwheat and lemon juice.
6.Place the dough pancakes with cream, arranging a cake with a sunflower glaze on top. Cover the whole with baking paper and lightly press. Leave it in the fridge overnight.

If you like it, you can vote and boast a comment about what you think about it!