Chocolate vegan cake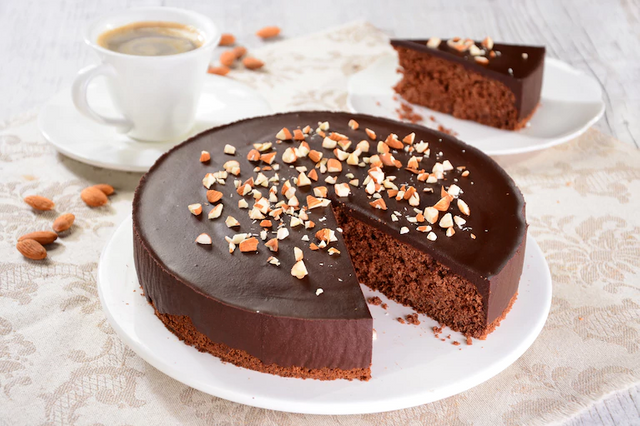 Components:
•Kasia without lactose 100 g
•rice flour 150 g
•chestnut flour 50 g
•chickpea flour 50 g
•ground almonds 50 g
•cocoa 30 g
•baking soda 1 tsp
•gluten-free baking powder 1 teaspoon
•birch sugar 100 g
•coconut milk 150 ml
•juice of 1 lemon 50 ml
•apple 1 pcs
•banana 1 pcs
Icing:
•bitter chocolate without lactose and gluten 150 g
•birch sugar50 g
•Kasia without lactose20 g
•coconut milk 100 ml

Preparation:
1.Kasy dissolve in a saucepan. Coconut milk mix with lemon juice and leave for 5 minutes.
2.Peel the apple, cut into pieces and blend together with the banana. Add dissolved Kasia and milk with juice.
3.Spread all kinds of flour through a sieve into a bowl. Add baking powder, baking soda, cocoa, ground almonds and birch sugar. Mix.
4.Add wet ingredients to the powdered ingredients and mix gently with a spoon.
5.Position the cake with a diameter of 24 cm with baking paper. Put the dough into the mold. Bake for about 35 minutes at 180 ° C.
6.In a saucepan, heat the milk with sugar and Kasy. When sugar dissolves, take off the heat. Then add the broken chocolate and mix until the topping is smooth and shiny. Pour the ready glaze onto the cake. Put it in the fridge.

If you like it, you can vote and boast a comment about what you think about it!