Brownie with chocolate and hazelnuts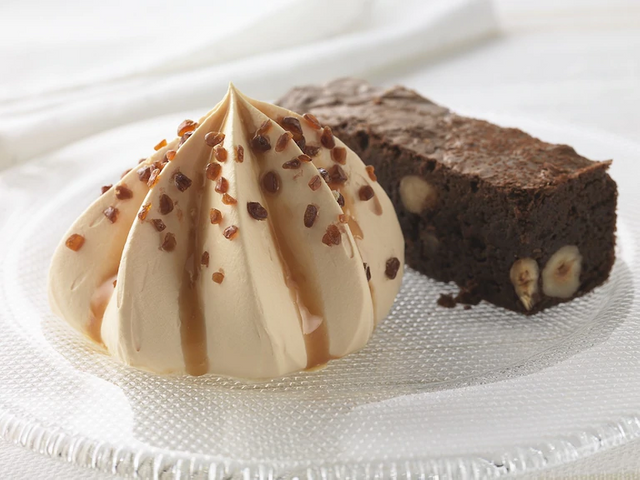 Components:
•ice cream Carte d'Or Crème Brûlée 900 g
•dark chocolate 150 g
•Cube for baking Kasia 180 g
•egg 3 items
•sugar 90 g
•Brown sugar 90 g
•flour 80 g
•cocoa 25 g
•salt 0.25 teaspoons
•vanilla extract 1 teaspoon
•hazelnuts 125 g

Preparation:
1.Preheat the oven to 170 ° C / 150 ° C (with hot air). Rectangular form with side 23-24cm grease with grease and put baking paper. In a saucepan with a thick bottom put Kasia and chocolate, slowly melt on low heat. Cool to lukewarm temperature.
2.Both types of sugar, salt and eggs, whip for about 5-8 minutes for a light and fluffy mass. Sift flour and cocoa together. The mass of eggs and sugar is not very well mixed with chocolate and butter mass and vanilla. Add the flour and cocoa, mix until the ingredients combine. Finally, add hazelnuts.
3.Put the mass into a mold and bake for 20-25 minutes, until it is still slightly liquid in the middle of the dough after shaking the form. Remove from the oven and set aside to cool. It is best to cut the dough after it has cooled, and then set aside again to room temperature.
4.Before serving, cut the brownie into 12 pieces, place on each plate a portion of cake and a ball of ice cream, dessert, sprinkle with cocoa.

If you like it, you can vote and boast a comment about what you think about it!