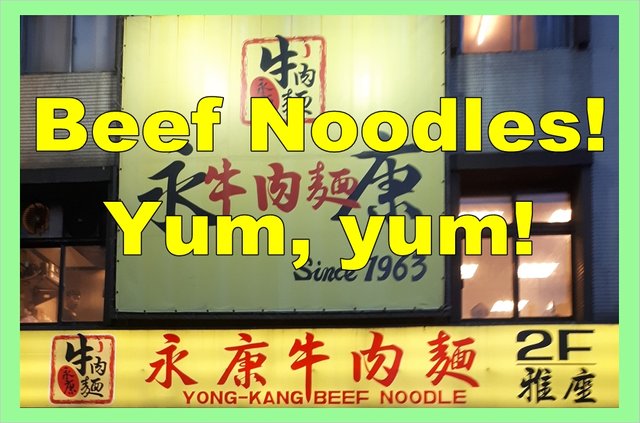 This Taipei must-visit serves variations of its spicy specialty, plus a few lesser-known Sichuan dishes.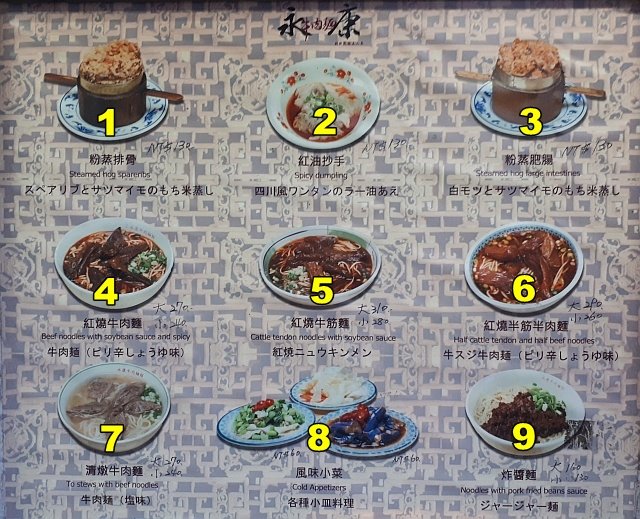 [ Yongkang's Simple Menu ]
---
An explanation (QR codes for curious cooks, corrected translations and pronunciations) of its 9-item menu follows below:
(1)** The first item is 粉蒸排骨 fěnzhēng páigǔ / FeeNJENG PAIrGuu "Pork ribs steamed in spicy rice flour". **The rice flour is a mixture of rice, chili peppers and Sichuan peppercorns (https://en.wikipedia.org/wiki/Sichuan_pepper), a spice that gives any dish a tangy bite.
粉 fěn/ FeeN "[literally] powder, rice flour"
蒸 zhēng / JENG "to cook something in steam (traditionally in a bamboo steamer)"
排 pái / PAIr "a row [things arranged in a line]"
骨 gǔ / Guu "bones", so 排骨 páigǔ / pairguu are ribs (a series of chest bones arranged in a row)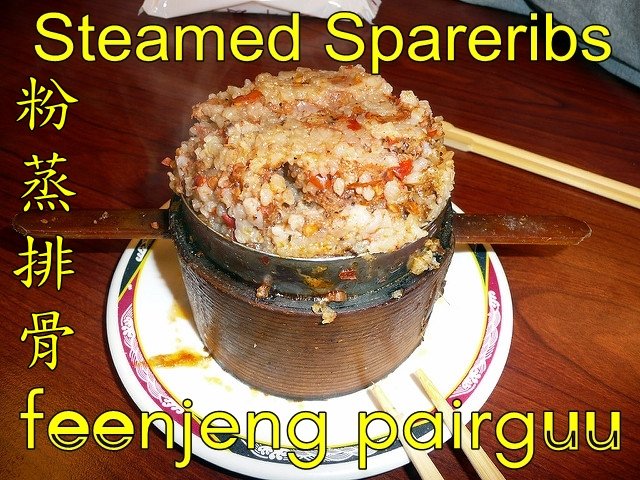 [ *Steamed Spareribs With Rice Flour @ Yong Kang Beef Noodles 永康牛肉麵的粉蒸排骨, CC-BY-NC-SA,Shih-PeiChang
More information here: https://tinyurl.com/feenjeng-pairguu
---
(2) Next is a spicy delicacy, 紅油抄手 hóngyóu chāoshǒu # HOrNGyOU CHAUSHooU "[literally] folded arms in red oil = Sichuan-style spicy wontons." The menu incorrectly identifies 抄手 chāoshǒu / chaushoou as dumplings, which are usually solid balls. The closest equivalent in English are wontons 雲吞 (known as 餛飩 "húntun / HwEN.TwEN* in Mandarin), a popular item in Cantonese cuisine well known in Chinese restaurants in the US: https://en.wikipedia.org/wiki/Wonton#Sichuan_cuisine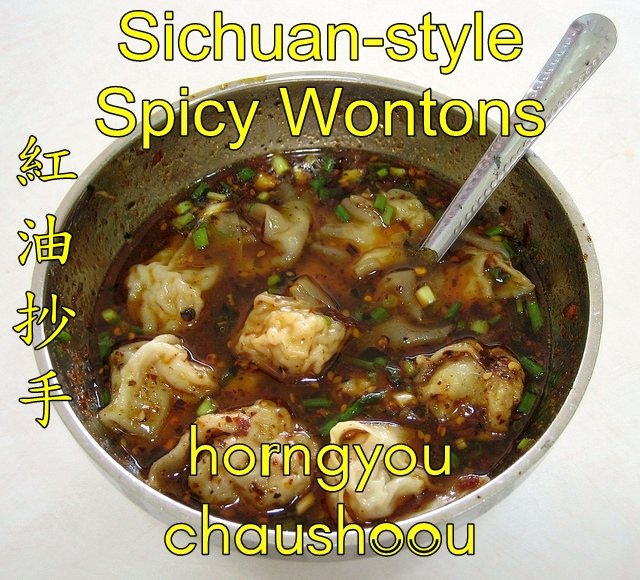 [ Spicy and Numbing Wontons , CC-BY Prince Roy]
(3) Item 3 is 粉蒸肥腸 fěnzhēng féicháng # FeeNJENG FEIrCHArNG, Chitterlings steamed in spicy rice flour (a variation of item 1).
In China, 肥腸 féicháng # FEIrCHArNG "chitterlings" /ˈʧɩtlɩŋz/ don't have the same cultural connotations of poor people's food as they do in the cultures of the southern US and other countries: https://en.wikipedia.org/wiki/Chitterlings#United_States
---
Summary of First Three Items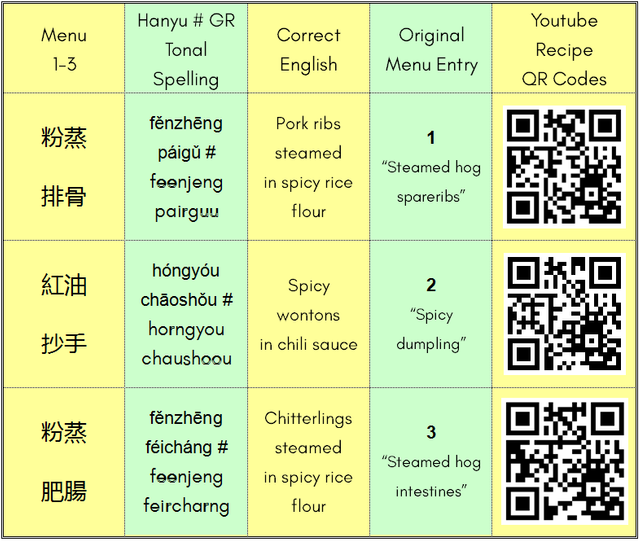 [Yongkang Beef Noodles, first three menu items]
---
Romanization Side Note
In the romanizations above, the romanization before the slashes is Hanyu Pinyin [1958 Chinese government standard]. The romanization after the slashes is GR Tonal Spelling [1928 Chinese government standard], a unique system that usually shows tones via mnemonic, dual-use letters (vowels and tones marked simultaneously). For clarity in this post, lower case is used for tone letters (when no semivowel is available, -r = rising tone).
Example: double vowels, such as -ee- and -uu- ( FeeN and Guu above) are 3rd tones, which are long syllables, much longer than the other three tones in Mandarin. Ask a Chinese friend to pronounce 粉 FeeN and 憤 FEnn "angry": you will immediately hear the difference: ***FeeN *** is much longer than ***FEnn ***
---
Who I am:
https://steemit.com/introduceyourself/@wentong-syhhae/enthusiastic-intp-polyglot