Food is something I can endlessly talk about with intense passion. Today, Delhi spoils you with ample choices of amazing dine-out bars and eateries, but there are some places you just cannot get enough of. It was quite a while that I visited Chili's, so we planned a Sunday brunch.
Tip- Please visit Chili's with your foodie partners to enjoy their delectable food, they are quite generous with their serving portions.
On weekends, people stand in cues to secure a place here. We decided to go on a weekday, and to our surprise the place wasn't that empty as one would expect on a working weekday afternoon. We could see some office people enjoying their squeezed-in and restricted lunch hour. That is the craze of this place. The food here is fresh, flavorful, innovative and downright delicious. Primarily famous for their Non-vegetarian options, they do have a whole lot of amazing Vegetarian selections too.
Not taking much time let's go straight to our gorgeous and mouth-watering servings-
Well, it was a scorching afternoon so I ordered my drink "World's freshest Margarita"- Yes, that's the name. :) I wanted something that tastes new and stuns visually. On my first sip, the flavors were singing on my tongue. I got a summery spin with its refreshing taste and aroma of natural fruit syrups.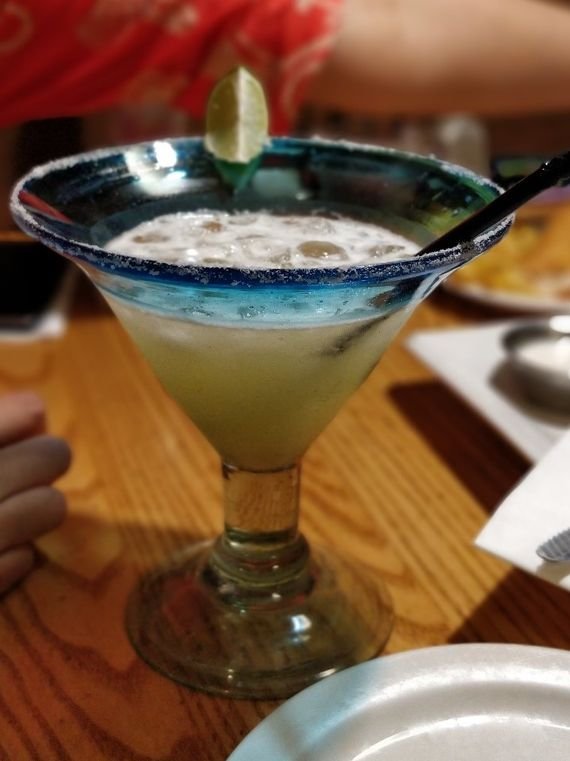 Served in all its prettiness
There are some food pairings that are a match made in heaven. For me, it is Fish and my Margarita. Absolutely drool-worthy, do try!!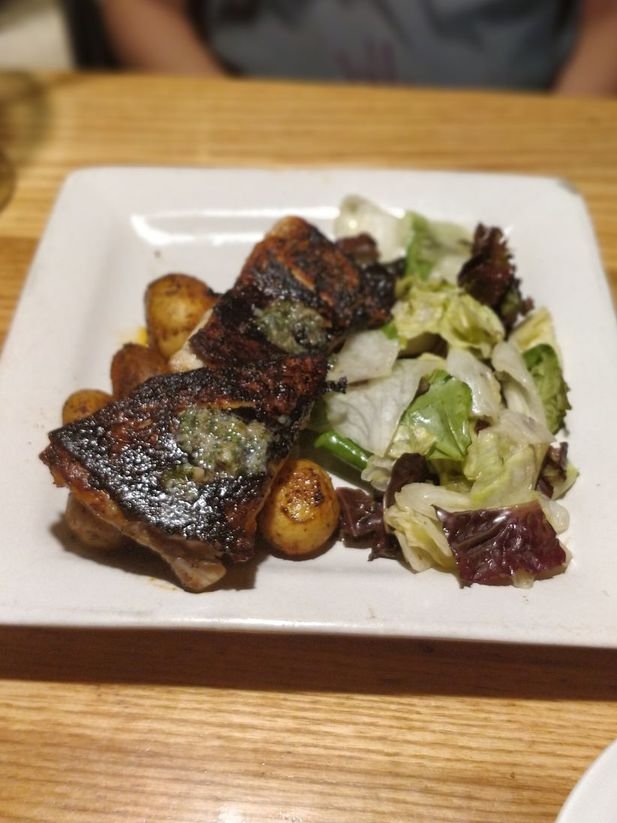 Fish (Basa) marinated in Cajun spice and herbs cooked to perfection (with skin) served with Baby Potatoes, Seasonal Veggies and Lemon Aioli. Rich flavors are trapped in this dish which will leave you wanting for more!!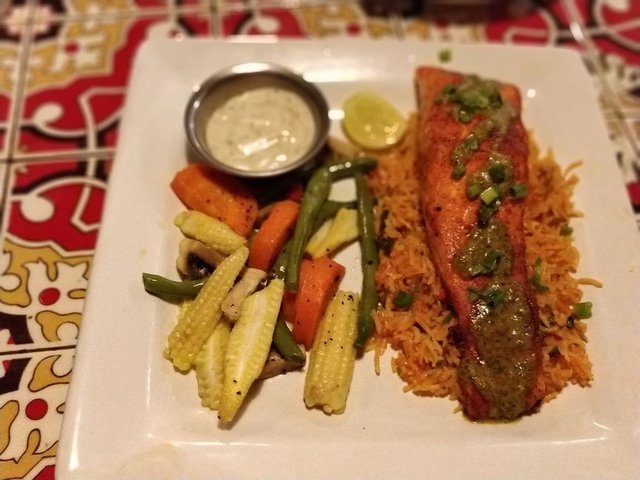 Another Fish delicacy- Grilled Salmon seared with Ancho Chilli, drizzled with herbs and Citrus-Chilli sauce served with Rice, Salad and Lemon Aioli. This was my favorite of all, truly relished it. I am already salivating thinking about it.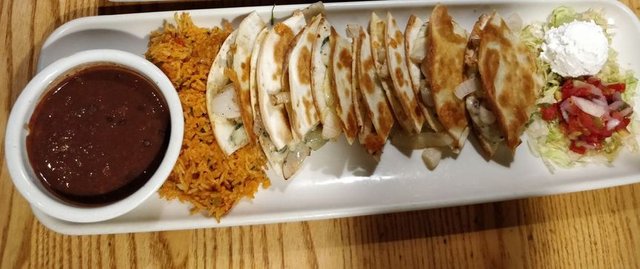 Another Must-try is Veggie and Cheese Quesadillas- Tortillas filled with a generous amount of creamy spinach and mushroom sauce and caramelized onions served with Sour cream, Salad, Rice & Beans.
The meat-lovers have a big share of their specialties- Sharing one of the best among many.
Have a look at this platter.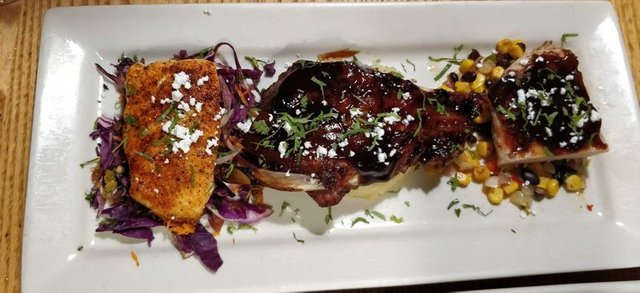 From Left- Fish- Salmon seared in Citrus-Chili sauce grilled to perfection topped with chopped Cilantro, Pork Ribs generously soaked in Barbecue Sauce, Chicken Fillet in Barbecue sauce accompanied with a nice and light corn salad, just the way it should be!!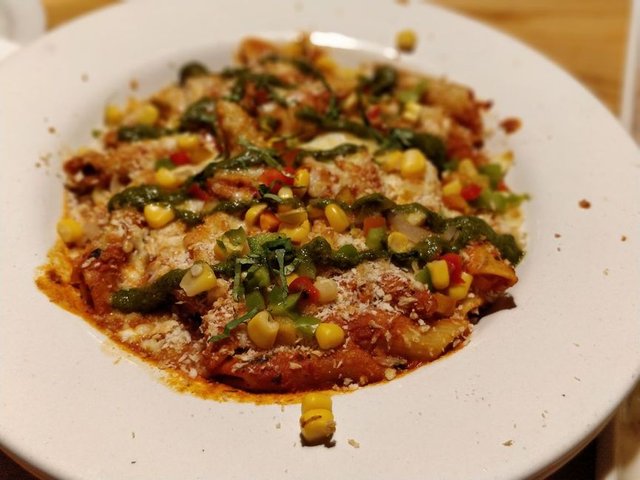 Spicy Smoked Pasta- Penne Pasta prepared in spicy Alfredo Sauce baked with cheese and Panko breadcrumbs topped with loads of chili's home-made- Succotash (Dish which includes primarily of sweet corn with beans and other shell beans. Other ingredients can be added including tomatoes, green or red peppers), hint of citrus-chili sauce and fresh chopped Cilantro. This pasta is made with a white sauce base but we asked them to prepare in a mixed (White and red sauce) base which added a tangy flavor to it!!
This dish is a sensory treat appealing to taste buds, nose and eyes alike. It led to a burst of flavors with every bite. This Italian affair was a comfort cuisine in a well-plated style which was customized as per our requirement. Get dotting on this sumptuous Pasta with endless toppings. Completely unpretentious and tasty... :)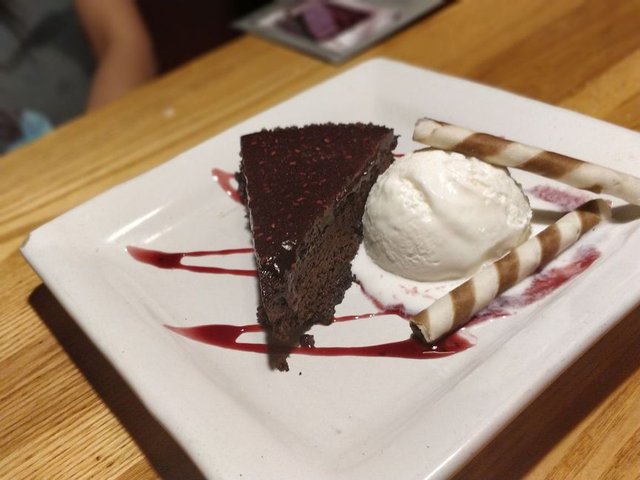 On recommendation and a new introduction on the menu, we eagerly waited for our dessert and here comes this dish in all its glory- Raspberry Chocolate Cake- A Raspberry layer (I felt a little chili flavor) resting on top of creamy soft Chocolate Cake with its two best companions- Vanilla Ice-Cream and crunchy chocolate cigars.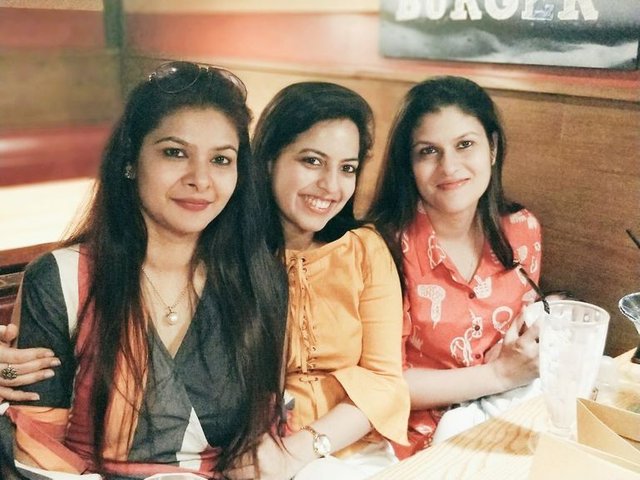 Happy faces after a hearty meal!!
Just forget your count of calories intake when you visit Chili's. You may come back with uncomfortably tight jeans but trust me, it's all Worth it, just get indulged here!! Visit this place and you will know it…. 😊
Thanks for taking out time and stopping by...Happy Reading!!