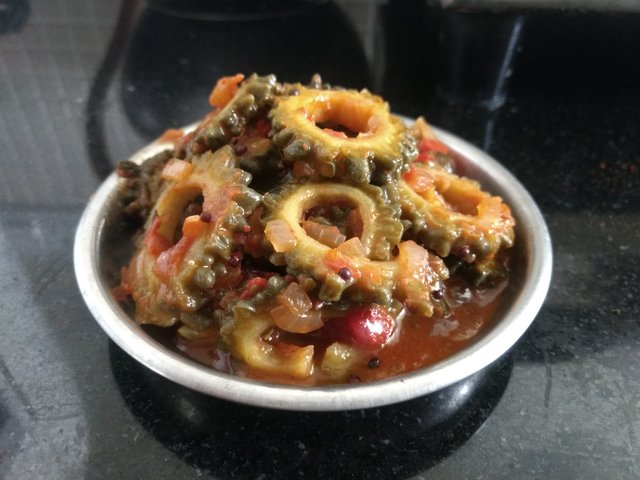 Bitter gourd consumption helps your skin glow as it purifies the blood, It is a powerful antioxidant that prevents premature skin ageing and diminishes wrinkles. It reduces acne and skin conditions such as Psoriasis and protects skin from harmful UV rays. It maintains blood sugar level, cleanses liver, lowers bad cholesterol, helps in weight loss, boosts immune system and strengthens eye sight. Infact bitter gourd deserves a full blog on it's own merit.
I am not a food blogger nor a foodie. For me cooking is a necessity more than passion. That leaves with a very handful of recipes in my repertoire.
Tangy Spicy Bitter gourd curry is one of the dishes that I cook now and then. I love bitter gourd as it is one of the healthiest fruit around. Bitter gourd is not a vegetable, but a fruit if you did not know.
But let me skip the intro now and show you how to make a tangy spicy bitter gourd curry that goes well with bread or rice.
This is an Indian dish, full of spices and quite tangy and hot too. I am sure you would love to try this spicy Indian curry someday. But for now, here we go.
Ingredients:
4 No. Medium size bitter gourd
2 Large Tomatoes & 2 large Onions
1 Table spoon of red chilli powder
Tamarind the size of a golf ball
1 tsp mustard and 1 tsp cumin and a pinch of asafoetida
Bay leaves
2 tablespoon of Coconut oil
Salt to taste
Directions:
Wash the bitter gourds and slice it to make rings.
Use a scissor to cut out the seed from the centre of the gourd rings so that you have a hole in the centre.
Put 3-4 table spoon of salt in a vessel and pour about 500 ML of water in it. Add the cut bitter gourd rings in to the vessel and leave it to marinate for about 1 hour. The salt water reduces the bitterness of the gourd and makes it delicious to taste.
Take a golf ball size tamarind in a small bowl and pour a cup of warm water over it. Warm water is better than cold water in extracting the juice from the tamarind. Keep it aside for some 30 minutes.
Take 2 medium size Tomato and 2 medium size Onions and chop it finely. Chopping fine makes the flavour of onion and tomato blend better with bitter gourd. Keep it aside.
After an hour of marinating bitter gourd, drain the salt water and place the bitter gourd rings in the cooker ( I use an electric rice cooker) and steam it. (steam it not steem it !!). It should be well done in about 15 minute's time.
The tamarind juice would have been extracted from the pulp. Separate the pulp and keep the tamarind juice aside.
Place a cooking pot on the gas stove and add 2 tablespoon of coconut oil (you can use olive oil if you wish). Add 1 tbsp of mustard, 1 tbsp of cumin, bay leaves and a pinch of asafoetida and sauté for 1 minute.
Add the chopped onion to the pot and sauté it for another 2 minutes till the onion becomes transparent and soft.
Add 1 table spoon of red chilli powder. ( you can add sliced green chilli if you like, but while eating, if you happen to get a green chilli piece in your mouth, that can send you scurrying for water and leave you red faced. So chilli powder is better)
Sauté it for another 30 seconds.
Add the chopped tomato to the pot. And sauté it for another 2 minutes till the tomato bits become soft and mushy and blend totally with the onion.
Add the tamarind juice to the pot now. And immediately add the steamed bitter gourd rings to the pot. Sprinkle salt and let the curry cook in tamarind juice.
You need to cook it for at least 5 minutes, else the raw tamarind taste will be overwhelming when you eat. When you cook it on low flame for say 5-8 minutes, the tamarind juice matures and the flavour builds up and the raw taste of tamarind goes away.
Tangy Spicy Bitter Gourd Indian Style curry is ready: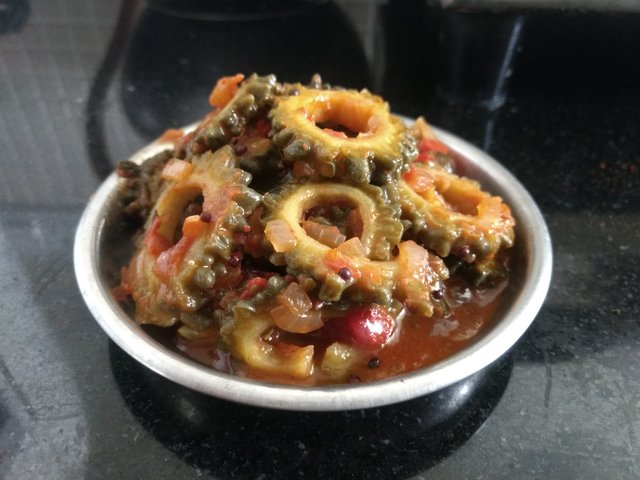 Now the tangy tamarind, spicy chilli powder, bitter gourd, onion and tomato blends into one homogenous awesome curry. This curry is a thick gravy type with good chunks of tangy spicy bitter gourd rings that goes very well with bread or steamed rice ( the staple food in south India).
This is a very healthy as well as a tasty dish.
You can have this dish over a period of 2-3 days. Infact the flavour increases on the second or third day as all the ingredients blend into one another more as the time progresses. Of course don't forget to keep it back in a refrigerator once you have taken your portion for your lunch or dinner.
I just prepared it today and thought I shall share this delicious and healthy recipe with you guys. Hope you enjoyed reading this blog as much as I enjoyed cooking my bitter gourd rings 